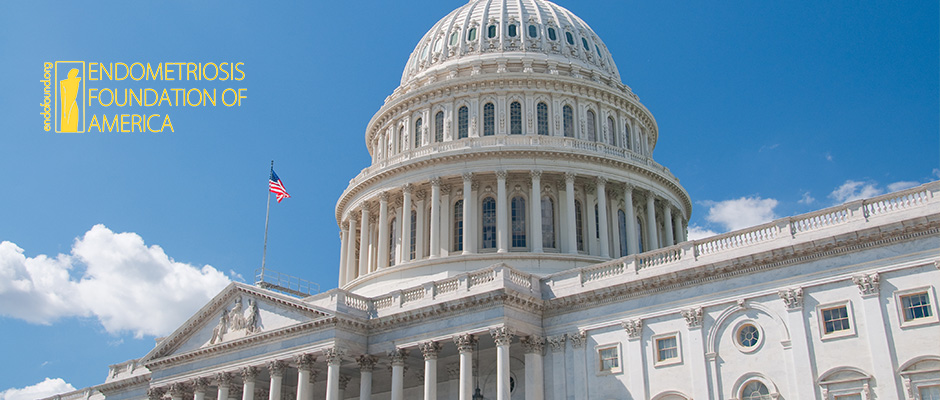 On November 14, Endometriosis Foundation of America Founder Dr. Tamer Seckin journeyed to Capitol Hill to help spread endometriosis awareness and to brief congressional leaders on the latest health crisis facing women in the United States and abroad.
Dr. Seckin was joined by Bold TV personality Diana Falzone and EndoFound's new Chief Operating Officer, Christian Wistehuff.
Their itinerary included a Congressional Briefing, and meetings with Congressman David Scott (D-Georgia), as well as with staff from several senators' offices.
In a briefing to congressional staff, Falzone called endometriosis an "epidemic" before detailing her lengthy delay to diagnosis and how her caretakers dismissed her complaints of unusual menstrual pain.
"That is why endometriosis awareness and education is key to helping the estimated 200 million women globally impacted by the illness," added Falzone in a statement. "It is my hope that we can implement endometriosis education into schools nationwide through [Endometriosis Foundation of America's] ENPOWR program for young women to recognize the signs and get proper treatment early on."
Dr. Seckin, longtime endometriosis excision surgeon and outspoken advocate, later echoed Falzone's call for change.
"It is estimated that every five seconds, a baby girl is born in the US who will have endometriosis. This public health crisis creates a huge financial burden to women and their families primarily due to lost work productivity and direct healthcare costs,"said Seckin in a statement.
"I am so grateful to be able to partner with the Endometriosis Foundation of America and others, to work toward a day when women do not have to live with this life-altering condition and suffer its painful symptoms. The briefing today will educate policymakers on Capitol Hill about this illness and serve to continue our information campaign and shine the light on all the work that still needs to be done for its diagnosis and treatment," said Scott in a statement.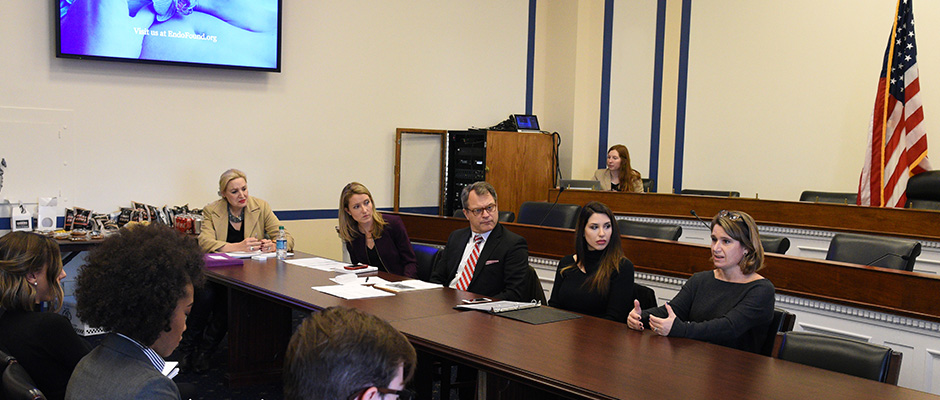 This isn't the first time EndoFound has hit the nation's capital to put endometriosis, and the roadblocks to care for millions of endo women, on lawmakers' radars.
Back in April, Dr. Seckin met with Senator Sue Serino and Assemblywoman Linda Rosenthal, the power team who banished the tampon tax in New York state. Soon after, both stateswomen introduced legislation into their respective houses that would direct the state to develop age-appropriate materials to teach adolescents in schools about menstrual disorders, including endometriosis. The materials would be supplied to school districts and healthcare practitioners.
If passed, the bill would potentially help millions of New York pupils understand endometriosis, and make U.S. history as the first endometriosis-related education bill of its kind. The law passed in the NY Senate, and as The Blossom has reported, EndoFound will resume efforts to push the bill's passage in the Assembly when Congress is back in session in 2019.
Lack of awareness and education aren't the only stumbling blocks for American women to receive proper endometriosis treatment and care. A look at the official website for the National Institute of Health's funding for various conditions and diseases shows that only $7 million in government funding was allocated towards endometriosis in the 2018 fiscal year. Considering there are at least an estimated seven million American women with endometriosis, that's only one research dollar per woman. And that number may fall to an estimated $6 million for the 2019 fiscal year.