The Endometriosis Foundation of America is proud to announce
our participation in the TCS NYC 2018 Marathon
This year EndoFound will have our biggest TCS NYC Marathon team yet! We will be accepting TEN runners to don a purple EndoFound t-shirt on November 4th, 2018 and take on the 26.2 miles across all five New York City boroughs!
Do you want to raise endometriosis awareness and support EndoFound while you train to run the world's biggest marathon? Click the banner below to submit your application today!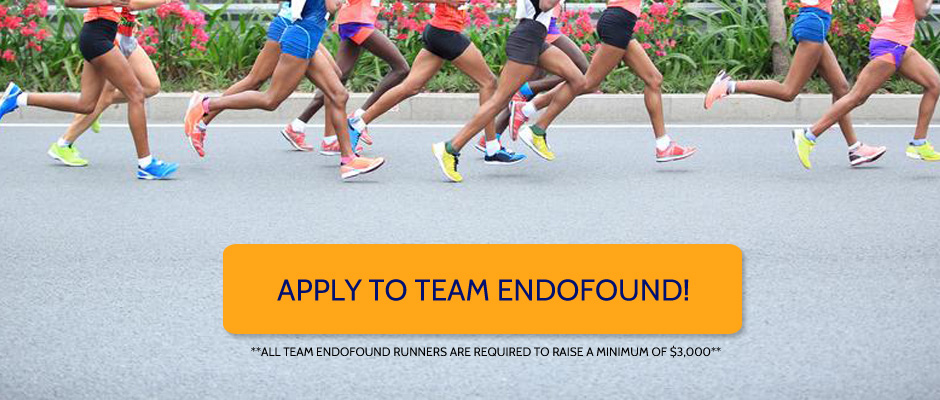 The first New York City Marathon, organized in 1970 by Fred Lebow and Vince Chiappetta, was held entirely in Central Park. Of 127 entrants, only 55 men finished; the sole female entrant reportedly dropped out due to illness. Winners were given inexpensive wristwatches and recycled baseball and bowling trophies. Today, the New York City Marathon has grown to be the world's biggest and most popular marathon, with more than 50,000 finishers in 2017. Join these incredible men and women in crossing the finish line and raise endometriosis awareness with every step!
Please note:
Applications will be open until June 1st, 2018
All official charity runners are responsible for raising a minimum of $3,000.00
All official charity runners are responsible for paying their marathon registration fee
EndoFound has paid all charity runners guaranteed entry fee
EndoFound only has 10 spots available on the TCS NYC team.
Applying does not guarantee entry Contact marathon@endofound.org with questions and "unofficial runner" inquires