Welcome Letter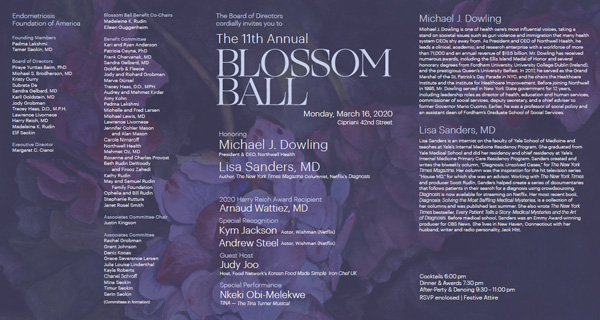 We are joining together on a subject that holds enormous importance for many women: endometriosis, a disease that can ambush a woman's health for many years before being correctly diagnosed. Not often discussed because it's a women's disease, endometriosis affects an estimated 10 million or 1 in 10 females nationwide. It attacks as early as puberty, and left untreated, it can lead to extremely painful and devastating complications.
Inspired by the work of Dr. Tamer Seckin and the Endometriosis Foundation of America (EndoFound) we are proud to chair the 2020 Blossom Ball which will be held on March 16th at Cipriani 42nd Street in New York City. We will proudly honor Michael Dowling, President and CEO, Northwell Health and Dr. Lisa Sanders, medical author, creator of the New York Times "Diagnosis" columns, and host of the Netflix/New York Times series aptly named Diagnosis.
The Blossom Ball is an elegant and fun evening and its financial success aids EndoFound in its vital research, medical training, patient advocacy, educating adolescents about the early symptoms and so much more. We look forward to seeing you on March 16th for a wonderful evening.
Thanking you in advance.
Sincerely,
Madeleine K. Rudin
Benefit Chair
Eileen Guggenheim, PhD
Benefit Chair