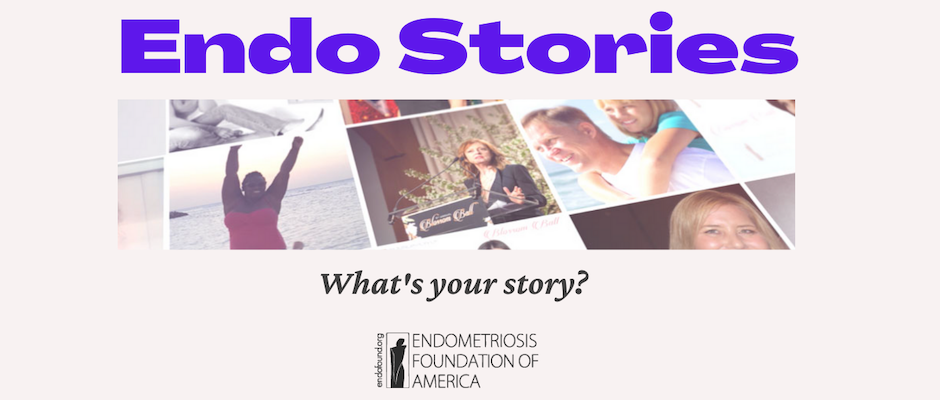 Share Your Endo Story!
If you have a powerful story about your journey with endometriosis and would like to share it with the world through EndoFound.org, we would love to hear from you! Please email your submission to writers@endofound.org to be considered for publication in our Endo Stories section. We may also share submissions on any of our many social media platforms.
We are seeking personal narratives with a clear beginning, middle, and end, and we prefer submissions be no more than 1,000 words. All submissions are subject to edits for content, clarity, and length. Please note that we cannot guarantee publication due to the high volume of submissions we receive.
We only accept unpublished essays (blog posts are considered previously published), and all submissions must be original works. If you need help writing your story, contact us at writers@endofound.org, as we may have a writer available to help you.
Guidelines for submitting your endometriosis story
Endometriosis is a complex and often misunderstood condition, and sharing your story can be a powerful way to raise awareness and help others who may be struggling. Here are some guidelines for submitting your endometriosis story:
Introduce yourself: Tell us who you are and where you are from, and provide background information about your experience with endometriosis. This might include when you were diagnosed, how long you've been experiencing symptoms, and any treatments you've undergone.
Be honest: Your story is unique, and it's important to be honest about your journey. Share your highs and lows, and don't be afraid to talk about the emotional toll that endometriosis has taken on you.
Focus on the details: Describe your symptoms in as much detail as possible. This can help others who may be experiencing similar symptoms feel less alone, and it can also help healthcare providers better understand the scope of the condition.
Discuss your treatment: Talk about the treatments you've tried, what has worked and what hasn't, and any side effects you've experienced. This can be particularly helpful for those who are newly diagnosed and searching for treatment options.
Share your coping strategies: Endometriosis can be challenging to manage, and it's important to share any coping strategies that have helped you. This might include meditation, exercise, or other self-care practices.
End with a message of hope: While endometriosis can be a difficult condition to live with, there is hope. End your story by sharing a message of hope and encouragement for others who may be struggling.
Avoid specific names: To keep things neutral and maintain Endo Stories' focus on your unique experiences, please avoid mentioning any specific names of doctors, medical practitioners, groups, or organizations in your submissions. Thank you for understanding.
Proofread and edit: Before submitting your story, proofread and edit it carefully. Make sure your message is clear and easy to understand, and check for any spelling or grammar errors.
Thank you for your courage in sharing your endometriosis story with us and helping to raise awareness about this disease!