Quick Links
#LetsTalkPeriod Developing Informational Materials Concerning Menstrual Disorders for Distribution in NYS Schools and to Patients
New York State Senator Sue Serino (R, C, I—Hyde Park) and Assemblymember Linda B. Rosenthal (D/WF—Manhattan), the bipartisan team responsible for successfully repealing the infamous Tampon Tax, have introduced a 2019-2020 bill that directs the commissioner of health to develop informational materials concerning menstrual disorders, including endometriosis, for distribution in schools and to patients. Given the seriousness of endometriosis, and the stigma often associated with discussing menstrual health, it is critical that the state makes an effort to educate both young women and men on this crucial issue.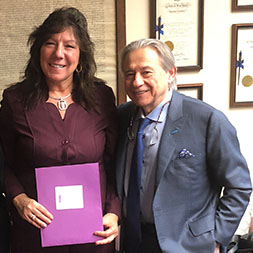 Given the seriousness of endometriosis, and the stigma often associated with discussing menstrual health, it is critical that the state makes an effort to educate both young women and men on this crucial issue.
NYS Bill S1016/A484 -- Subject to appropriation, the commissioner, in conjunction with the commissioner of education, shall create age-specific informational materials to be provided to school districts and health care practitioners upon request to distribute to students and patients educating them about eight menstrual disorders and their symptoms. The materials shall include, but be not limited to: the timing, signs and symptoms of endometriosis and other menstrual disorders; the importance of menstrual health and its impacts on one's physical, emotional, social, and academic life; basic statistics on endometriosis and other menstrual disorders;best practices on how to be one's own healthcare advocate; and basic treatment options for endometriosis and other menstrual disorders, as well as recommendations for follow-up care from a healthcare provider.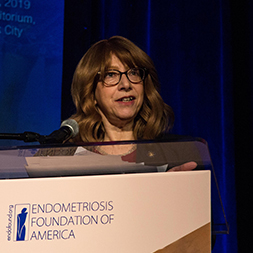 After a visit from the Endometriosis Foundation of America (EndoFound) co-founder Tamer Seckin in 2018, Serino and Rosenthal, introduced the original bill late in the 2018 session where it unanimously passed the NYS Senate but never reached the floor for a vote in the NYS Assembly.
You DON'T have to be a current resident of New York State to lend your voice to the #LetsTalkPeriod campaign.
How you can make it happen:
1. Find your Senator here and find your Assemblymember here
2. Email, Message or call them directly and say:
Hello, my name is _______________________, I am a constituent from (City) (Zip Code), and I am in support of Senate bill S. 1016 (Assembly bill A. 484) requiring the New York Commissioners of Health and Education to develop age-appropriate educational materials for endometriosis, and other menstrual disorders, to be made available to school districts and health care practitioners across NY State. Once again, it is time for New York State to lead the country and be the first state to teach young women about menstrual health, including endometriosis, a disease that affects one in ten women. Access to Women's health is not a privilege it is a human right! ACT TODAY! & SUPPORT THIS BILL
Thank you.

3. Sign the #LetsTalkPeriod petition
4. Share this information and encourage your friends and family to email, message, call, and sign today!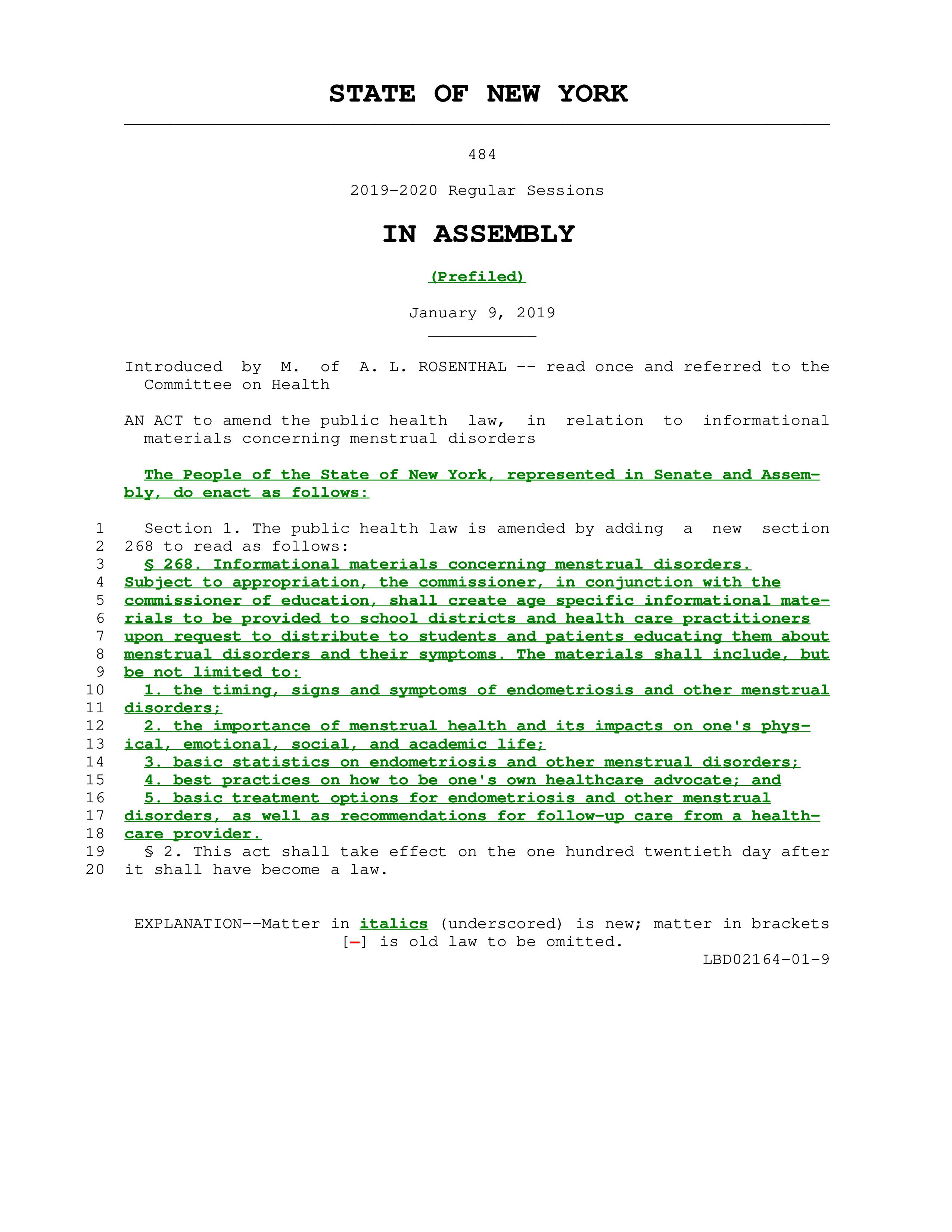 Senator Sue Serino, "Too many young women are experiencing the devastating side effects of endometriosis and other menstrual disorders month after month, and are suffering in silence because they simply have not been made aware of how to effectively address them. We hear from women all of the time who have missed work, can't participate in sports, or those whose school work has suffered as a direct result of a menstrual disorder that was not properly addressed. It is time to put an end to that. This bill will provide young women with critically important information that has the potential to significantly improve their overall health, and I encourage my colleagues in both houses to make it a priority this legislative session."
Assemblymember Linda Rosenthal, "Discussions around menstruation sadly remain taboo in much of mainstream society. The culture of silence on women's health often prevents young girls from seeking information about their bodies and from learning more about menstrual disorders they might be able to address. We must empower young women with information about their basic biology so they can control their bodies and protect their health. Even after toppling the decades-old tampon tax that taxed girls and women on their own biology, we must continue forcing the conversation on menstrual equity."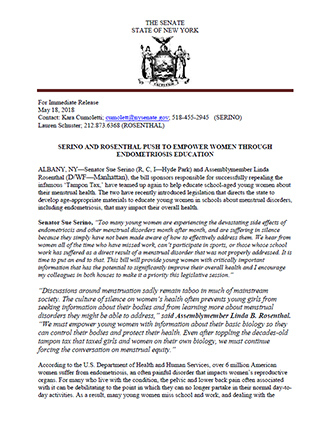 Former Senator Jeffrey Klein, "When I launched the Teen Health Awareness Campaign in 2014, I made a commitment to funding research and programming, and raising awareness about endometriosis, I am proud to support this legislation and expand these efforts so that our youth have the knowledge and resources they need to thrive and become healthy adults."
Tamer Seckin, MD, Co-Founder of the Endometriosis Foundation of America (EndoFound), "Students of the ENPOWR Project have shown a keen understanding of endometriosis and the importance of raising awareness about the disease. Bringing endometriosis education to New York State's students is a vital step in reducing a delay in diagnosis and overcoming stigmas associated with menstruation. The sooner one understands that pain with their period is not normal, the sooner they can seek treatment and work with a specialist to help prevent more serious issues from affecting their wellbeing in the long-term. Everyone deserves the opportunity to thrive, those living with endometriosis are no exception."
Padma Lakshmi, Co-Founder of the Endometriosis Foundation of America (EndoFound), "All teenage girls and boys should learn about periods and the symptoms of endometriosis since ten percent of females suffer from it. If I had known in high school, I could have saved myself so much pain and isolation. It would have been such a game changer."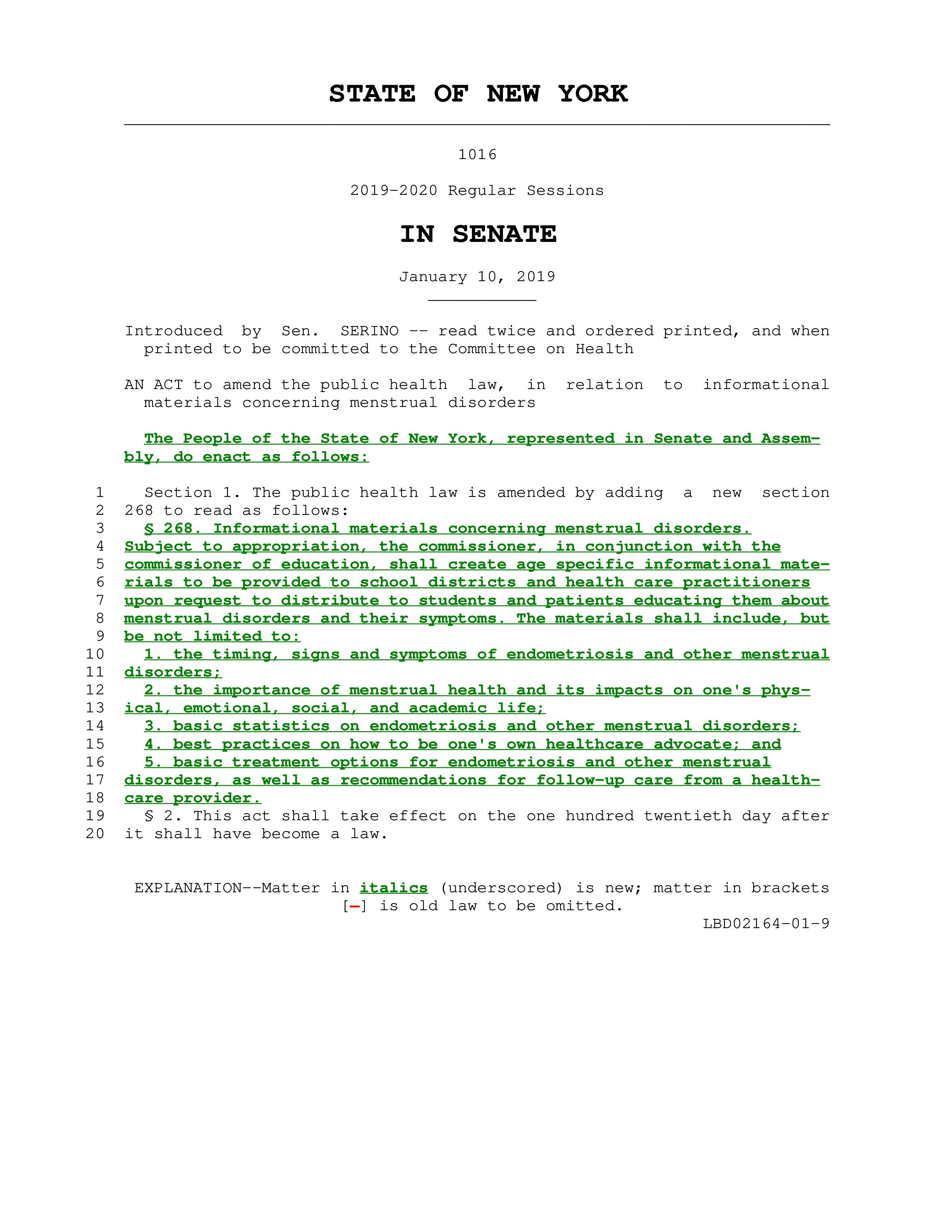 Lena Dunham, actress, writer, publisher of Lenny Letter and Board Member of the EndoFound, "Here's a call to action for women, girls, and public health. Senator Sue Serino and Assemblymember Linda Rosenthal, the legislators who led the successful effort in New York State to repeal the Tampon Tax, have teamed up to introduce legislation to ensure that school-aged girls are educated about menstrual disorders including endometriosis. End the silence around women's health, and encourage your state's policymakers to follow their lead!"
Dr. Piraye Yurttas Beim, Founder, and CEO of next-generation women's health company Celmatix and Board Member of the EndoFound, "Based on current trends, every five seconds a baby girl who will grow up to develop endometriosis is born. As a patient myself, I know the consequences of learning too late in life that the symptoms of endometriosis are not a normal part of being a woman. There is a pressing need to get more information and resources about this devastating condition into the hands of women earlier in their lives. I applaud Senator Serino and Assemblymember Rosenthal for taking on this important cause, and hope very much that the rest of the country will follow New York State's example."
Dr. Mehmet Oz, "We fear most what we don't understand so let alleviate suffering by educating young women to understand the common signs of endometriosis" #LetsTalkPeriod
Molly Qerim, ESPN host, "If this bill was passed and girls were educated, it would prevent them years of suffering- pain, flu-like symptoms, fatigue, imbalance, medications, surgeries and most importantly, preserve their fertility. All ailments I struggled with for years."
Kym Jackson, NCIS actress, "If schools had mandatory education for girls about periods, my symptoms would have been obvious to anyone—but we just don't get taught that stuff."
Diana Falzone, TV personality and endometriosis advocate, "It's so important that endometriosis is taught in and a part of our school system especially at an early age when women are just learning about their bodies and their periods. Young girls need to know the signs and symptoms of endometriosis so that when they do go to the doctor, and they speak with their gynecologist, they can detail their symptoms to them, and the doctor can provide better treatment. The sooner they get treatment, the sooner they can be free from pain and the better options they have for preserving their fertility. Endometriosis education and knowledge is power. I hope that this is the beginning of spreading the word about endometriosis. Hopefully, New York will be the pioneer of this change, and it will spread nationwide and internationally."
Text to Donate
Text 20222 type the word endo25 to donate $25
Social Media Info