Email Template for Congressman Scott
With great excitement, The Endometriosis Foundation of America (EndoFound) is announcing the creation of the "UpEndo" coalition. This new effort will provide an opportunity for coalition members to work together to raise awareness of endometriosis and build on the success in 2020 of a historic doubling of funding for endometriosis research at the National Institute of Health (NIH) and the creation of the bipartisan Congressional Endometriosis Caucus.
Through the coalition, we will "UpEndo" by promoting a better understanding of the extent and long-term health implications of endometriosis with the public and Congress to build awareness about the short- and long-term consequences of living with this debilitating disease, and ensure policymakers are advancing research funding and other policy priorities.
The UpEndo coalition will be focused on the following goals:
● Advocate for education and research funding through appropriations, federal agency and White House engagement, and policy changes along with supporting the Congressional Endometriosis Caucus to further these goals;
● Educate the public, Congress, and the federal government on the costs and extent that women experience painful and debilitating lives due to endometriosis and the impact on their families and the community; and
● Raise awareness around available medical and diagnosis options for women currently living with endometriosis.
The coalition will pursue high-visibility opportunities that include Congressional hearings, federal agency and White House initiatives, and media opportunities and events. We will specifically focus on Congressional committees that have jurisdiction over issues of interest to the coalition such as the House and Senate Health Appropriations Subcommittees and authorizing committees. In addition, the coalition will work with thought leaders outside of the government such as DC and other state-based think tanks with interests in health and women's reproductive health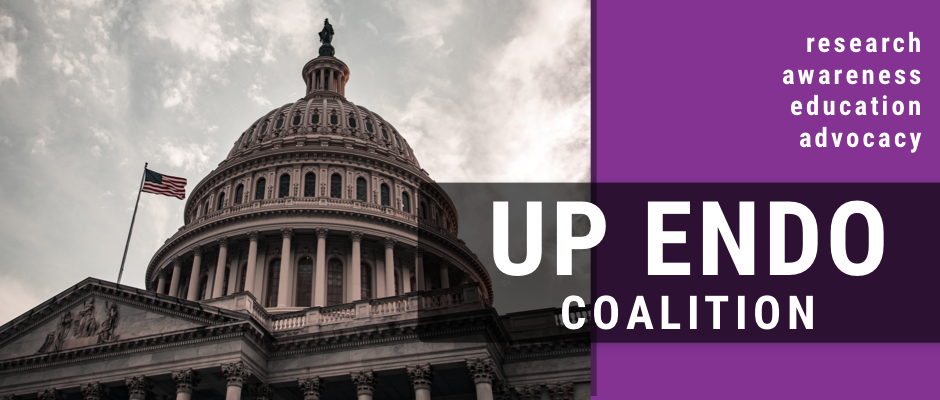 UpEndo will achieve greater visibility and increased attention to endometriosis by empowering national and international stakeholders and our allies in Congress, but also identifying state and local education opportunities. While few states in the nation have addressed endometriosis through their own legislative initiatives, we are hoping that they will look to the historic 2019 New York State menstrual health and endometriosis law, and implement it in their state. It is important for the public to understand the symptoms of endometriosis and what treatment options are currently available.
We look forward to your participation and ideas as we develop the coalition and our policy and communications agenda. For more information or to join please contact Jeanne Rebillard, Director of Communications & Government Relations at jeanne@endofound.org or text or call 845.518.4636.