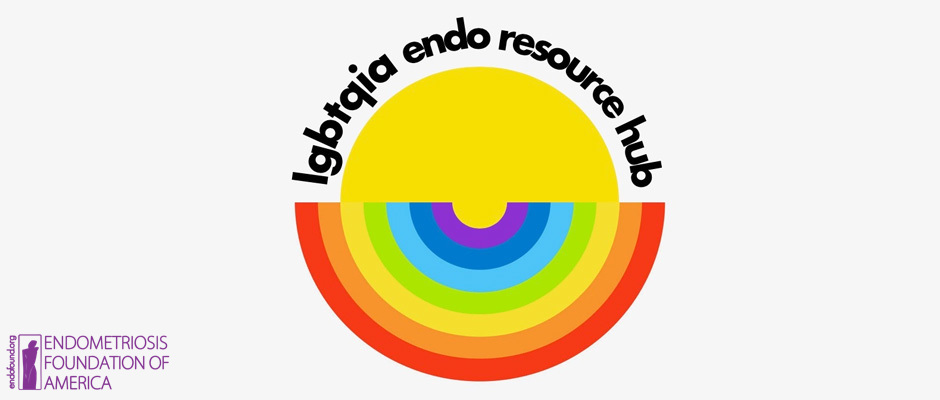 The LGBTQIA community continues to face many health disparities due to bias in healthcare. These disparities are a result of multiple factors, one of which is uninformed healthcare. For example, students and trainees in health professions have little exposure to LGBTQIA communities and are insufficiently informed about how to meet this group's healthcare needs. Similar to the fact that there is a lack of training on endo in medical school, many medical professionals do not receive adequate training on LGBTQIA health, and as a result, are unable to meet the healthcare needs of the community. Minority stress also contributes to health disparities. Minority stress refers to the "discrimination, stigma, and internalized homo- and transphobia experienced by LGBT individuals in their daily lives."1 Minority stress can lead to reluctance in sharing gender identity or sexual orientation and in seeking healthcare services due to expected poor treatment.
It is clear to EndoFound that society, health service providers, and healthcare professionals need to do better in meeting LGBTQIA health needs. More research must be conducted to better understand how to improve healthcare for the LGBTQIA community. This research must also be implemented in the medical community. To date, research has been heavily focused on a handful of conditions, and has neglected other health issues. This is particularly true for endometriosis.
At EndoFound, we created this safe and trusted space for the LGBTQIA endo community to get the information and resources they need concerning endometriosis. EndoFound's LGBTQIA Resource Hub includes organizations focused on LGBTQIA health, support groups, articles, videos, and more. This resource hub is an ongoing project, and we will be adding to it consistently. If you have any suggestions or resources you'd like to share, please reach out at info@endofound.org.
References:
LGBTQIA Clinics
Cleveland Clinic's Center for LGBTQ+ Care offers healthcare services from providers who understand the health needs of LGBT patients, and access to specialists with expertise in LGBTQ+ care.
Callen Lorde Community Health Center provides sensitive, quality healthcare and related services targeted to New York's lesbian, gay, bisexual, and transgender communities.
Apicha Community Health Clinic has extensive experience working with Asians and Pacific Islanders, Latinos, African Americans and other people of color. We also specialize in serving individuals who identify as lesbian, gay, bisexual and transgender, as well as people living with and affected by HIV/AIDS.
Planned Parenthood offers education, support, and sexual and reproductive health services for the LGBTQIA community.
LGBTQIA Health Organizations
Human Rights Campaign's Healthcare Equality Index, the national LGBTQ benchmarking tool that evaluates healthcare facilities' policies and practices related to the equity and inclusion of their LGBTQ patients, visitors and employees.
The LGBTQ Center provides programs for health, wellness and community connection. The Center also provides support groups, free therapy for a fixed amount of time and then they help you find a full time therapist and they also help with getting insurance
AMA's Advisory Committee on LGBTQ Issues highlights LGBTQ news and topics related to patients and physicians as well as guidelines for medical professionals.
Fenway Health's National LGBT Health Education Center provides educational programs, resources, and consultation to health care organizations with the goal of optimizing quality, cost-effective health care for lesbian, gay, bisexual, transgender, queer, intersex, asexual, and all sexual and gender minority (LGBTQIA+) people.
GLMA (Health Professionals Advancing LGBTQ Equality) ensures health equity for LGBTQ individuals as well as equality for LGBTQ healthcare professions. GLMA's membership includes approximately 1,000 member physicians, nurses, advanced practice nurses, physician assistants, researchers and academics, behavioral health specialists, health profession students and other health professionals.
WPATH (The World Professional Association for Transgender Health) promotes evidence-based care, education, research, public policy, and respect in transgender health as well as offering a provider search to ensure that you can find the right healthcare provider for you. They also offer Standards of Care and Ethical Guidelines, which "articulate a professional consensus about the psychiatric, psychological, medical, and surgical management of gender dysphoria and help professionals understand the parameters within which they may offer assistance to those with these conditions."
Transgender Law Center offers a guide that is intended for anyone who wants to change the way community clinics offer care for transgender people. Whether you are a community member, ally, policymaker, health care provider, or clinic administrator, you will find useful lessons and promising practices to start organizing for transgender health care in your community.
NCTE (National Center for Transgender Equality) works with federal, state and local agencies and advocates to ensure that regulations, policies and laws are passed and implemented, which ensure that transgender people have access to quality health care
The Trevor Project is the leading national organization providing crisis intervention and suicide prevention services to LGBTQ young people under 25.
National LGBTI Health Alliance is the national peak health organisation in Australia for organisations and individuals that provide health-related programs, services and research focused on LGBTI people and communities.

Support Groups
"I started endoQueer because the other endo groups I encountered were okay but very heteronormative. I wanted to have a space with other lgbtqia+ individuals going through endometriosis where on some levels we could understand each other." —Les Henderson, Founder of endoQueer
Endo Siblings Support Group: for Trans and Enby People with Endometriosis
"I started my support group because the endometriosis groups I was in weren't very inclusive of trans, non-binary, and intersex people with endo. The language was always feminine, posts that attempted to be inclusive were met with transphobia, and people in these groups weren't getting their needs met. My group hasn't achieved that, but I still want to see people like me get the care they need." —Kayla Newland, Founder of the Endo Siblings Support Group
Resources for Medical Professionals:
Nurse's Guide to Caring for LGBTQ+ Youth: A comprehensive guide by Nurses Journal to help nurses practice culturally competent healthcare to LGBTQ+ youth, a vulnerable population in need of knowledgeable, compassionate, and skilled nursing care.
Articles & Videos
AMA: What doctors should know to better serve LGBTQ patients
The Blossom: He Is 1 in 10: A Trans Man Shares What Life is Like With Endometriosis
NowThis Video: Living with Endometriosis as a Transgender Patient
Endometriosis.net: Healthcare Obstacles & the LGBTQ+ Community
Clue: Managing endometriosis when you're trans
Huffington Post: Endometriosis and Gender Nonconformity
Hormones Matter: Endometriosis and Being a Trans Person: Beyond Gendered Reproductive Health
Current Clinical Studies:
A New Clinical Study on Transgender and Nonbinary People's Experience of Living with Endometriosis (Stellenbosch University) - email Cheryl Eder at cje@live.co.za by April 30, 2022 to participate.
Share Your Story
If you'd like to share your story as an LGBTQIA individual with endometriosis, please email writers@endofound.org.
If you have any suggestions or resources you'd like to share, please reach out at info@endofound.org.