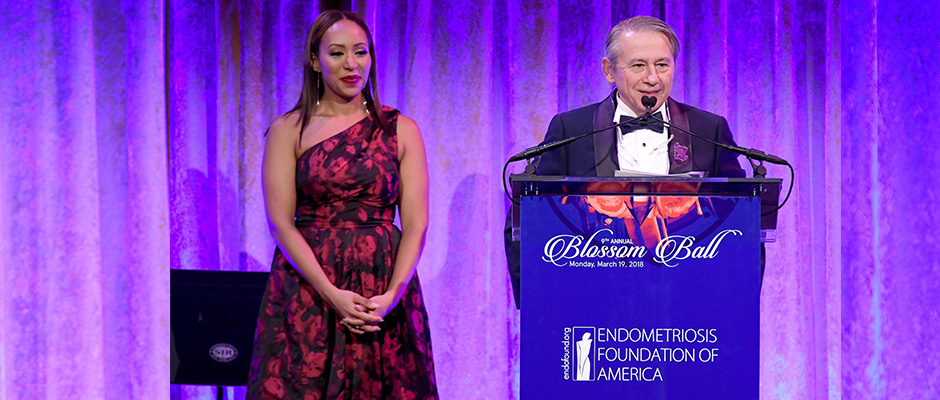 The revolution will be televised!

Ten years ago, Dr. Tamer Seckin and Padma Lakshmi joined forces to found The Endometriosis Foundation of America. Back then, endometriosis was hardly a headline, and the Blossom Ball galas were still in their infancy. But fast-forward to today and Seckin admits he can hardly believe the steam that the movement has gathered. "It's almost nuclear," Seckin told The Blossom at our 9th Annual Blossom Ball in NYC on March 19. "The embodiment of women's movements thanks to the internet, I think is just starting. A big revolution is starting."
Seckin didn't have to think long when asked why endometriosis is finally becoming a mainstream topic.
"I think it's different and special because this is a big wind behind these sails," says Seckin, 64, referencing the Time's Up and #metoo movements. "This movement will sail even faster, and the action will turn into a revolution by education, by awareness, by women. There are so many women activists; their voices are going to be here on the broadcast, via internet, everywhere. I think it's politically-charged the [endometriosis] cause."
Outspoken endometriosis advocates like Lakshmi, 47, former Girls actress Lena Dunham, 31, and singer and Blossom Award 2018 recipient Halsey, 23, are just three celebrities who are bravely leading the charge. "They are the voice of [women's] unheard agony and pain, unrecognized disease, their mistreatments and everything that endometriosis affects [with] women," adds Seckin. "They have become a voice. If they hadn't lent their persona selflessly, I don't think we would be here."
Things have changed for the better, in many ways, but the taboo nature of discussing menstrual and fertility problems remains a stumbling block for the movement, much like how breast cancer victims remained silent for many years before former First Lady Betty Ford emerged as a fearless voice of the illness in 1974.
"If [Betty] wasn't open about it, we may be late talking about it. She did remove the taboo from talking about breasts. Today, breast cancer is [often] very early diagnosed. The value of early diagnosis is going to be the key to the revolution when it comes to endometriosis. This is a taboo issue, a social issue and it extends to the reproductive justice and women's health."
The biggest obstacle that Seckin sees in the way of progress, however, lies in "the insurance companies that don't recognize the disease as disease." Nevertheless, with all the women continuing to speak out, raise awareness, and make a change, Seckin remains optimistic.
"It is these kinds of movements," he adds, "that will change the attitude of the public."