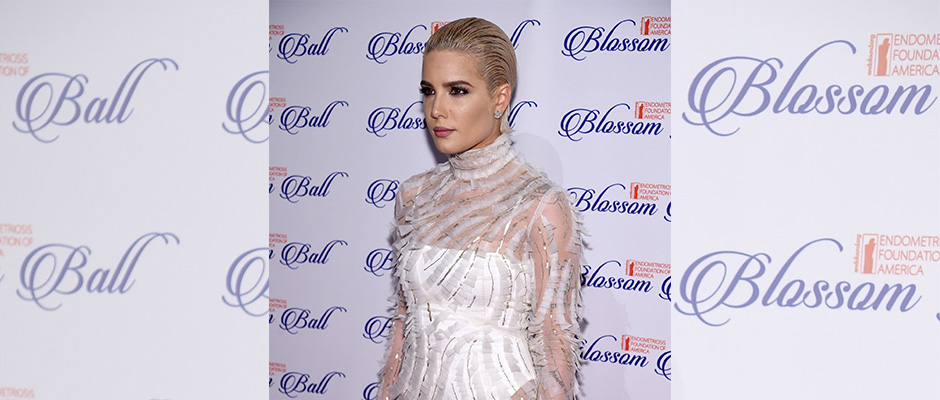 Halsey has found her modern-day fairy godmother.
The singer reveals that she and EndoFound Co-Founder Padma Lakshmi recently bonded over their shared experiences with having endometriosis, a chronic reproductive disease that affects at least one in ten women worldwide.
"I have had really amazing people like Padma, who have come to me," Halsey, 23, tells The Blossom, "like, 'Hey, you need these heating pads, this tea, this medicine and you need to know when to say no,' and those little things have given me a lot of grace along the way."
The two-time Grammy nominee admits that being in the spotlight often compounds the difficulties of having endometriosis, a reality that Top Chef star Lakshmi, 47, knows very well.
"No one teaches you how to have endometriosis but no one especially teaches you how to have it and be in the public eye, and so for her to come in, having been a model and being on television and say, 'This is how I deal with this despite my crazy schedule,' it was like having a fairy godmother who was like, 'I know your life is really weird and it's been made even weirder by having a chronic illness but here is how you can deal with it and put it all together.' I am really fortunate to have her."
Having a strong female role model to confide in while surrounded by her mostly male team was especially comforting.
"I have two male managers, a male tour manager, a male band, and there were times where I am bleeding through my clothes or I am sick or I can't get on and it got to the point where I had to look at everyone around me and be like, you know what, this is something that is a reality to me and you need to suck it up and deal with it, I am not going to let you make me ashamed of this."
It's this strength and courage that led EndoFound to honor Halsey with The Blossom Award, at the 9th Annual Blossom Ball on March 19.
The singer delivered a heartfelt speech about her struggles and revealed that she's feeling "a lot better" since having an ablation last year, and that soon after, "I walked the red carpet at the Grammys with stitches in my stomach."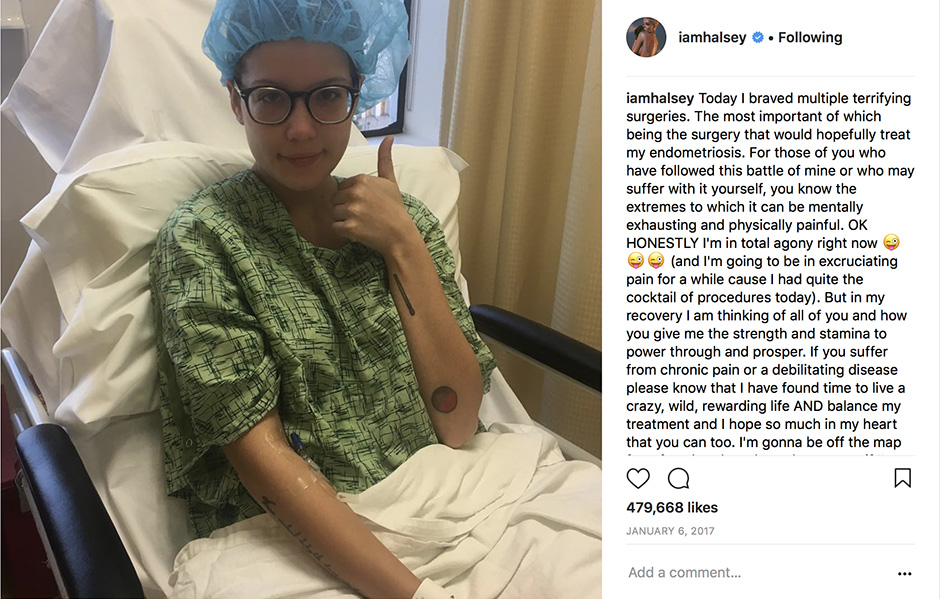 Halsey first revealed to fans that she has endometriosis in a January 2017 Instagram where she shared that she had "multiple terrifying surgeries." Since then, Halsey says she's had young fans tell her that they were diagnosed with the condition only after seeing Halsey's post.
"There was hope for them to not live a life that was not full of pain and this was something they wouldn't have known about if I didn't post a tweet one day."
Other celebrities who have been outspoken about their endometriosis battle include Sarah Hyland, Lena Dunham, Tia Mowry, and Julianne Hough.