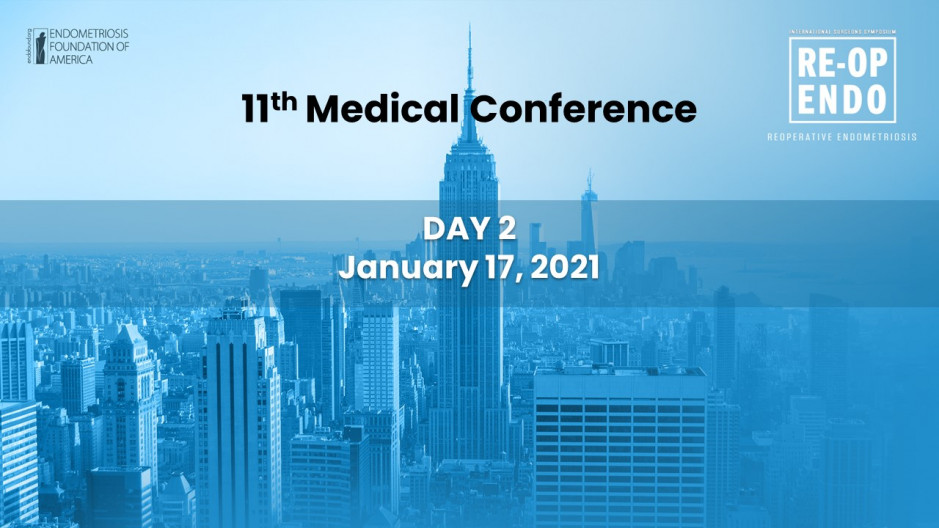 Virtual Medical Conference 2020:
REOPERATIVE ENDOMETRIOSIS
Tamer Seckin, MD:
Good morning. It is Sunday, January 17, New York City. I am Dr. Seckin, on behalf of Endometriosis Foundation of America and with my distinguished guests and moderators, I am welcoming you again and recognizing you for participating in this wonderful event, and joining us for our second day of Reoperative Endometriosis, EndoFound's Virtual Conference. As you all know, this was a conference that was scheduled to go late March and due to COVID, the conference was canceled. We had a wonderful great day yesterday, honoring Dr. Arnaud Wattiez for his work, advancing the science of and surgery of endometriosis. Dr. Wattiez talk was about surgery without mutilation. He reminded us how important it is not to remove the mesentery of this bowel, in order to prevent complications. He reminded and underlined the importance of not to injure nerves. Congratulations, Dr. Wattiez.
Tamer Seckin, MD:
And second interesting presentation from yesterday was Dr. Ie-Ming Shih. At the molecular level, Dr. Ie-Ming Shih presented us the epigenetic changes a decade prior that was happening before the symptoms ever arise. I thought this was a groundbreaking presentation. I urge you to go back to visualize and listen to these presented at EndoFound's website, the password is capital E and F with EndoFound2020. And today again, I'm joined by Dr. Reich, Dr. Martin and Dr. Gomel. For our second day participants, it is a two hour presentation. There will be no lunch break, please bear with us. An initial session will be about Deep Endometriosis Panel, Dr. Jon Einarsson from Boston, Dr. Khazali from London and Ted Lee from Pittsburgh will be joining us.
Tamer Seckin, MD:
First, Einarsson will go with Fixing Holes, and Khazali will take Operative Techniques for Deep Endometriosis Surgery, and finally, Ted Lee will join us with his part, Rectus Muscle Endometriosis and Inguinal Endometriosis. Lunchtime, Dr. Gomel will take the stand and will cover Adolescent Endometriosis, the Timely Detection, and finally, probably most of our panel will be joined by Dr. Liselotte Mettler, Tomer Singer and Pinar Kodaman. I'm excited to start the session. Thank you for joining us.
Jon Einarsson, MD, MPH:
Well, I think my session was basically just on how to manage complications. I think that the most important thing when we're doing endometriosis surgery is that, it is a complicated surgery and we do sometimes make holes into organs that we're not supposed to, or not intending necessarily to make holes into. I think the most important thing is to recognize that and repair it. The dangerous complications are where patients have, especially thermal injuries that we don't recognize, and those are the patients that unfortunately don't do very well. I think that's the gist of it, I think it's hard to summarize complications in laparoscopic surgery in two minutes, but that's the core of the message, I guess.
Tamer Seckin, MD:
The deep endometriosis surgery is something that we always face difficulties. I think in the end, our fear is to not have a complication. And we really don't know many times what the end is going to be. And the team is important, yesterday's one of the most highlighting part of Dr. Wattiez's speech was he showed a slide about... it's the singer and that's all he said, basically. But in your experience, tell me what your band is about. What is your level of expertise or people that helps you in the room and have you managed multiorgan approaches at times in this politically and also obviously medical legally, expose situation we fall in, in multi-organ surgery? In what cases you call assistance and how do you work with the colorectal plus the thoracic surgeons and urologists?
Jon Einarsson, MD, MPH:
Well, I've seen people practice in very different ways in different countries. But I think that my situation is probably similar to most people in the US, meaning that I draw the line if we need to do a bowel resection, we need to use staplers, then I will usually work with the colorectal surgeons to do the stapling. And also in terms of the urologists, if there's an end-to-end anastomosis of the ureter, then I will generally do that myself. But if there's a reimplantation, that's where I draw the line, even though I would love to do it myself, they wouldn't be very happy with me, I think, the urologist if I did it, so I will call them for that. Bladder, I will repair myself. Bowel, if it's a bowel injury like a hole in the bowel, I'll repair that myself as well.
Jon Einarsson, MD, MPH:
But again, if stapling has to be done, I will call the general surgeons. In terms of the diaphragm, if there is a through-and-through lesion, I think they should have... that's done as well, because you could have some endo up in the thoracic cavity and so I do work with the thoracic surgeons on that. So, we'll do a joint procedure, they'll do the VATS procedure and I'll do the endometriosis on the diaphragm. So, absolutely important to have... a multidisciplinary approach is important. And I think that if you can manage the complication of whatever you do yourself, and you can do the whatever you're doing well, then I think you should be allowed to do it. But if you cannot manage the complication yourself of what you're doing, then perhaps you shouldn't be doing it on your own to begin with.
Tamer Seckin, MD:
Absolutely. I think it's important to emphasize for our viewers. We have close to 500 viewers, I'm hoping that's how many registered, but usually we drop that. But there are some doctors, some of them are not doctors, but in general, the audience should be aware, many times these so-called sites specialists from other specialties have no clue in general about endometriosis, how the lesions look like. So, they only see pigmented lesion as lesions, they don't recognize and respect the fibrotic tissue, which may harbor and pull the tissues together and cause problems.
Tamer Seckin, MD:
So, we end up teaching them and we have to stick around and do not let them do what they have to do and show them where the diseases, when even in thoracic cavity, even in other parts of retroperitoneum number one, I think it's very crucial. And also the value of dedicated OR, the value of dedicated personnel and immediate supply of equipment and flawless surgery, seamless procedure is the key.
Jon Einarsson, MD, MPH:
Yeah, you're right. For example, the thoracic surgeons, they are not accustomed to dealing with endometriosis, but what I generally do is I have found two of them that are interested and that we work together consistently. So, they have now become very comfortable with it. So, that's the key-
Tamer Seckin, MD:
Absolutely. They feel privileged to be us after a point because they're convinced, they go behind your back and check the pathology and they receive it, they start scratching their head, "Oh my God, we're learning something," this happened to me for the last 25 years at Lenox Hill Hospital and I'm really privileged to have them around. Dr. Khazali would you like to add your own practice or the practice habits in London? What's going on there?
Shaheen Khazali, MD:
I have practiced in three very different environments, so perhaps I can share something. I think a couple of things to say on that, one is we shouldn't forget that all of this is about the patient. So, we are all working for the benefit of the patient and it's the patient that is at the center of all of this. So, when we say, "Multidisciplinary team," some may just picture a number of specialists getting together, I don't think that's a team. A team is when these specialists all sing from the same hymn sheet. And what I have found very useful is for these specialists that work with me to see the patients before and after the surgery, for them to see and believe the disease and why we're doing all of this.
Shaheen Khazali, MD:
And I'll give you a couple of examples, I used to go to Iran, that's now eight, nine years ago. And we used to do a very large number of very complex disease, over a course of seven, eight days that I was in there, we had two ORs and we had the colorectal surgeon there for all cases because all we did was very complex endometriosis. And we had a urologist who wasn't a laparoscopic surgeon, Dr. [Oroste 00:11:33], but he was so interested that he would stay in the OR watching the surgery, seeing the patients before and after. And after a while, when we were doing ureteric reimplantations, I was his robot basically with him watching over my shoulder, doing the ureteric reimplantation and later on he carried on doing it.
Shaheen Khazali, MD:
So, the only reason that wasn't a problem for him was that he had seen these patients, he knew how much they are suffering. And he had seen how these patients would suffer if they are opened by someone who doesn't understand the disease. So, I really couldn't agree more than having a coherent team that know exactly what's going on even without needing to say the word, they know exactly what the next move will be, is just priceless.
Tamer Seckin, MD:
Yeah. Thank you very much. Overall, I have to tell you, I assigned that topic to Dr. Einarsson because I know I could trust he could answer that, it could be Dr. Ted Lee too, but fixing the hole is the ultimate point procedure we can do for if we have to fix the holes and we have to fix it right, that's the key. At times, you may have even vascular injury, until they come. I had my own vein perforations that I had to repair laprascopically before the guy came, because you don't know when he may be coming. Otherwise, it is impossible to do this surgery, you got to fix the holes, and right. At times double layer, at times single layer, it's about fixing the hole, mostly bowel. Bowel misses could be mortal, sepsis, patient may stay in the hospital, may days [inaudible 00:13:31], it's very, very painful for all of us. I just want Dr. Lee to add certain things. I know he's experienced in this part as much as we are. Go ahead.
Ted Lee, MD:
I concur with Dr. Khazali and Dr. Einarsson. I think one of the things that I think we should emphasize with the audience is that, anticipation is really key to allow this multidisciplinary team that we are trying to develop for the care of the patients. So, as the surgeon, as the captain of the team, you have to anticipate scenarios based on your workup, and then, so that you... The surgeons, so normally as same as Dr Khazali, if I anticipate that the patient may need some kind of bowel surgery, either from this core resection which I would do myself, if a patient is going to end up segmental resection, mentioned a surgeon would do for the patients. I had the patient see the general surgeons ahead of time, just like Dr. Khazali.
Ted Lee, MD:
So, really the proper workup anticipation is the key to have a effective team. And so, if you do not anticipate and not properly work the patient up ahead of time, and be able to consent the patients appropriately ahead of time, but even if you have the skills, you may not be able to use it at a time when it's needed. So, anticipation is really key to the success of a multidisciplinary team. So that's my take on this matter.
Tamer Seckin, MD:
Thank you. Dr. Martin, do you have any questions coming from the audience? I'll need-
Dr. Dan Martin:
I've got one here that, I think guests can... for the entire audience, it was directed to Ted Lee, but we'll let everyone have it, "After successful surgery, what's next in managing endometriosis? How do you watch for recurrence, risks, chance of damage to other organs, any precursors to ovarian or other cancers? What monitoring do you suggest?"
Tamer Seckin, MD:
Who wants to take over that case? Dr. Lee?
Ted Lee, MD:
It depends on the case itself. Obviously, in a lot of my patients, if they are trying to get pregnant, then I tell them after surgery that they should try to get pregnant as long as the fallopian tubes are open. If they are not planning to conceive anytime soon, typically for severe endometriosis I normally talk to the patient about suppressive therapy with progestins, because I don't care how good you are as a surgeon. When it comes to severe endometriosis, there is a lot of potential for residual disease that may have been missed just because of the distortion anatomy, as well as patient who has been operated on several times before.
Ted Lee, MD:
So, there's always a potential for residual disease. So as long as they can tolerate progestin therapy, as long as they aren't looking to get pregnant any time soon. That's my main stay in terms of afterwards. But obviously everything in terms of monitoring, for the most part it's going to be symptom-based. If you are feeling well and don't have pain, we don't have to do anything. So, that would be my general follow-up with a patient who have surgery for severe endometriosis.
Tamer Seckin, MD:
Thank you very much.
Shaheen Khazali, MD:
May I-
Tamer Seckin, MD:
Go ahead.
Shaheen Khazali, MD:
... pick up the cancer point? So, we're just writing guidelines for ASHRAE and I'm working with the group about the cancer side of endometriosis. And I think it's very important to give the right message that even though we do know that endometriosis, particularly endometriosis of the ovary, does increase the risk of cancer formation. This risk is small in terms of absolute risks, so we shouldn't worry patients unnecessarily.
Shaheen Khazali, MD:
And at the moment, I'm not going to give out the whole guideline as it's not final yet, but we are not going to recommend routine follow-up for everyone with endometriosis only because of cancer risk. The risk is there, the patients need to be informed. We think it's... the lifetime risk is 1.7%, but that's not something that would then warrant removal of ovaries or removal of organs just to reduce that risk.
Tamer Seckin, MD:
Okay. Thank you very much. There are questions, but I'm going to keep some of the questions in the end. I think I failed to introduce Dr. Einarsson. Dr. Einarsson is a [Richard Telling 00:18:42] Distinguished Professor of Department of OB-GYN and Oncology at Boston Massachusetts General Hospital. And there are questions for you coming later, but I think for the time's sake, we have to move on. Dr. Shaheen Khazali is coming from the Center of Endometriosis and Minimally Invasive Gynecology, United Kingdom, London. His video is about, Operative Techniques for Deep Endometriosis Surgery. He has interesting approach, his talk could be highlighted as good knowledge of the anatomy or peritoneal and space, good team, as we were discussing, good tools are essential for successful surgery. He has a method of SOSURE Technique, Survey and sigmoid mobilization, Ovarian mobilization, Suspension and ovaries, Ureterolysis... SOSURE Techniques can ensure the best outcome achieved.
Tamer Seckin, MD:
I'm not so sure about that, but I agree with you most of the time we do the same thing. But at Ted Lee's team, Ted Lee I remember saying also which we all know, but I saw him saying that, "You don't go to the eye of the storm, you have to, in every case it's different, you have to surround the pathology and attack later," That's sometimes, I think, possibly complement to the SOSURE Technique. I loved it though, SOSURE is good. Go ahead, summarize what you felt in your presentation and how do you feel right now about your presentation?
Shaheen Khazali, MD:
Is that directed to me?
Tamer Seckin, MD:
Yes. It's about-
Shaheen Khazali, MD:
Yes, okay. SOSURE is not a new technique, I haven't really introduced anything, unlike Harry Reich here and the rest of you have done much bigger things. This basically is just a reminder that, like any other surgery, having a structured approach is helpful. So, we all do things differently and that's absolutely fine. And particularly for more senior surgeons who are completely used to a particular way that works for them, I do not suggest any change at all. But SOSURE is a helpful way in our view, to remind newer surgeons and perhaps less experienced colleagues, that to have a structure in your surgery is not only helpful for you, it's helpful for the team. If everybody in OR knows that your next step is now going to be to expose the pelvic structures, they're going to be prepared for your next move.
Shaheen Khazali, MD:
If your trainees, your fellows, know that you always follow the, say ovarian suspension with ureterolysis and that is a routine, that's going to be helpful. And the other point that I was making in my presentation, and this has been repeated so many times, but I felt that the importance cannot be overemphasized, is to treat the patient not the disease. We sometimes forget that... we think that if there is a nodule, "What do we do with this nodule?" I think that's the wrong question, we should ask, "What do we do with this patient? And how do we work with the patient to find the best way of treating her?" And that may include removal of that nodule. So these are the two things that I was hoping to highlight in my tool.
Tamer Seckin, MD:
I think it is crucial. One of the problems in endometriosis surgery, I don't think we are communicating with each other to the point of perfection of the procedures. There are so many opinions yet we may be doing similar things, but it would help if we sing along, have a harmony. I do agree with this, for example, I do the same thing. First, you mobilize the sigmoid, suspended ovaries, and then attack the peritoneum, whatever, everybody has different approach for their own. But it hasn't been... we lack standardization, we lack the techniques that could easily be followed and we will all be on page. And I think Ted and Dr. Einarsson are frequent attendees of teaching seminars and everything. And I'd like them to take this also follow it on. How can we standardize certain things? Is there a possibility for this [inaudible 00:23:48] endometriosis surgery?
Ted Lee, MD:
I think what Dr. Khazali described is pretty standardized. I think for severe endometriosis, with bilateral endometrioma, bilateral parametrial involvement, rectovaginal involvement, what he described is very routine, it's what we do pretty much on all patients with Stage 4 endometriosis, is that we basically perform ovarian cystectomy first, and then get the already suspended [inaudible 00:24:18] out of the way, and then remove all the disease in the pelvic side wall and the parametrium, and then open the pararectal fossa and then address the central disease.
Ted Lee, MD:
At this time of development of the surgery, I think, it's very standardized at this point. I don't know anybody else do it differently at this point, because that is... and in the beginning of endometriosis surgery, a lot of the surgery surgical techniques are not anatomically based, but over the years, this has become much more anatomically based procedures compared to what we have done in the past, even compared to how we did, 10, 15 years ago. But what Khazali had described is pretty much standard and I'm sure Einarsson will agree with that.
Jon Einarsson, MD, MPH:
Yeah, I agree with that. What we generally talk about is circle the dragon, which is kind of what you said before, you don't want to attack the dragon right away, you get the easy parts done first, you get a better sense of where the difficult parts are. And so we have a very similar approach, in that way I think that we are maybe fairly standardized.
Jon Einarsson, MD, MPH:
I do think though that a big problem is that we are maybe all here high volume, we've been doing this for a while. But I see, unfortunately, so many patients that have been operated on elsewhere, maybe not by people who do a lot of this, where either they had incomplete surgery or just not the appropriate care. And so I think that that's the big problem, is to standardize or get the training up, or maybe set standards where you shouldn't be operating on certain things if you don't have the necessary expertise or experience with it, which is very difficult to do.
Jon Einarsson, MD, MPH:
But some countries have done that already, where there are only a few centers that are allowed to do endometriosis surgery, they have to have minimum experience and volume. And I do think that if the patient is really what we care about, which of course it should be, then I think we should have some guidelines in place for that.
Tamer Seckin, MD:
Yes.
Ted Lee, MD:
Yeah. I agree with Jon, I think ability to distinguish someone who is a skilled surgeon to take care of severe endometriosis for someone who is not is very, very important. Unfortunately, that we currently do not have a system here in United States, I know in UK they have a system, although it's somewhat more basic, maybe Dr. Khazali can address that.
Shaheen Khazali, MD:
Yeah. So, this is, if you like my hobby horse, I've been involved in setting up three centers under that jurisdiction. The fact that there is a system and there are some criterias, I think, is better than nothing. The system, as you said, is very basic. In my opinion, the bar is set far too low, and I've been an advocate of changing that. But the essence is very important. So, the criteria to become a center is that you need to have a dedicated specialist nurse for endometriosis, I think that in itself is a massive improvement. You need to have certain volume, which is far too low, at the moment it's set at 12, severe endometriosis per year. And I think that should be per month, at least, but that's beside the point. You need to have dedicated team of surgeon, a urologist, pain specialist, et cetera. But more importantly you need to submit your outcome data, including quality of life scores, pain scores at 6, 12, and 24 months, and your data is published.
Shaheen Khazali, MD:
So, I think even, if say in the United States, that is not possible for whatever reason, publishing the data for patients to then choose who to see, would you want to go and see someone who does 12 endometriosis cases a year, or someone who does 12 endometriosis cases a week, it's your choice. And I think that would then drive the complex cases to surgeons who have true interest and experience in the field. But it's not just that surgeon, we need to remember that volume also means you can do research, volume means you can train the next generation of surgeons. If you're doing 12 a year, you're not going to be able to teach anyone, if you're very lucky you will keep your skills. And volume also means that the managers of that hospital will see that there is a financial incentive to invest in that service. So, it makes perfect sense. Centralization of endometriosis care, I think makes a lot of sense to everyone.
Ted Lee, MD:
I think the success of the UK system is endorsed by the national health care system-
Shaheen Khazali, MD:
That's right.
Ted Lee, MD:
... and that is what really ensures success. To have a system like this in this country, we would need to have somebody at the level of a CDC or FDA or some government bodies to endorse that. And that's really the key, and then if we can do campaign for a system like that, that will be where we need to go.
Shaheen Khazali, MD:
Yeah.
Tamer Seckin, MD:
Know that 10 to 50% of the endo patients may be reoperated. And the most vulnerable group is maybe the early cases that comes back for surgery. And when we say, "Who is to blame? The disease, the patient, the surgeon, the other doctors, GI, general surgeons, insurance companies, government, public?" I think we have to blame ourselves first. And it is the surgeons, it's the Doctor Medical Community which hasn't really come to the grasp of this disease.
Tamer Seckin, MD:
... which hasn't really come to the grist of this disease and we have to agree and work together, and really communicate well. When it comes to endometriosis, we all depend on saying the disease's glands and stroma are found outside the uterus. Yeah. But hey, where's the tissue? Where is the tissue? Where's the evidence that you're doing it? So we have to agree on the evidence. The only evidence we have is patient testimonials. If it wasn't patients, maybe we wouldn't be here. This foundation was found basically... Well, I thought it was necessary but I couldn't move an inch unless somebody who has a recognizable face came and said, "Oh, it's my vagina. It's my internals are hurting and nobody helped me," was helped. And everybody, every one of you has had the similar experience in your practices.
Tamer Seckin, MD:
You know it's helping. You know removing the tissue, we have to put it down there and get a biopsy. So I think when we say standardization of surgery, if it doesn't come to the tissue examination and verification by the pathologist, the validation on patients' minds and brains is not going to happen. I am pursuing this subject because I am insisting such standardization going to tissue biopsy rather than just social technique, which is fine, but social technique should extend tissue diagnosis, I'm hoping. Dr. Gomel. You want to say something I could tell.
Dr. Gomel:
Pardon?
Tamer Seckin, MD:
Okay. You are not muted anymore. Go ahead.
Dr. Gomel:
I'm not muted. I never mute. The problem is integrity. And physician, especially a surgeon shouldn't do anything that he doesn't know very well. This is why we have specialists, and integrity comes from there. [inaudible 00:33:27] that he doesn't know how to do a complex surgery of endometriosis, he shouldn't do it. He should revert to somebody else. That's integrity. I have never done a procedure if I knew that there was somebody who can do it better.
Tamer Seckin, MD:
Thank you, Dr. Gomel. Thank you very much. Would Harry [Ulrich 00:33:57] say something about this subject, please.
Harry:
Please. Tom Mayer, thank you very much. I'd like to emphasize what we heard yesterday, because I've heard everyone this morning and [inaudible 00:34:14] what he has emphasized, the concept of the complete pelvic surgeon yesterday. And we know endometriosis involves the rectovaginal septum, and that means rectum. I've been away from it for 15 years, but I still can't understand why more gynecologists don't manage the rectum on their own. Because we know more, I think, than general surgeons who operate occasionally on the rectum. So I'd like all the panel to address this subject.
Tamer Seckin, MD:
Okay. We will come to this again because there are some questions about insurance companies. But since we are about this disease, whether it is progressive disease, whether it's recurrent disease or incomplete surgery, Dr. Dan Martin will probably review his own talk for us. Dan, please. But, before that, please, ladies and gentlemen, I want to recognize Dr. Ayhan, who's joining us from Japan three o'clock in the morning. I felt bad I told her, but then she said, "Of course, I'll get up." And she joined us. There are any questions to her, please keep your questions on the side. And we'll like to get her back to bed. If we get any questions for her in the next 10 minutes, we'll interrupt and we'll like her to go to bed again. It's three o'clock in Tokyo today. All right, Dr. Dan Martin, please take the podium.
Dr. Dan Martin:
My talk basically was why we missed endometriosis and why it is, therefore, difficult to determine whether it is missed or it came back. Our biggest problem is that we miss it because we don't see it, it's only found on histology. We can't see it, but you can find it with the rectal probe. We can't see it, but you can palpate it at laparotomy. It's nonvisualized and sometimes found on dissection, or it could be microscopic or a STEM cell. That's just the short version. This is the long version. The long version is all of that, but we're not going to cover that, but those are all the different ways we know to miss endometriosis, not recognize it, interfere with the ability to see it.
Dr. Dan Martin:
And in addition, the look alike lesions to confuse the whole issue. The summary is this is a very complex, difficult concept. And there's really no good way to tell whether root endometriosis at second surgery is recurrent or something that was missed. Most of what I saw in my practice was surgery that had been missed, either by me or someone else. On deep rectovaginal endometriosis, the recurrence was almost at the perimeter of where my excision ended and my guess is I didn't excise deep enough.
Tamer Seckin, MD:
I was looking for some questions. One of the questions coming up has to do with... Or for all of you, because it's a crucial question. What are we doing to fight back on the treatment limitations dictated by insurance companies. Discussing operative strategies is great, but how are we going to make sure the people who need this treatment have access to it? I think Dr. Lee has more experience because I know he's in charge of coding and some of the dealings of these problems with the government and insurance companies. Ted, would you like to address this element?
Ted Lee, MD:
Yeah, I think it is a very, very complex problem. Obviously I've been trying to tackle this for many years, the age old liaison to the Aycock coding committee, and we've been trying to change in the codes, and obviously there's a lot of politics involved. And I think obviously, a lot of this has to be done slowly. Lately, I think we're having some success at least to hopefully changing the diagnosis code for the endometriosis. I think even many of the diagnosis that we thought would be fairly straightforward is not even listed in the ICD code. For example, that bladder endometriosis and diaphragmatic endometriosis all have the same code because they are listed under... Unless basically [inaudible 00:39:11] because there's no codes for them. So there are many things that we're working on.
Ted Lee, MD:
And so the diagnosis code for endometriosis had not been changed for 40 years. My goal is to establish the reviser codes and later on, we will then tackle the procedure codes and that has its own challenges. So it's surely not ideal, but we are working slowly to get that change. I'm currently the President of AAGL. Even after I get off in the executive board of AAGL will continue to work with the patient advocacy group, as well as some of the governmental agency trying to change what can be corrected. We have already submitted our revision of our ICD-10 codes for endometriosis to the CDC and we got very good positive response on the first review. We have made an additional revisions, but I feel pretty confident that would change.
Ted Lee, MD:
So at least we can validate the presence of various form of endometriosis through the diagnosis codes. And after that, my goal is to change the procedure code. I cannot guarantee everybody's going to be rich after things are re-established because, obviously you have been compared to cardiothoracic surgery and many other surgery procedures. But in the end, I think the first thing is to have the diagnosis and be able to track the disease. And when you build a track disease and able to document your success of your treatment, as Dr. Khazali have mentioned that the Center of Excellence in UK now only it's to show people's ability or different center's ability to treat a disease, but be able to track the outcome. And using those information, then we can over time be able to change the coding for, and then maybe changing insurance reimbursement for the procedure we perform.
Jon Einarsson, MD, MPH:
Yeah, the reality is that the system is broken the way it is now. Just as an example, if I get a patient that was operated on by somebody else, and it's clearly stated in their operative report that they didn't feel comfortable removing all the endometriosis and they cut a little bit or burned a little bit and then referred them to me, appropriately, then I will do the case and it will take me maybe three hours to do it. I get paid exactly the same as the person that burnt a couple of things and then sent the patient to me to finish the job. We get paid the same for the same code. That doesn't make any sense to me.
Jon Einarsson, MD, MPH:
And that's in a nutshell the problem. And that's why we see some providers that are doing a lot of this, they stop taking insurance because they don't feel like they're being adequately reimbursed. But there's a problem with that too, because then a lot of times those outcomes are never published. We don't really know what's going on there. And a lot of patients may not have the ability to seek care because they have to pay more out of pocket. So the system, really the way it is now is really not ideal, if we think, again about the patient estimate.
Tamer Seckin, MD:
Well, insurance companies makes money by not paying the doctor or even the hospital. So they're convenient to bundle. So your procedure you do on different organs are bundled under the roof of maybe just diagnostic laparoscopy plus something, and the minimal of that. So I think for the providers being transparent, having a very eloquent, correct all our report substantiated by live video and patients standing by you is important. I'm talking about even out-of-network situations. I think patient has a contract with the insurance company in out-of-network situation, we don't. So patients can stand by their physician and support that. That's a good way of approaching that. But politically, when it's HMO, you are going to be equally treated with the Medicare standards and pushed down as far as the payment schedule. What Ted Lee is doing incredible. I will like to be part of that, even though we try to be but it didn't happen. I think the foundation would love to hear where you are with it and what we can do, we will be more than glad to assist if we can.
Ted Lee, MD:
Yeah. I would love to collaborate with the foundation to some of the important endeavors that we're trying to do to help to correct some of the coding structures that we currently have.
Tamer Seckin, MD:
Okay. I'm going to move on to one more question. This is to Ted Lee. One of your loyal [inaudible 00:44:31] patient is writing to you. How to manage recurrence of endo post-surgery. I was lucky enough to have Dr. Ted Lee perform my incredible miracle surgery beyond type four over seven years ago. I have since been blessed with three beautiful children. I am facing the question, what is next for me in managing endo? How do you stay on top of risk recurrence? Signs to look for, risk of damage to other organs. I had severe bowel and bladder issues. Risk of precursor to cancer. What ongoing monitoring would you do? Please go ahead. I think a lot of question, but you can be very simple. Because he's a fan of you, you can get away with it.
Ted Lee, MD:
Well, I think it's very similar to what I had mentioned before. I think for most of the monitoring it's going to be symptom-based at this point. For her to have three children after radical debulking of endometriosis, I'm happy to hear that. And then if she's not having symptoms, pretty much done. Obviously you need to have follow up with your gynecologists and you can follow up with me to make sure there's no evidence of recurrence based on exam, but the symptoms is what we normally address. So if you're doing well, count your blessings and go from there and just have your yearly exam. And obviously, sometimes a lot of your general OB-GYNs do not do a very customary exam and they might have missed some of the earlier signs.
Ted Lee, MD:
For example, if a patient come to see me and they have previous history of stage four endometriosis of bowel and bladder involvement, and they are doing well and I'll examine them, and I would pick up... say if you're having some tenderness in the retrocervical region, for example, and that maybe a sign of something that's coming back, but many of those patients who have endometriosis and who would now have three children, the most likely scenario at this point for those type of patients, that can be adenomyosis. And as they get older and they will begin to have more experiencing of a heavier bleeding, a little more cramping from their adenomyotic uterus. But as long as you're not having symptoms, I would just say, leave it alone.
Tamer Seckin, MD:
Well, in Harry's term, she is cured.
Harry:
Right. Exactly.
Tamer Seckin, MD:
She is cured. She has children. She's asymptomatic. There's significant patients that you do good surgery. You don't hear from them. They continue with their life and don't want to even remember. They even forget what they went through. We have to also see the other part of the story there. [crosstalk 00:47:23] Say something?
Harry:
She's cured. I hate this idea that it may be coming back after 20 years. I don't think so. If you removed it back there 20 years ago, it's gone. [crosstalk 00:47:43].
Tamer Seckin, MD:
Harry, I just want to afford just courtesy for the gracefulness of Dr. Ayhan connected us. The last part of the question was what if I had endometriosis surgery? What are my risk of getting ovarian cancer? As a pathologist, shortly I'll say, she was part of the Dr. Lemming group. As you heard yesterday, doctors, she gave an incredible speech about the epigenetic basis of endometriosis. How the disease really start epigenetically 10 years prior the symptoms even start. And he proved this incredible molecular markings with his research. Ayse is part of his team from John Hopkins. Ayse, in your experience, what are we looking at as far as the ovarian cancer, tubal cancer, and endometrial cancer from the endometriosis point of view, are they in more risk? For example, there's a family risk of ovarian cancer, irregardless of what their BRC says, would they need prophylactic or frenectomy with more dissection of the pelvic sidewalls?
Ayse Ayhan:
Thank you for the question. Certainly even if the patient does completing the family, patient should have, particularly fallopian tubes should be removed if it is a BRCA1 or BRCA2 family. But for in the case of Lynch families, which more occurs for endometriosis-related ovarian cancers, the question is not solved yet. However, apparently the risk is higher if there is a genetic alteration or a genetic mutation in the family. But most tumors occur in somatic cells. So most of the ovarian cancers associated with endometriosis, the patient should not be very afraid of it. Especially it occurs on the background of endometrioma. Not endometriosis itself, but endometriosis-related cancers in ovary occur in the background of endometrioma. So we have to be afraid of endometrioma rather than endometriosis.
Tamer Seckin, MD:
Thank you, Ayse. Thank you for staying awake. I really feel bad that you're calling us from Japan.
Ayse Ayhan:
No problem at all.
Tamer Seckin, MD:
Please go back to bed. Thank you very much.
Ayse Ayhan:
I'm here for the quiz.
Tamer Seckin, MD:
Unfortunately, ladies and gentlemen, we are not going to have any lunch break. This is a short meeting. I'd like to proceed. If Dr. Martin has any questions, otherwise, I'm going to proceed with Dr. Gomel's keynote for today. Dr. Martin, are there any questions before we go forward with Dr. Gomel?
Dr. Dan Martin:
There's some additional questions on hysterectomy on nerve-sparing, but those can probably come up later with Dr. [Passover 00:51:31], if he's here.
Tamer Seckin, MD:
Is he joining us today?
Dr. Dan Martin:
Isn't he joining?
Tamer Seckin, MD:
I'm not sure if he's joining. Let's move on with Dr. Gomel. Dr. Gomel, as you all know, he is the father of microsurgery. Without those principles that it's impossible to perform precision surgery. In other words, bone dry hemostasis at the capillary level copious irrigation, like Harry does. Has been my guidance. I have followed him through years and he's been father and mentor for all of us. And one of the reasons we have him here. So Dr. Gomel is going to talk this time some area that somewhat he's excited about. That's the adolescent endometriosis. Dr. Gomel.
Dr. Gomel:
I am Victor Gomel from Vancouver. I am honored to be invited by Dr. [Seg Kin 00:52:38] to contribute to this virtual conference. And we'll be talking about adolescent endometriosis. Endometriosis is difficult and enigmatic disease, a disease that affects only women directly, and her environment, partner, family, et cetera indirectly, but significantly. Endometriosis produces chronic pelvic pain, dysmenorrhea, dyspareunia, dyschezia, and a lot of depression. It affects women of reproductive age. It is a polymorphic disease in appearance, in the variability of severity of symptoms, and it is frequently progressive and invasive. A disease diagnosed with increasing frequency, and it is commonest cause of pelvic pain in women of reproductive age. Today we will discuss the etiology, mechanism of invasion, and mechanism of production of pain, what causes the viability of forms, reasons for increasing incidence. Adolescent endometriosis causes dysmenorrhea and chronic pelvic pain, more likely with non-cyclical pain. Recent studies demonstrate a much greater proportion of advanced disease in teenagers.
Dr. Gomel:
Stage IV, from 50% to 88.9%, and some with deep endometriosis. You can see the articles listed below. Subsequent to the initial diagnosis of six deep endometriosis cases, nine more patients developed deep endometriosis at repeat laparoscopy. This is the follow-up data from 50 adolescents in a French case series. Furthermore, three (50%) of the original six patients, later developed recurrent deep endometriosis giving a total of 12 cases with deep endometriosis during the followup. Adolescent endometriosis appears to be more common than it is thought to be. All forms of endometriosis, including endometriomas and deep endometriosis are present in adolescents. There is evidence that the condition progresses even after treatment, at least in some patients. Here on the left, you see a diffuse, deep infiltrating lesion. We have to have awareness. We have to search and we have to have expertise. Endometriosis is a lifelong disease that can affect almost every organ in the body.
Dr. Gomel:
The hormonal imbalance and the pro-inflammatory Milieu alter neuronal signaling systems, which can alter pain processing. Endometriosis is a chronic inflammatory disease and may cause injury to the somatosensory nervous system. Endometriotic lesions can produce nerve growth factor (NGF), which may cause peripheral sensitization. If adolescents with endometriosis and pain are not treated promptly, they may develop central sensitization and chronic pain. Chronic pain is a disease in itself. The diagnosis is often delayed, leading to suffering for several years, and there is a need for early diagnosis of endometriosis in adolescents with dysmenorrhea and CPP, chronic pelvic pain. For more a century, endometriosis was believed to occur after 20 to 23 years of age. In a series of 400 cases published by Joe Vincent Meigs, only one was less than 29 years old. In a larger series of 884 cases of the Mayo Clinic, the youngest patient was 21 years of age. And Sampson himself remembered that he had seen no patient who was younger.
Dr. Gomel:
An endometriosis series of 225 cases published in JAMA in 1946, reported nine patients (4%) to be less than 20 years of age. The author, Dr. Fallon, states further, "there 4% is a small figure, but are grounds for suspecting that it is less than the true one. And it is a significant, even a large percentage when weighed against the common belief that youth does not have endometriosis." And among the total group, there was a 13-year-old, a 17-year-old, one, three 18-year-olds, and four 19-year-olds for a total of nine patients. Fallon in his article further states, "Seven other authors give passing mention to endometriosis in the teens." Their ages varied between 14 and 19 years old. All these series were published before 1946 to be included in Fallon's article. Nonetheless, despite these observations and warnings, the practice did not change for many decades, and diagnosis and treatment was delayed in adolescents suffering from endometriosis. Adolescent and pre-pubertal endometriosis is a significant cause of cyclic and acyclic chronic pelvic pain.
Dr. Gomel:
The diagnosis of endometriosis in this population requires a high index of suspicion, a thorough history and physical examination, utilization of the laboratory, and imaging modalities where appropriate. We have to investigate the patient's menstrual history, detailed history of pain: onset, location, nature, severity, timing, concurrent symptoms, et cetera. Detailed abdominal and pelvic examination and other systems associated with concurrent symptoms, and obviously imaging modalities where appropriate. We must test complete blood work, including CRP, urine analysis and culture, test for sexually transmitted infections when indicated, imaging modalities where appropriate, ultrasonography, and MRI, when indicated, to diagnose and/or rule out other conditions. Initially it is important to start with a non-steroidal-
Dr. Gomel:
... medication and hormonal treatment. And we should use diagnostic laparoscopy to definitive diagnosis and management. The patient should be counseled. Endometriosis is a chronic disease and will often require long-term hormonal treatment to reduce the risk of the disease recurrence and progression. Thank you very much.
Tamer Seckin, MD:
Thank you, Dr. Gomel. Thank you very much. I'm not getting any online question to you but our speakers, panel, moderators, any specific questions for Dr. Gomel? Then I can ask something to him. We do not see deeply endometriosis in adolescent population or young woman as much. However, we are seeing more and more, even then. So, the issue of their future fertility becomes the main concern as well as their symptoms. The family gets alarmed. The word endometriosis is a so fearful thing right now. One of the specific questions really coming like... This was question for Errico Zupi, unfortunately he can't be with us. Errico was saying Possover was buried under snow, he says.
Tamer Seckin, MD:
The question goes like this, how emotions and the image of what is to be a woman affect fertility and creation of endometriosis, adenomyosis? How should young women really feel? What can we do not to make them totally fear of whatever we picture as horrific, maybe. I think this beautiful question should be handled very delicately. Our job, in younger generation, should not be creating a fearful atmosphere in the family but I think the endometriosis is a highly treatable disease and the role of especially egg freezing could be an issue for the next panel. But, Dr. Gomel, you have experienced with egg freezing. I know it. I don't know if you want to explain [crosstalk 00:02:49] what your experience with that with Spain Fertility clinics. Go ahead.
Dr. Gomel:
Look, the issue is this. First of all, when a young person has pain she should be totally investigated. You shouldn't say, "Okay, you just started menstruating, et cetera." It should be taken as a job to see her frequently and if necessary, to do a laparoscopy. You can do today a laparoscopy with a caliber of scope that is very thin but you can see everything very well so you don't have to go with a 10 millimeters scope. You can do a very good diagnosis and treat it appropriately to what is necessary. During that same diagnostic laparoscopy, you can do some surgery and remove what is there.
Dr. Gomel:
That is essential and that patient who has endometriosis should be seen after. A young woman shouldn't just be neglected and it should be... The best surgery is the first surgery but the first surgery should be done by someone who knows what he's doing, by an expert. That's the whole thing.
Tamer Seckin, MD:
Dr. Gomel, thank you very much. We have to stick to the time. So, I apologize, but there are questions to you specifically that are very interested to people. I will come back but I would like to thank Dr. Ted Lee, Dr. Einarsson, Dr. Ayhan and Dr. Khazali. I wish we had more time. I would love you guys to stick around but I cannot, obviously this is Sunday. You have things with your family. These are subjects that you've seen before but we have an exciting fertility panel coming. So, thank you again to all.
Tamer Seckin, MD:
We are moving with the schedule with the fertility panel, we have very interesting talks. It's starting with Dr. Lilo Mettler, then be followed by Dr. Tomer Singer, Dr. Kodaman and Dr. Jovana Lekovich. Except Jovana, I know personally the rest of the speakers as friends, almost family members. Dr. Mettler is an icon and veteran surgeon, a pioneer student of Dr. Sam, which Harry also admits he learned many things from Dr. Sam. I had the privilege of visiting Dr. Mettler at Kiel. Beautiful establishments. There are more stories to that but besides that, she was going to talk about limits of endometrioma surgery in infertility patients. Lilo, I hope you're online and we're excited to have you here. [crosstalk 01:08:36] Thank you.
Liselotte Mettler, MD, PhD:
... the introduction. As you can see, my background I am now in San Diego, California for the moment with my husband and not in Kiel but I greet you all. My lecture has been given. I will just go briefly into the topic. Actually topic number five from Errico Zupi. Zupi is on the same line. Can we do less and still be helpful to our patients? And I especially want to refer to endometriomas in this discussion.
Liselotte Mettler, MD, PhD:
We are living in a time when we have a lot of technical progress, certainly in the field of diagnosis and applying visual tools like laparoscopy and hysteroscopy. We have better visualization, miniaturization, molecularization and computerization. So, we can really dig into the topic quickly. We do know that endometriomas, and I bring this up as a first topic to talk about, we used to operate them very aggressively. We understand from many publications that after every endometrioma surgery, we have a drop of one of the most characteristic features of the ovarian reserve of the female which is the anti-müllerian hormone, besides others. So that tells us doing anything wrong in our patients. That may be after two months, after three months, a little less but still evident.
Liselotte Mettler, MD, PhD:
We have learned that surgical treatment could exert a further detrimental impact on ovarian reserve. And we know that we can strip out many healthy follicles by ovarian stripping in PCOS patients, by doing extensive drilling. The easier the stripping in endometriomas, the more follicles get stripped off. So that whole take up is going to lose us cell production of hormone zone is, very delicate in the ovary. And if we have a big endometrioma, we have to carefully, carefully go about it, not to take out healthy ovarian tissue and bring the patients maybe in menopause.
Liselotte Mettler, MD, PhD:
I remember three cases in my now 40 years in laparoscopic surgery that were the best of our intention. Those patients were left [inaudible 01:10:53] after bilateral endometrioma resection. So we have to take in consideration the symptoms of the patient. If she wants to get pregnant, it's very different than if she comes with pain, size of the cyst, accessibility of the cyst, past medical surgical history, age and her ovarian reserve at present and the wish. Does she come because of pain or does she come to get a baby? So if she wants to get pregnant, that stands at the forefront and the present advise is to operate as carefully and as less as necessary.
Liselotte Mettler, MD, PhD:
If she comes to an IVF clinic and she's had previous surgeries and we say, okay, we do not want to puncture such or to do another endometrioma enucleation by laparoscopy, we use this rest of ovarian reserve she has to stimulate the follicles. During follicular puncture, we should not puncture the endometrioma. We give her even antibiotic protection and we get the follicles. We puncture them, we get the [inaudible 01:11:51] we try to get her pregnant, having my mind that's in the future she could in about 1% develop malignancy. So the inward trauma has at some time be considered, but we go carefully.
Liselotte Mettler, MD, PhD:
So, summarizing how we go a day, if a patient with endometrioma that wants to get pregnant, we look at her history, size and accessibility of the ovaries symptoms, ovarian reserve, medical surgical history and her wish. And then we decide whether we go for surgery. It's mostly laparoscopic surgery today or we can make a pretreatment which generates underdog for three months and then go to IVF. Or we go directly to controlled ovarian hyperstimulation, all that collection, ICSI or IVF treatment and embryo transfer. So in this context today, we can help the patients. And the summary of all this, we will find in my book, Endometriosis: A Concise Practical Guide to Current Diagnosis and Treatment, in which three of the present panel have also written chapters and it can be downloaded for free from the medical library. Thank you very much for the attention of this part of our panel.
Liselotte Mettler, MD, PhD:
(silence)
Tamer Seckin, MD:
Thank you. Dr. Martin, do you want to take some questions for Dr. Mettler before we start with the next presenter?
Dr. Martin:
Let me get back to that one, one second. It's down here. Where did it go?
Liselotte Mettler, MD, PhD:
What is the possible cause of endometriosis?
Dr. Martin:
There's something like that. Yeah. That'd be one.
Liselotte Mettler, MD, PhD:
Okay. Possible cause of endometriosis, we can give long lectures about. Do I answer that or somebody else on the panel? I don't know.
Tamer Seckin, MD:
Well, you can since you have the microphone now.
Liselotte Mettler, MD, PhD:
Okay. So there are many theories of the development of endometriosis. The real cause we do not know, but a combination of genetic reasons, stem cells reasons, migration and menstrual flow, metaplasia, metastasis, all these kinds of forms the basis of the spread of these cells that are normally only in the endometrium in other organs, for instance, these endometriomas. There is nothing we can really do to prevent it but we can recognize it and treat it.
Tamer Seckin, MD:
Thank you. Dr. Mettler, There's also another question for you directed. This is from a woman, Susan Desmond, who has endometriosis. The question reads like this, what is your solution for a woman trying to get pregnant, six failed IVF transfer, no implantation, tried even donor/immune protocol? I am a 51 year old, healthy woman with an endometrium on the left ovary and no other symptoms but fertility and digestive symptoms are there and I'm eating healthy and I'm very healthy. I also had the appendicitis. This is the question. So what do you do about a patient like that?
Liselotte Mettler, MD, PhD:
She's 51 years old, you said?
Tamer Seckin, MD:
She's 41.
Liselotte Mettler, MD, PhD:
41. So definitely if she has had seven IVFs, I would look what was the reason why she didn't get implantation? We don't know if she had no implantation or more embryos developed, but at 41 years of age and if she doesn't have a big cyst or endometrioma and anything that we can treat with resection, I would continue with a really well scheduled IVF program, taking all the factors of her past into consideration.
Tamer Seckin, MD:
Thank you. I think we're going to move on to the next presenter in this panel, Dr. Tomer Singer. Tomer singer is from Shady Grove Fertility group in New York. I know Tomer from his residency and then he did his fellowship at Cornell and he's a very trusted physician with good skills. And he's going to talk about egg freezing for endometriosis. Should she rush? Well, this is the greatest topic of our times. Tomer, you have the floor. Go ahead please.
Dr. Tomer Singer:
Thank you, Tamer and thank you for inviting me. We've given that talk a couple of weeks ago and I think that the main focus that I want to emphasize is really the timing. And then I think it relates to the previous talks and when do we start picking up on endometriosis even in young adults in their early twenties. As Dr. Seckin is well aware, we already pick up severe endometriosis in some cases. And if the mainstay of the egg freezing in 2012, when the American Society of Reproductive Medicine said that it's no longer experimental and usually women in their mid thirties are starting to explore egg freezing and mainly for social reason. Mainly because they don't have the right partner or they're focusing on their career.
Dr. Tomer Singer:
I think with endometriosis, the paradigm is completely shifted well into the late twenties, early thirties. And the main reason for that is that we know that the patient is born with finite number of eggs. And we know that the best time to do egg freezing is when the eggs are going to be at their best shape in terms of fertilization and creating euploid embryos and have the best chance of implanting, whether you do genetic screening for those embryos or not. And I think that the more important thing is that we have to educate the general ob-gyn and the PCPs, that when a patient is complaining of pelvic pain, just like Dr. Gomel was saying, you need to start investigation and the earlier the better.
Dr. Tomer Singer:
AMH is a very good tool and a pelvic ultrasound is readily available in most say ob-gyn offices. If you see the patient on bimanual exam already experiencing pelvic pain and there's nodularity or if you find that there is an ovarian cyst, that's the time to incorporate also the ovarian reserve testing and do AMH and do an FSH just like this slide shows here. I think that if you take the age and the FSH and the AMH and you incorporate an antral follicle count, you'll have a baseline. And whether the patient is 25 or whether she's 28, that's a good baseline to have. Just like you have a baseline mammogram in women who have family history of breast cancer and you're starting at younger than age 40. So the same goals with the patient with pelvic pain or patient with strong family history of endometriosis, or have symptoms that are suggestive of dysmenorrhea, dyspareunia.
Dr. Tomer Singer:
Once you have that patient, and Dr. Seckin we've shared a lot of patient in the last 15 years, once they present with pelvic pain and the AMH is starting to be lower than what's expected, know different nomograms out there and you can obviously consult with your fertility doctor and what's the right level that you want to start referring patients for a workup. Then you really want to discuss the option of egg freezing. Because there's nothing worse than having a patient who presented with endometriosis in her mid twenties, has not done anything when it comes to her fertility and she comes to see their fertility doctor at 35 with undetectable AMH, FSH, that's greater than 15 with bilateral endometriomas that were resected. And she says, I'm an athlete, I exercise, I eat healthy, what's going on? Why is it that I'm not getting pregnant?
Dr. Tomer Singer:
Egg freezing is a very readily available procedure. With a simple antral follicle scan, you can tell the patient this is what we got. You're now 25 years of age. Your AMH is one. Your FSH is starting to become a little bit elevated 10, 12. Those are the options. The options are just to monitor things for every six to 12 months. The options are to pursue egg freezing. It's obviously a personal decision. I think that the main hurdle is really the financial aspect of it. And knowing that you can safely complete an egg freezing cycle with adding a letrozole or a lupron trigger, that's going to reduce the risk of ovarian hyperstimulation or the pelvic pain and also hopefully get the insurance companies to pay for it.
Dr. Tomer Singer:
I think that the 25 year old, when she hears that the cycle costs $7,500, it doesn't matter if it's in Richmond, Virginia or in Tampa, Florida, that's a big hurdle. She's in college, she's single, she's paying the rent. So that's where our focus had been and The Endometriosis Foundation has done a great deal of a job with supporting, with getting grants to those patients who cannot afford it. I think that, that will be the real game changer. Once it becomes just like any patient who's diagnosed with breast cancer and lymphoma and Hodgkin's, who automatically has a very good option of freezing eggs at a lower costs or a covered costs. I think that that will really change what we do and you will be able to help from the surgical perspective and to those patients. And instead of doing three or four surgeries, you may have to do one or two surgeries that are a little bit more definitive because you're not as concerned because the patient already froze 20 or 24 eggs. And she has good chance of using those eggs in the future.
Dr. Tomer Singer:
How many times Dr. Seckin and the other surgeon on the panel are very delicate with their ovaries and endometrioma and you're taking half of it just because you want to leave some ovarian tissue behind and hope that you're not going to have to go back into that pelvis. So I think that there's a lot of things that we can change and improve, but the key is education. Both of the patient and the general population and our doctors and the community and also having the insurance companies to cover a dose treatment.
Dr. Tomer Singer:
I think that the main focus of the question was should the patient rush. I think that the word rush has a little bit of a negative connotation to it, right? Because we don't want to feel like we're rushing the patient to do something that's an indicated. I think that it's important to tell the patient, you don't have to do egg freezing, that's clear. But this is what the statistics and this is what the data is showing us.
Dr. Tomer Singer:
This is the data of actually egg thaw outcome. Women that came and froze eggs in the older facilities of the SGF in a 37 location and came back and used them. Most of our endometriosis patient will fall into that A to D category here. You can see the big difference if you freeze 20 eggs at age 30 in category A here, which will give you roughly about 80% chance of a live baby. This is not a pregnancy, this is a take home baby, right? And 50% for a second baby. Compared to if you delayed it by 10 years or a decade and you now have 20 eggs and the patient's 41 and the chance of taking one baby is 40% and the chance of a second baby is minuscule. So the younger the patient are, especially in the background of endometriosis, especially in the stage three stage four, when the ovaries are already involved or the fallopian tubes are involved not just with deep endometriosis, is key. The younger, the better.
Dr. Tomer Singer:
We also know, going back to the question that the audience was asking about the recurrent implantation failure with seven IVF. Yes, endometriosis, even in the background of a thick endometrial lining and with good resection and mild residual disease on the ovary, has been shown to reduce the implantation rates significantly. Up to 50% in some studies. In some cases we have to discuss gestational carrier when patient done seven or 10 or 12 IVF cycles, despite a good visual endometrial lining. We know that the immune system is playing a role. We cannot pinpoint it to the right treatment, but incorporating Lupron, incorporating Letrozole, knowing the endometriosis disease in the background is key when treating patient, whether it's for egg freezing for IVF.
Dr. Tomer Singer:
I think that, that's really the key of what I wanted to discuss today. And this slide is actually very telling. If you look at the number of eggs that a patient has frozen and came back to use it now with a technique called vitrification, which is the best technology that's out there, we noticed if the patient is younger, the more eggs will survive the freezing and the thawing. And we're quoting anywhere between 85 and 90%, depending on the age. 90% in a young patient population and 85% when a patient is over 38 and then the fertilization rate is very similar, but you can see that there's a lot of attrition from the fertilized eggs to the blastocyst phase. That's really where the significant decline happens and the patient may think, well, I had 12 eggs with my reproductive endocrinologist. I was 39. Right after the endometriosis surgery, I'd probably have three or four kids derived from those eggs. And when they look at this slide and say, okay, 15 eggs may mean only two high quality embryos. And with the implantation rate, that's being lower with endometriosis that may not even mean one baby. Then they realize that the sooner, the better and that there is potentially a need for freezing more eggs than just 15 eggs at age 40.
Dr. Tomer Singer:
But it's an honest discussion that we have to have with our patient. And again, I think the main issue is financial. Most patients will come, we'll seek the initial consultation, once they hear the medications are not covered, that the insurance companies do not consider endometriosis as a medical condition by their guidelines. That's really the main hurdle, I think. Thank you for having me have a session for this important session.
Tamer Seckin, MD:
Thank you very much Tomer. This was a great presentation. This is one of the question. I cannot read the question because I can't find it right now, but the question was this. I have an endometrioma, four centimeters with no symptoms and I want to do egg freezing. Should I have my endometriosis removed first or should I do my egg freezing before? And I could also add to that question. What do you do technically apart from, obviously you're all good and doing it in doing an egg retrieval, but avoiding the rupture of endometrioma during the egg retrieval process? If you know you went through the cyst, do you have different protocol of following the patient? I see in my practice quite a few ruptured endometrioma abscess or peritonitis type of cases. Every year four or five easy. Okay. So if I'm seeing this much in my little practice, God knows what's happening out there. Talk to me.
Dr. Tomer Singer:
So I think that you're bring a very good point and the question that we're delving with every case that has interest in freezing eggs and has an endometrioma. Number one is the communication between the endometriosis surgeon and the reproductive endocrinologist. You have to establish that relationship. It cannot be done in a vacuum that the patient shows up because she has low AMH and she's telling me, I have a surgery lined up in two months and you haven't had that discussion. Just like I have the discussion with an oncologist and a breast cancer patient who's starting chemo, or has a port placed to single. This is a medical condition and the surgical intervention will be needed eventually.
Dr. Tomer Singer:
Now, how do we pick our patient? I think that it comes down to the next few things. How large is the endometrioma, the access of both ovaries, the antral follicle count. If you have a patient with a very low AMH with bilateral endometrioma, who's going to have a very deep resection of endometriosis and may not have the option of freezing eggs at all at the end of this procedure, you present with her, the pros and the cons. If you happen to do an egg retrieval on a patient with endometrioma and had to go to the endometrioma, of course, we're covering those patients with antibiotics and with close follow up to make sure that the patient doesn't have chemical peritonitis or PAD. And we discuss it directly with the surgeon because if the surgery is planned for two months from now, you may want to move up that surgery. That discussion has to happen.
Dr. Tomer Singer:
Now, a lot of the time, the patient should not be starting with egg freezing because there is no access, there's a very limited number of follicles. And we've seen that patient who had good endometriosis surgery, had a better outcome after that. Now, in no way, would you go for IVF when a patient has stage four endometriosis ignoring the disease. So egg freezing it's easier because you're not talking of implantation, but how many patients did we have Dr. Seckin that did egg freezing or IVF went for surgery for cleanup and then had a better implantation rate. That really should be something that we have to discuss. And without communication with the surgeon and the reproductive endocrinologist, the patient is going to get lost in the shuffle because she's going to get different answers from the IVF doctor and from the endometriosis surgeon.
Dr. Tomer Singer:
Lastly, I would say that sometimes you have to have the surgery for pain relief because the patient is not going to tolerate the stimulation and having the ovary grow from two to three centimeters to five or six centimeters during the stimulation. And this will be a very challenging at 10 days of IVF or egg freezing stimulation. So, it's a case by case basis. It depends on the access, depends on the ovarian reserve, depends on the anxiety level of the patient. Some patients want to know that they have some eggs in the basket sort of speak before they embark on the big endometriosis surgery. And lastly, communication, communication, communication.
Tamer Seckin, MD:
Just answer me quickly. Is there any ethical consideration with respect to egg freezing in younger women, even adolescents?
Dr. Tomer Singer:
So we have a very specific protocol at Shady Grove and we've done one case. A patient who 16 years of age, who came with her mom who had severe endometriosis. And we have a consent that both the parents and the patient has to sign. Usually those are patient who weren't sexually active by the time, you may have to break the hymen during the procedure. I don't see an ethical dilemma when you're actually doing fertility preservation for severe endometriosis, just like we do it for cancer patients who are adolescents. We have to basically mimic those two conditions and get the coverage from the insurance and look at it as the same condition.
Tamer Seckin, MD:
Thank you so much. Please still stay around because I will introduce one more panelists. And then we have quite a few questions. We may even go over time a little bit. It's my pleasure to introduce you Pinar Kodaman. I can't tell you how long I know Pinar, that will give away how old I am. So we're going to pass that. So just to tell you, Pinar is a brilliant infertility IVF reproductive endocrinologist from Yale and she's going to talk about in vitro first relation, about tailored IVF protocols for endometriosis patients. So there are quite a few questions coming up to you. Get ready. And I would like you to really summarize your take of your talk. So the patients can warm up. I have a summary of it but I'd like you to do it yourself. Thank you so much. Pinar, go ahead.
Pinar Kodaman:
Thank you so much for the invitation to be here. My full talk was recorded and is available on your website. I'm just going to summarize the main points of my talk, which were really to review the considerations for patients with endometriosis who are planning on undergoing IVF. And there are really four areas that we have to consider. The pre-treatment phase, the actual stimulation of the ovaries, the controlled ovarian stimulation, the trigger shot, which is used to mature the eggs prior to egg retrieval and of course the embryo transfer.
Pinar Kodaman:
So the pretreatment test strategy of using Lupron or GnRH agonist for three to six months prior to initiating an IVF stimulation has come under a little bit of question for the general endometriosis population. The older meta-analysis was replaced by a new Cochrane review in 2019, which demonstrated the uncertainty of the benefit of this treatment, generally speaking for all endometriosis patients. Though, it should be noted that for certain patients who...
Pinar Kodaman:
So it should be noted that for certain patients, patients who may delay their IVF start, who've had previous failures, who have severe pain or large endometriomas that this still may provide a benefit, I think there's uncertainty there. More recently, Dr. Ziglar and others have looked at the use of oral contraceptive pills prior to IVF stimulation as a pretreatment and there may be a benefit there. Again, the available studies are a little bit limited. The one from 2010 was retrospective and the control group unfortunately was a little bit older, but there did seem to be a benefit on clinical pregnancy rate with pre-treatment of oral contraceptives for six weeks. And there is a current ongoing randomized control trial of three months of oral contraceptive pills versus GnRH agonist. And hopefully we'll get some helpful answers that can help guide our treatments in the future for our endometriosis patients.
Pinar Kodaman:
In addition, there is now the availability of an oral GnRH antagonist. It's been approved for use in treatment of endometriosis related pain, as well as for the treatment of fibroids. And we are now beginning to look at it as a pre-treatment for IVF in endometriosis patients. And again, that data remains to be seen. We're actively looking at that at our center as well. So I won't go into the details of the studies that I just described for the sake of time. But when we get to the actual IVF protocol, there are several protocols to choose from. And a lot of times this is guided, again, going back to what Dr. Singer was saying, based on patient's factors. Everything has to be individualized, not just to the endometriosis diagnosis, but to other patient factors such as their age, their ovarian reserve, whether or not there's a coexistent male factor, et cetera. All of these things will have some impact on the details of the IVF protocol we choose. But there are several protocols to choose from. When we look at the two most common, historically the long protocol with GnRH agonist versus what we use more frequently now which just the shorter protocol using GnRH antagonist, there is a little bit of debate as is as to whether one or the other is better for patients with endometriosis.
Pinar Kodaman:
There's a suggestion that certainly in more advanced endometriosis that GnRH agonists may provide a benefit in terms of more mature oocytes. And in this more recent study by [inaudible 01:35:51] in 2017, there did seem to be a slight benefit of the long protocol compared to the OCP antagonist protocol, in terms of clinical pregnancy rate and live birth rate of all per started cycle. There was absolutely no difference when frozen embryo transfers were considered and the live birth rate was a little bit higher, again, with the antagonist.
Pinar Kodaman:
So another way to suppress the ovaries prior to start of a stimulation would be to use medroxyprogesterone acetate. And this speaks a little bit to some of the costs involved in IVF. A lot of the injectable medications, certainly when they're not covered, can be quite expensive and can be the issue with moving on to IVF at all, or certainly for repeat cycles. So, the use of MPA as a suppressant basically, during the IVF cycle, instead of GnRH agonist or antagonist has been more widely used certainly in our donor cycles. And it has been looked at in IVF patients as well. I mean endometriosis patients as well. And there does not seem to be a difference in clinical pregnancy rate once the frozen embryo transfer cycles are done subsequently. So this could be an option that could limit costs for our endometriosis patients, but please note that when you do use medroxyprogesterone acetate instead of a GnRH agonist or antagonists that, of course, frozen embryo transfer has to be done subsequently because of the negative impact of high dose progestin on the endometrium during the stimulation.
Pinar Kodaman:
In terms of the choice of gonadotropins, there's no specific data for endometriosis patients undergoing IVF. So again, you have to really consider the patient's individual factors. There is an unclear benefit though promising data does show that perhaps Letrozole in particular may benefit our endometriosis patients due to the negative impact of high endometrial aromatase on implantation. So Letrozole is a medication that blocks aromatases and may have a benefit. And that's suggested certainly here in terms of looking at the addition of Letrozole to an IVF cycle. This is initial data, early data, but it is certainly something to consider while Letrozole may have an impact on the percentage of mature oocytes and endometrial thickness that is slightly deleterious, but probably not clinically significant. You can see the clinical pregnancy rate is quite similar. So that brings us to also poor responders. Sometimes when we have an endometriosis patients who have undergone cystectomies, who are older or have impaired ovarian reserve, we do have to then also weigh in the fact that they may not stimulate as well.
Pinar Kodaman:
They may require more gonadotropins, longer duration of stimulation. And we often end up with fewer oocytes retrieved. So there are strategies that we can use to try to maximize outcome, because a lot of it, of course, will depend on how many eggs we get and the quality of those eggs. So sometimes that long protocol with GnRH agonist may oversuppress and thereby limit the response to ovarian stimulation. In those cases, we may use a mini flare or a microdose leuprolide protocol or antagonist protocols, and some of our poor responders we're also using duo stimulation, which hasn't specifically been studied in endometriosis patients, but theoretically should be helpful. And in this situation, we stimulate the ovaries. We use a GnRH agonist trigger with no plan for fresh transfer. We retrieve those eggs. Ovulation pickup is here. They get a break for a few days and we'd get right back into it with controlled ovarian stimulation and a subsequent GnRH agonist trigger and retrieval.
Pinar Kodaman:
And that case we may maximize oocyte recovery by making use of less mature eggs that we may not have been able to retrieve at the time of the first retrieval. So there are also several poor responders strategies which are not the focus of my talk today. There've been nicely reviewed by Keltz et al a few years ago. A lot of these are somewhat experimental. We do play around with them, again, depending on individual patient factors to try to optimize response, but I will not go into those for the purpose of today's talk or summary, I should say. Trigger considerations. We do find that if you use a GnRH agonist trigger that can limit pain symptoms. So certainly for the patient who is going to undergo subsequent surgery due to pain, et cetera, this would be a good consideration. It can be combined with a GnRH antagonist or a medroxyprogesterone acetate based protocol. And it certainly should be considered if there's any signs of ovarian hyperstimulation or if there's plans for pre-implantation genetic testing. If it's just egg freezing and there's no plans for embryo transfer.
Pinar Kodaman:
As I mentioned to do a stimulation protocol does require a GnRH agonist trigger. Otherwise, we can, of course, use the regular HCG trigger. If there is no plan for a fresh embryo transfer, please remember that we can suppress ovaries soon after egg retrieval and minimize pain symptoms that way also. Finally, I'm just going to briefly touch upon different embryo transfer in general. This is something we consider in terms of not doing a fresh transfer and doing a frozen embryo transfer later to optimize synchronization between the developing embryo and endometrium. We know that the eutopic endometrium and endometriosis is abnormal, and when we stimulate ovaries during controlled ovarian hyperstimulation, the estrogen levels do tend to get quite high and that can perhaps exacerbate the endometriosis abnormalities in the endometrium and thereby affect implantation. And so using a deferred embryo transfer strategy allows for us to overcome that issue and better synchronize optimize the endometrium for implantation and the subsequent cycle. And this has been shown not too long ago in 2018, that deferred embryo strategy doesn't prove cumulative pregnancy rates and endometriosis related infertility. And those are pretty significant results, both in terms of cumulative clinical pregnancy rate, as well as ongoing pregnancy rate and minimizing the miscarriage rate in our endometriosis patients. So that's my summary. I want to leave some time for questions.
Tamer Seckin, MD:
There are a lot of questions, especially for you.
Pinar Kodaman:
Okay. I'm ready.
Tamer Seckin, MD:
Okay. Well, let's start with one question. I think it's fair to ask you this. She says, she goes, I think her name is Caitlin Richards. She says, thank you for this helpful information. You mentioned that the long protocol of GnRH agonist can be beneficial if there is adequate ovarian reserve. Are you aware of any data comparing IVF results after the long GnRH protocol with results after laparoscopic excision surgery? Number one. Number two, in your opinion is long course beneficial for patient who have recently had through excision surgeries?
Pinar Kodaman:
So after an excision surgery oftentimes we can't jump straight away to an IVF cycle due to need for recovery, due to significant post-operative pain. And so it is in my opinion, advantageous. That could be a situation in which you could consider a pretreatment, either with a GnRH agonist or with our oral GnRH antagonists, and then transition into an IVF cycle once the the patient has recovered from surgery and is ready to move on to IVF stimulation. Certainly that's what I would do in my practice as someone who does surgical treatment of endometriosis patients who [crosstalk 01:45:18]
Tamer Seckin, MD:
It does make sense for giving some time for the patient to recover. Dr. Martin, are there any specific questions you have on there for Pinar? I have two more from the same person so I want to be fair with for other questions, too. Do you have any questions specifically for Pinar?
Dr. Dan Martin:
There were some IVF... Let's see. I've got all these questions. The questions where I'm dealing with right now, the ones that are on the question and answer session. So let me,
Tamer Seckin, MD:
So let me have done...
Dr. Dan Martin:
Why don't you do those for Pinar.
Tamer Seckin, MD:
You mentioned that MPA can be used as an alternative to GnRH agonist if the implantation is planned. Is there any data, again, she's asking data, is there any data comparing the effectiveness oral progesterone suppression with MPA versus GnRH suppression and how far in advance embryo transfers should suppression be stopped in order to optimize success rate? Thank you very much, she says.
Pinar Kodaman:
Thank you for another thoughtful question. So I found one study specifically in endometriosis patients looking at the use of MPA, and it was in a agonist short protocol. So starting it sort of shortly before or around the time of stimulation. And there really was no difference in outcome. So it is comparable, but again, deferred embryo transfer must be planned. It is really only used until the time of trigger. So a fresh frozen embryo cycle or deferred embryo transfer can be done with the subsequent cycle. So it really does not represent or lead to a significant delay by any means.
Tamer Seckin, MD:
Thank you. This question coming up for, if Dr. Mettler is with us or Tomer. Well, surgeons can also, other surgeons can answer. When doing surgery for infertility reasons, not pain, just for infertility, when and where would you leave endometriosis without excising it? This is simple. Dr. Mettler, you can have this question.
Liselotte Mettler, MD, PhD:
Right. If the patient has a low ovarian reserve, very low, she's had previous surgery, then we'll be very careful to exercise more. It will maybe only open and make a very pointed coagulation on the lesion itself and the good magnification consenting suction, irrigation, not to destroy ovarian cortex.
Tamer Seckin, MD:
Very nice. Thank you very much. I think for ovaries like that, as you know, we are extremely careful not burning, the frying the eggs. I always approximate the ovaries and suspend them at these 24 hours.
Liselotte Mettler, MD, PhD:
Harry Rich's raising his head.
Tamer Seckin, MD:
Thank you. So the bottom line is I do not like to leave any endo behind and I like to clean to the point of extinction with reasonably though. So these patients, if they don't have pain, obviously one has to be careful when dealing with crucial organs. But just for the sake of this presentation, I have something in my data I want to share. Just one patient, interesting, [inaudible 01:48:44] patient that we just did. We just did last week. Do you see my screen?
Pinar Kodaman:
Yes.
Dr. Dan Martin:
Yes.
Tamer Seckin, MD:
This is a patient we did almost a week ago. It's 25 year old with severe dysmenorrhea history of [inaudible 01:49:06] ablation with full duration. And she was put on oral Alesse April 2019. For a year she has been on oral Alesse, no period, but crazy endo belly. Gas, bloating, diarrhea, constipation. Stopped oral Alesse a week ago, two weeks ago and we operated just a week ago here in Lenox Health. So this is what we found. This is the fifth day of her period. She was burned before. Look at the amount of hemoperitoneum five days after. This is no joke, ladies and gentlemen. Look how much blood is there and see what else is coming right after. So this how it looks inside, and this is the blue dye I do personally so I don't miss any peritoneal pathology. You see the holes on peritoneum. These are all defects affected by inflammation. And this is how in certain parts, it's deeply infiltrative. Even a year of oral Alesse she was on. And this is how her, the biopsies excisions that I did, this is the whole 20 specimen we removed. All the yellows are positive areas, how much there was.
Tamer Seckin, MD:
So just letting you know that I have another case exactly like this visit, but this time I have done the surgery. Massively involved case this two years ago we've done. This is how I left two years ago, the cul de sack two years ago. And she came in with symptoms two years later. And look what I found again, during the time of period, how much hemoperitoneum fifth day of the... Fourth day of the period, and there's tons of endo there. So I'm not going to go over this due to time constraint. So let's go back to the Zoom. Am I with you? Here I am with you again. Thank you. I didn't want to do case presentation here because this is not for me to present cases, but for all of us to learn from your experience. Again, I'd like to welcome and recognize all of you with my warmest feelings from New York. I'm very excited. We are really dedicated team. I think we are family. We love you all. Like the song is started. So I'm not sure how much time we have, but at least in respect to patients who are still with 70 people, still staying on a Sunday noon with us, they delayed their lunch. Dan, is there any questions you want to further move? There are questions we will end up answering them eventually in our website. And I promise. Dan, go ahead.
Dr. Dan Martin:
But we have lots of questions. One of the one that keeps coming up is something that was really a passover question, but maybe the panel can answer it. When is nerve-sparing needed and what does nerve-sparing mean?
Liselotte Mettler, MD, PhD:
Yes, nerve sparing surgery came up in the recent years, or maybe already in 10 years. It is surgery of excision of endometriosis without putting a new irritation or laceration to nerves in the pelvic nerves. So that's the field of neuro biology with our friend from Switzerland, Mark Boswell. He puts all the attention that we are aware of where the lymph nodes, where the nerves are, where the individuals is situated. It makes it clear to us that in some cases we cannot see the nerves, but in many cases we can. We should be very careful and look with more augmentation, take time, rinse and give time to really see that we do not destroy nerval structures of the autonomous or autism neuros in the minor pelvis, if not absolutely necessary. Because endometriosis surgery is not cancer. So we should really be as careful as possible.
Tamer Seckin, MD:
Thank you very much. All right. Tomar, let me ask you a question. Jovana Lekovich is not here today, will not be available. She apologizes for that. But this question was for her. I will like you to answer if you can. In general, your experience with BCL six expression and do you use that in your practice as a marker for endometriosis? How aggressive should the management be? How expecting could we be, or how aggressive the searching for endometriosis go on? What is the value of symptoms? What symptoms alert you more as far as fertility, the presence of endometriosis or not, please.
Dr. Tomer Singer:
Okay. So very good question that we face on a regular basis. I think mainly we'll face the BCL six in the presentation of recurrent implantation failure with patient, with or without endometriosis. And that's sometimes is the first hint that even if the patient is asymptomatic or have mild symptoms, she has an euploid embryo, PGS tested embryo what we call now PGTA, that fails time after time or results in a biochemical pregnancy or early miscarriage. And those are patients that usually would benefit from either a diagnostic laparoscopy or historic scopic assessment of the lining with sampling of the endometrium and testing for BCL. And those patient can benefit from treatment. And many times it's going to be a surgical treatment of endometriosis or antibiotics prior to a frozen embryo transfer. So BCL six as a marker has never been shown in a randomized control study as the be all and end all, but when we have a patient who's going through IVF time after time, there's very limited data in terms of the uterine lining or the uterine receptivity.
Dr. Tomer Singer:
There's a company called iGenomics that is now offering endometrial receptivity assay, which were assessing essentially a natural or program frozen embryo transfer and doing a sampling of the endometrium. So I make it as a habit that when I do an endometrial biopsy for ERA to also look for chronic endometritis and check for BCL and check for plasma cells, and there is no one good randomized study that says that if the BCL six was positive and you treated it in one way or another the implantation was significantly higher. Having said that, you're dealing with very challenging condition with usually patient that had surgery after surgery or several IVFs. And at that point, an expert opinion will be sufficient. And at that point, we'll really introduce the endometriosis protocols into play. I would say that we've had some success with patient who have failed natural frozen cycle because you're trying to avoid giving those patients estrogen for 10 weeks, right in the first trimester.
Dr. Tomer Singer:
And we treat them sometimes with Letrozole to induce ovulation, and that Letrozole will reduce the endogenous estrogen, recruit a follicle and at the end of the day, will give you thicken endometrial lining with better implantation rate. So that's something that we incorporate to patients with endometriosis. Sometimes you'll have to treat the patient with Lupron for two or three months prior to doing a frozen embryo transfer when the patient has severe endometriosis. Going back to your question regarding the symptoms, severe dysmenorrhea, severe dyspareunia pelvic exam that shows a plaster uterus, a really very thick uterus sacral ligaments. Those are to me, very concerning symptoms that will require doing surgery prior to doing an embryo transfer. The embryo transfer for the reproductive length now just takes five minutes. You want to maximize everything up until leading to that point and to get the best outcome. I hope that answers that question.
Tamer Seckin, MD:
Well, I would like to respect everyone's time. I am delighted and privileged and humbled. And on behalf of foundation, I like to thank [inaudible 01:57:40]. [inaudible 01:57:42], Charlotte Volson, [inaudible 01:57:51] and most of all, to our executive director, Margaret Casper. If Margaret is here, I want her to say something and in support for the patients, what we are coming for them in the next future. Margaret, are you there?
Margaret:
I'm here, Dr. [inaudible 01:58:08]. Thank you very much. And I wanted to share a quote with you that came across my phone today, and I think it's so appropriate for everything that took place. So Maya Angelou said, if you get, give, and if you learn, teach. And really that's what the last two days have been. I really want to thank all of our speakers and presenters for preparing their presentations in advance for joining us on the weekend. And most importantly, for teaching this community. A special thank you to our Harry Rich awardee, Dr. Arnaud Wattiez, and to our esteemed moderators, Dr. Tamer Seckin, Dr. Dan Martin, Dr. Harry Rich and Dr. Victor Gomel and a special thank you to our scientific and medical director, Dr. Martin, for answering so many of the questions which we will continue to do post-conference. The mission of the Endometriosis Foundation is to continue to create awareness, fund cutting edge research, advocate for the community and provide education.
Margaret:
And we are so committed to educating both physicians and patients, as we've seen this past weekend. Another wonderful opportunity for education is taking place in March during endometriosis awareness month. We are delighted to announce that we are partnering with the International Society for Gynecological Endoscopy for a global virtual conference taking place in three different time zones. March 20th we'll also include a patient conference from 10:00 AM to 2:00 PM Eastern time zone. Information about that is available on ISGE's website and more details will be coming on the Endo Fond. website. Also, please watch our website and social media for the premier of, drum roll, please, Endo TV, with host and executive producer Diana Falzone on January 26th. And we are releasing as a teaser one of the first episodes this week about a timely topic, COVID and endo, which will be released on our website this coming week. Finally, none of this would take place without all of your support as we are a nonprofit organization. We rely on your contributions and appreciate anything that you can donate in honor of someone, or because you want to see more programs like today and the one on March 20th. Again, thank you all for your participation.
Tamer Seckin, MD:
Thank you, Margaret. I'm delighted for you to show your face to everyone. And we're looking forward to have the meeting in March. For all attendants, the passcode is endo found, capitol ENF 2020. Please if you get back to these recordings forward your questions, we will direct the presenter. There are places to help you. Endometriosis Foundation is founded to help you and to advance the science, primarily the theory of the endometriosis. So these disease are diagnosed and treated timely as early as possible, and that's the only way to prevention and it is possible in good, organized environment. Probably we can decrease the operation rate to 10%. patient needs not only surgery. They need personalized followup and care and the surgery should be of high quality with tissue diagnosis, videotaping, being transparent, and with complete education creating bilateral trust between patient and the doctor. Patient has to trust the doctor, doctor has to trust the patient. Families should be involved. Patient needs education and support. Thank you for all. We love you and looking forward to see you again soon.