Liselotte Mettler, MD, PhD
Emeritus Professor, University Clinics of Schleswig-Holstein; Consultant, German Medical Center (GMC)
Prof. Liselotte Mettler is known for her combination of immense medical knowledge and ability, combined with the kind of sensitivity and compassion that is crucial for a doctor dealing with highly intimate matters requiring real discretion.
She was born in Vienna, Austria. From 1959-1981 she conducted her medical studies, doctorate, gynecological specialist training, habilitation, and professorship in Tübingen, Vienna, and Kiel.
After receiving her doctorate in 1967, she quickly distinguished herself as a valuable asset in the medical world as both a researcher and a surgeon, becoming one of the first to perform laparoscopic hysterectomies in Europe. From 1981-2008 she was Deputy Director of the Department of Obstetrics and Gynecology at the University Hospitals Schleswig-Holstein. From 1990 – 2008 she was Director of the Kiel School of Gynecological Endoscopy and also Head of the Kiel Gynecological Endocrinology and Reproductive Medicine Division.
She is General Secretary of the International Academy of Human Reproduction, Honorary member of IFFS, Senator of ESGE.
Her main fields of activity are reproductive medicine, gynecological endoscopy, and gynecological endocrinology. Prof. Mettler is actively participating in many societies and organizations.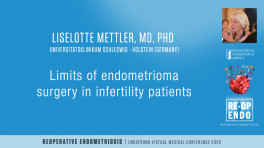 Virtual Medical Conference 2020:REOPERATIVE ENDOMETRIOSIS Liselotte Mettler, MD, PhDUniversitätsklinikum Schleswig - Holstein (Germany)Limits of endometrioma surgery in infertility patients

Endometriosis Foundation of America 2014Myths and Realities of Endometriosis Today and Tomorrow- Liselotte Mettler, MD, PhDI address you today as the first speaker in this political session. We will see how political it is. I would like to…