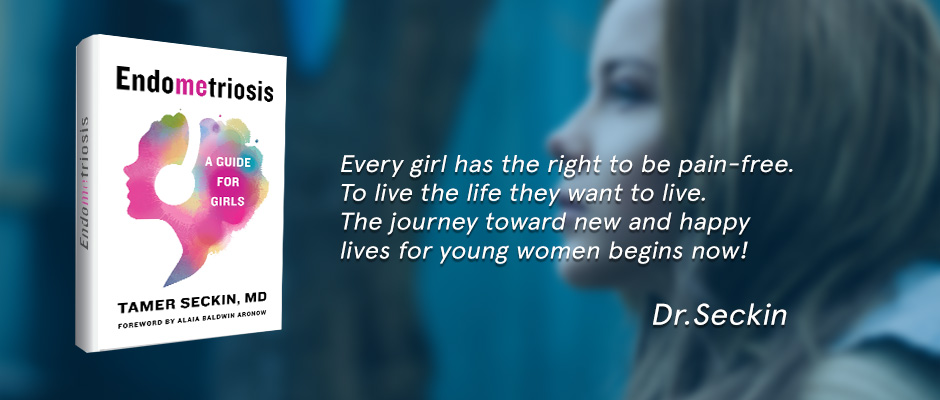 Endometriosis takes an average of twelve years to diagnose.
Twelve long years.
That means most teenagers who have it suffer into at least their mid-twenties or early thirties before they have any clue what it is. They are repeatedly undiagnosed or misdiagnosed—ignorantly told that the pain is in their minds, that it is part of becoming a woman, or that it's the result of some other disease or condition. It can derail their education, careers, relationships, and ability to one day have children.
This is why world-renowned surgeon Tamer Seckin, MD, has written EndoMEtriosis: A Guide for Girls. The book features captivating stories from young women with endo, most of them Dr. Seckin's patients, along with those closest to them, including mothers, fathers, teachers, and athletic coaches. Each story is in the voice of the afflicted and spoken directly to the reader, with the goal of helping those who are suffering identify this disease sooner rather than later.
Around those stories is Dr. Seckin's simplified explanation of what endometriosis is, how to detect it, ways to treat it, and how to manage the psychological and social ramifications of having the disease. "One of the most difficult aspects of having endometriosis is feeling like nobody believes that your pain is authentic or as severe as you say," Dr. Seckin states in the Introduction. "This book will fully arm you with the truth and knowledge about the disease so that you can overcome your fears and confidently stand up for yourself. If your cry for help has been dismissed by your doctor, parents, siblings, teachers, coaches, school nurse, employer, friends, or romantic partners, you will be able to educate them so that they believe you and can fully support you in your quest for healing."
EndoMEtriosis: A Guide for Girls comes on the heels of Dr. Seckin's first book, The Doctor Will See You Now: Recognizing and Treating Endometriosis. Though published four years ago, The Doctor Will See You Now was Amazon's No. 1 endometriosis book as recently as Feb. 21, 2020, and it has been named the No. 1 book among Bookauthority.org's 86 "Best Endometriosis Books of All Time."
If you are a young woman experiencing pelvic pain, or if you know one who is, and if doctors are struggling to diagnose it or provide the proper treatment, endometriosis – which affects 176 million women worldwide – might be the issue. And EndoMEtriosis: A Guide for Girls, could put you on a path toward healing.
The book will be released Tuesday, March 17. Foreword by Alaia Baldwin Aronow. It is available for preorder now at Amazon.com. A portion of the proceeds will go to the Endometriosis Foundation of America (EndoFound.org).