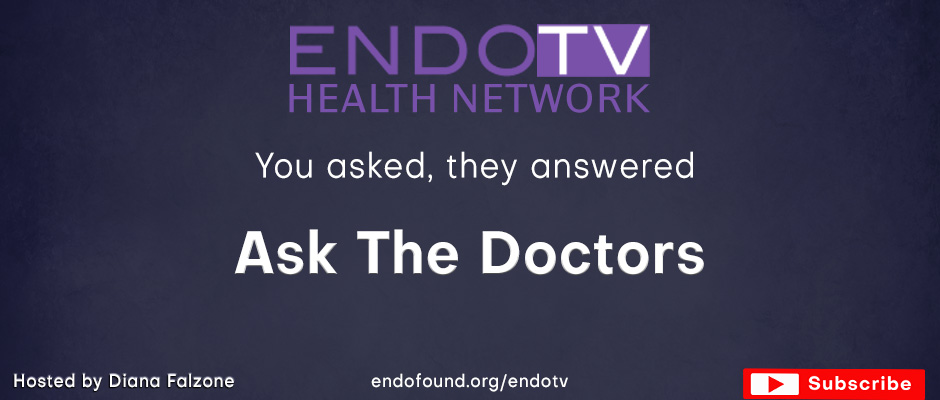 NEW YORK, NY (June 16, 2021) – Endometriosis Foundation of America (EndoFound) is launching a new YouTube series "Ask the Doctors" this week on EndoTV. Hosted and executive produced by Diana Falzone, it delivers answers to the thousands of questions asked by the millions of individuals suffering from this disease.
"Each episode tackles a different medical topic related to endometriosis with a respected medical practitioner offering their expert insight," said Falzone. "The endometriosis community has questions, and we want to ensure they get the answers they want from the best doctors and specialists."
On the June 17 debut episode, clinical psychologist Dr. Chloe Carmichael discusses managing anxiety and stress while living with a chronic disease like endometriosis. She blends her knowledge of mindfulness, self-discipline, self-compassion, and stress management with her psychology expertise.
Falzone says that each episode is going to feature an endometriosis specialist answering those burning questions about the disease. "Should I freeze my eggs? Why are there repeat surgeries? What's the best diet for endo patients? and so much more."
"The Endometriosis Foundation of America has always been a resource and guide for endo patients who have questions about their own experience. We wanted to give these thousands of patients access to the top medical and science endometriosis experts to answer these very important questions," said Margaret Caspler Cianci, Executive Director of EndoFound.
"Ask the Doctors" joins EndoTV's "Let's Talk Period," also hosted by Falzone. Episodes for "Ask The Doctor" will drop twice a month on the first and third Thursday. New episodes of "Let's Talk Period," are available every Tuesday. To view the latest episodes, visit EndoTV's YouTube channel.
Have a question? Use this form to have it answered on the show! For more information on EndoTV and EndoFound visit endofound.org and follow us on Facebook, Instagram and Twitter @endofound.
# # #
Endometriosis Foundation of America (EndoFound)
EndoFound is the country's largest non-profit 501(c)(3) organization dedicated to increasing disease recognition, providing advocacy, facilitating expert surgical training, and funding landmark research for endometriosis. Engaged in a robust campaign to inform both the medical community and the public, EndoFound places particular emphasis on the critical importance of early diagnosis and effective intervention while simultaneously providing education to medical professionals and their patients. To learn more or get involved go to www.endofound.org/.
EndoFound Media Contact
Lauren Peteroy Kelly, Scenario PR
Lauren.peteroy@scenariopr.com
Jeanne Rebillard, EndoFound
jeanne@endofound.org