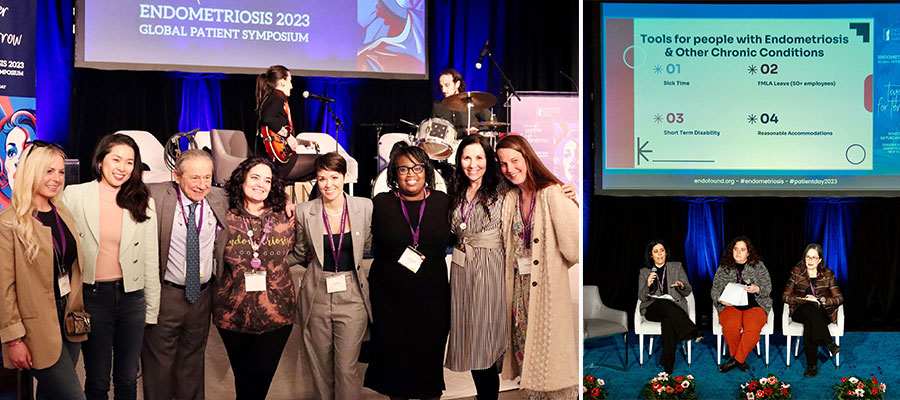 The Second Day of the 2023 Endometriosis Global Patient Symposium Was Packed With Informative Session
The second day of the 2023 Endometriosis Global Patient Symposium started with a recap of the previous day by Dr. Tracey Haas, the Executive Director of the Endometriosis Foundation of America (EndoFound).
Topics covered on the second day included advocacy and education, endometriosis surgery, non-surgical methods of pain management, and fertility.
Advocacy and education
Melissa Boudreau, from EndoFound's patient advisory board, discussed advocacy's importance. She explained how women with the disease could advocate for themselves. "Know your disease," Melissa said, then "tell your friends, tell your doctors." She also talked about the importance of tracking endometriosis symptoms in the form of a diary. "This way, you can go equipped to see your doctor," Melissa said.
Carolyn Mayer introduced the ENPOWR project. This school and community-based endometriosis education program aims to raise awareness and promote treatment-seeking behaviors from teenage girls and young women with endometriosis.
More science
Dr. Amanda Chu of Seckin Endometriosis Center talked about the different options and opinions about endometriosis surgery. She also described the different types of endometriosis and the different surgical approaches, including robotic surgery. Dr. Chu also talked about when to have endometriosis surgery. "Persistent pain despite medical treatment, contraindication or refusal of medical therapy, and medical emergencies" are reasons to have endometriosis surgery.
Dr. Michael Lewis highlighted the importance of training the next generation of endometriosis physicians. He also described the path to becoming an endometriosis specialist.
From Cold Spring Harbor Laboratory, Dr. Semir Beyaz talked about the science of food and inflammation. "What you will not get from this seminar," Dr. Beyaz said, "is a magic recipe that will cure all your maladies." At the start of his presentation dwelled on the cause of endometriosis at the cellular level.
Non-surgical management of endometriosis
Dr. Drorit Or described ways endometriosis could be managed with non-surgical and pharmaceutical approaches. She gave an in-depth overview of all the different hormonal treatments available to manage the disease.
A panel of experts, including nutrition specialist Charlotte Abbate, acupuncturist Kirsten Manges, and physiotherapists Claire Hamnet and Kara Mortifoglio, discussed ways to achieve hormonal balance and avoid inflammation and the endo belly.
Endo-warrior Deirdre Whiston showed amazing images from her visual journal. She described how she used art and catharsis to manage her pain.
Fertility
Dr. Janelle Luk of Generation Next Fertility talked about new developments in fertility. She shared her journey with endometriosis and the dilemmas she faced about becoming a mother.
The hysterectomy panel also discussed the topic of fertility further. They were asking, "Should I or should I not have a hysterectomy"?
The symposium ended with closing remarks by Dr. Seckin and Dr. Haas, and goodbyes were said until next year's symposium.