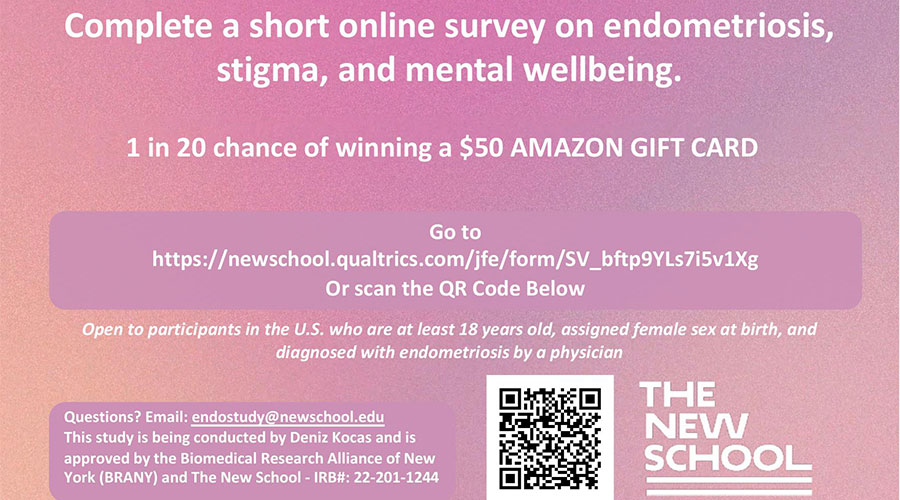 Deniz Kocas is a clinical psychology Ph.D. student at The New School for Social Research in New York City. For the next 18 months, she will focus on her dissertation project—exploring the relationship between the stigma around endometriosis and mental health. She will try to put numbers to her study through a quantitative approach.
"There are few studies on stigma and endometriosis, and the majority of existing research is qualitative—interviews and focus groups," Kocas said. "Both types of research are critical, but having worked at one point in health policy, I saw how quantitative research was necessary to create policy-level change. My long-term vision for this research is to help improve healthcare for endometriosis patients."
Kocas has lived in several countries. She worked as a pharmacist in England and as a health policy advisor in Belgium and Turkey.
"Moving across countries and seeing different health systems, I became fascinated by the social and cultural influences on our health," Kocas said. "That led me to clinical psychology as a second profession."
She began working toward her new career in 2017 at The New School in the Gender and Health Lab. The lab examines how gender intersects with other social factors to influence physical and mental health, identity, and lived experience. Around that same time, Kocas started writing for EndoFound as a senior research columnist and continues to work there today as a research advisor.
"When I started with EndoFound, I became very passionate about the misdiagnoses, the seven to 10 years it takes to be diagnosed, and patients being dismissed and suffering in silence," Kocas said. "That made me think about what I could do to make a difference and contribute to this topic in the psychology field. Hearing the stories of individuals affected by endometriosis, I took a patient-centered approach to my study design."
Kocas' research is completely survey-based and anonymized. Participants must be at least 18 years old, have been assigned female sex at birth, be located in the U.S., and have received a diagnosis of endometriosis from a physician. The survey takes roughly 15-20 minutes to complete.
Kocas noted that while the study's focus is the stigma associated with endometriosis as it relates to a person's mental well-being, the stigma around menstruation will also be reflected in it.
"I'm very aware that endometriosis is not all about menstruation—it's a multi-system disease and patients have different symptoms," Kocas said. "But when a person says they have excruciating pain during their period, the alarm bells go off. Endometriosis has long been associated with menstruation, and my hypothesis is that menstrual stigma plays a role in the stigma around endometriosis."
The survey will be open until the end of May. Kocas expects to complete her research by March 2024 and publish it about six months later.
"Much of the quantitative psychology research on mental health in endometriosis is based on the experience of pain," Kocas said. "While physical symptoms are crucial to explore, we need more research on the social processes that influence mental well-being. We've seen in a variety of other diseases that stigma impacts mental health.
"I'm trying to show there's more to mental well-being than the physical symptoms," Kocas continued. "There's something else here, which is how society treats those with endometriosis. That's how I'm trying to change things for endometriosis patients and make a difference."
To participate in the study, visit https://newschool.qualtrics.com/jfe/form/SV_bftp9YLs7i5v1Xg.