March 18-19, 2023 (8:30am - 5pm) - Einhorn Auditorium, Lenox Hill Hospital, NYC
Every year, the Endometriosis Foundation of America hosts a patient conference designed to equip patients with all the tools and information they need to live their best lives with endometriosis.
We're excited to bring our community together for a true translational experience! In this two-day symposium, a series of expert panels and patient discussions will cover a range of topics on endometriosis. We will go in-depth about the causes and consequences of inflammatory comorbid conditions and shed light on diverse management and treatment techniques to help patients recover.
Topics for the "Together for Tomorrow" Patient Symposium include, but are not limited to:
Developments in Early Diagnosis
Fertility ("Egg Freezing, Failed IVF, and Now What?")
Integrated Management Strategies
Anti-Inflammatory Diet and Pain Management
Pelvic Floor Therapy, Acupuncture, and Holistic Management
Gold Standards of Treatment and Excision Surgery
Bowel, Bladder, and Thoracic Endometriosis
Wellbeing Practices to Strengthen Mind and Body
The final program and speaker list will be posted shortly! We invite you to share these days with your loved ones and support network, and look forward to seeing you there!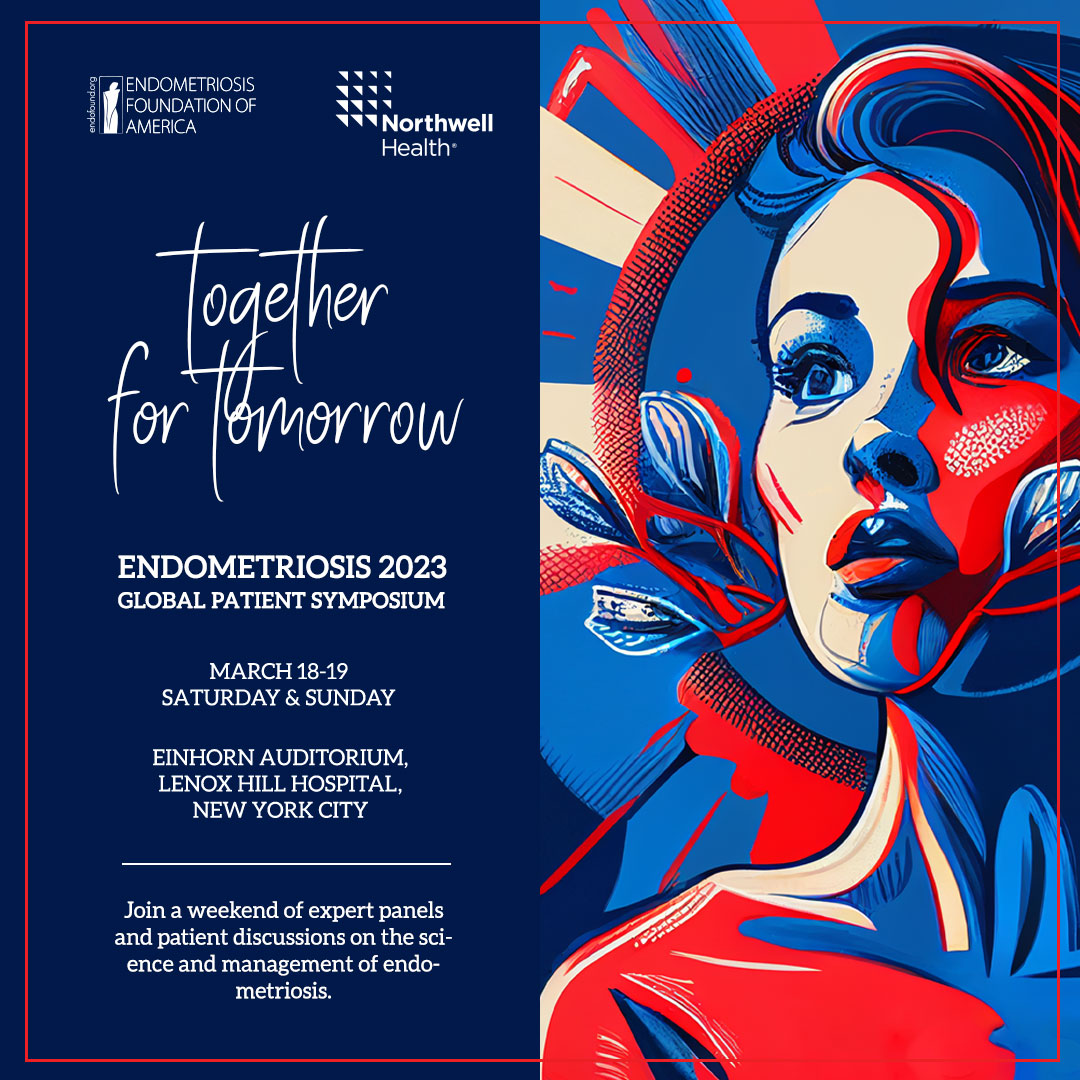 Speakers
DAY I:
Saturday, March 18th, 2023 (8:00 AM - 7:30 PM ET)
Time
Topic
Speaker
8:00 am - 9:00 am
Registration and breakfast
9:00 am - 9:10 am
Opening Remarks
Tamer Seckin, MD, FACOG
Tracey Haas, D.O.
9:10 am - 9:55 am
General Session I:
Part 1: What Really *is* Endometriosis?
Part 2: What's New in Endometriosis?: Emerging Facts & Unchanging Truths
Karli Provost Goldstein, DO, FACOG
Tamer Seckin, MD, FACOG
10:00 am - 10:40 am
General Session II:
Types of Endometriosis Based on Multi-Organ Involvement
Tamer Seckin, MD, FACOG
Patient Panelists:
Adrianne Penon
Dana Jones
Ciji Castro
10:45 am - 11:30 am
General Session III:
Legal & HR Protections for those with Endometriosis
Laurie Berke-Weiss, JD, MA
Alex Berke, JD
Rosa Aliberti, JD
11:35 am - 12:30 pm
General Session IV:Worthy of Care: Managing the Social and Emotional Impacts of Endometriosis
Corinne Foxx,
Sydney Faith Rose, LMSW, CHHC, ERYT
12:30 pm - 1:45 pm
Lunch Session:
Rachel Gross, Award-Winning Science Journalist and author of Vagina Obscura
Rachel Gross
2:00 pm - 2:30 pm
General Session V:
Egg Freezing & Endometriosis
Tomer Singer, MD
2:40 pm - 3:20 pm
General Session VI:
The Healing Power of Routine
Daphne Javitch
3:30 pm - 4:15 pm
General Session VII:
Pain Management with Alternative Interventions
Erica Michitsch PT, DPT, WCS
Lexi Burtman, PT, DPT, PRPC
Gerald DeGregoris MD
Mila Mintsis, DAc, LAc
Mindy Pickard, MS, LAc
4:30 pm - 5:15 pm
General Session VIII:
Addressing the Impact of Endometriosis on Sexuality and Intimacy for Couples
Sari Cooper, LCSW, CSTS, CST
5:15 pm - 5:30 pm
Final Discussion & Closing Remarks
Sam Stockton
Tamer Seckin, MD, FACOG
Tracey Haas, DO
5:30 pm - 7:30 pm

EndoFound Networking Event
"Together for Tomorrow" Social with Live Music by The Far East
*Program subject to change
---
DAY II:
Sunday, March 19th, 2023 (8:00 AM - 5:00 PM ET)
-
Time
Topic
Speaker
8:00 am - 9:00 am
Coffee & Conversation
9:00 am - 9:15 am
Opening Remarks
Lexie Stevenson
9:15 am - 9:45 am
General Session IX:
Recap of Endo 101 + Q&A
Tracey Haas, DO.
9:45 am - 10:00 am
How to Advocate for Yourself
Melissa Boudreau
10:00 am - 10:30 am
General Session X:
Surgery for Endometriosis - Options & Opinions
Amanda Chu, MD.
10:45 am - 11:30 am
Training the Next Generation of Endometriosis Physicians (Einhorn Auditorium)
Michael Lewis, MD.
OR
The Science of Food & Inflammation (Bruno Conference Room)
Semir Beyaz, PhD.
Judy Joo
11:45 am - 12:30 pm
General Session XI:
Hormonal Management, Non-Surgical & Pharmaceutical Approaches
Drorit Or, MD
12:30 pm - 2:00 pm
Lunch Session & Q&A with the Egg Whisperer
Aimee Eyzzavadeh, MD
2:00 pm - 2:45 pm
General Session XII:
New Developments in Fertility
Janelle Luk, MD FACOG
Latia Lee
3:00 pm - 3:45 pm
Creating a Visual Journal: Art, Pain Management, and Catharsis (Aron Board Room)
Deirdre Whiston
OR
Making the Decision: Hysterectomy - Panel Discussion
Tracey Haas, DO, MPH
Nicqueva Haughton
Cynthia Hornig
4:00 pm - 4:45 pm
General Session XIII: Panel Discussion:
Hormonal Balancing, Inflammation, & the Endo Belly
Charlotte Abbate, MS, CNS, CDN
Kirsten Manges, LAc
Claire Hamnet, PT, DPT, WCS, PRPC, CLT
Kara Mortifoglio PT, DPT, WCS,
4:45 pm- 5:00 pm
Closing Remarks
Tamer Seckin, MD, FACOG
Tracey Haas, DO
*Program subject to change
---