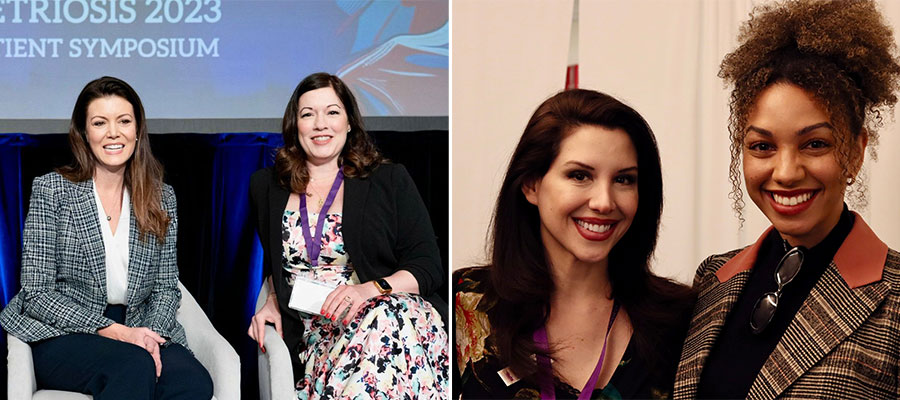 The First Day of the 2023 Endometriosis Global Patient Symposium Was Packed With Emotional Moments
This year's Endometriosis Global Patient Symposium was, perhaps, filled with more emotional moments than ever. The symposium aims to provide women with a platform where they can freely express themselves and share their most intimate experiences in a safe environment. And they certainly did.
The first day of the two-day symposium started with opening remarks from Dr. Tamer Seckin, the Co-Founder and President of EndoFound. EndoFound's Executive Director, Dr. Tracey Haas, introduced herself and opened the symposium. Dr. Seckin and Dr. Haas were available throughout the symposium to answer the delegates' questions.
Scientific update on endometriosis
Dr. Karli Goldstein gave an in-depth overview of what endometriosis is, based on what we know today.
Dr. Tamer Seckin dived deeper into the subject and discussed emerging facts and unchanging truths about endometriosis. He explained why endometriosis could involve multiple organs and showed some interesting surgical pictures.
Dr. Tomer Singer discussed options for egg freezing for women with endometriosis. He highlighted the importance of doing egg freezing early. He also touched on the financial considerations of the procedure.
Social, emotional, and sexual aspects of endometriosis
Sydney Faith Rose, a therapist, consultant, and workshop facilitator, described how women could manage endometriosis's social and emotional impact. She gave valuable advice not just limited to endometriosis and said that collaboration is our strongest skill as humans. "We cannot manage mental health alone," Sydney said, adding that being human means interdependence.
The delegates received the presentation of the award-winning journalist and author of Vagina Obscura, Rachel Gross, with a lot of interest. Rachel talked about the stigma around the female body and how women's sexual organs have been misdescribed using inappropriate language. "Please don't call my cervix incompetent," Rachel said, referring to the term often used by some medical professionals to describe weak cervical tissue causing or contributing to premature birth. "There comes a time in every woman's life when she sees herself as medicine has seen her: a mystery. An enigma. A black box that, for some reason, no one has managed to get inside," Rachel quoted from her book.
Holistic Nutritionist and Founder of Doing Well, Daphne Javitch, talked about the healing power of routine. Sex therapist Sari Cooper addressed the impact of endometriosis on the sexuality and intimacy of couples. "Your relationship is my patient," Sari said. She talked about "sex esteem" and said there are 237 motivations for sex. "Stop pushing through penetrative sex, if it is not pleasurable," she added.
Panel discussions
The day also included panel discussions by experts. The first included information about the legal and human resources protections for women affected by the disease. Employment attorneys Laurie Berke-Weiss, and Alex Berke and employment lawyer Rosa Aliberti discussed topics such as disability, time off, and accommodations at work.
The second panel discussion was led by Dr. Gerard DeGregoris. It was about pain management with alternative interventions, including pelvic floor physical therapy. Physiotherapists Erica Michitsch and Lexi Burtman and licensed acupuncturists Mila Mintsis and Mindy Pickard gave very valuable advice that can be useful for many women with the disease.
Patient stories and networking
During the day, women affected by the disease also had a chance to share their stories about it. Some of these women had rare forms of endometriosis, such as thoracic endometriosis.
At the end of the symposium's first day, delegates enjoyed a social with live music by The Far East.