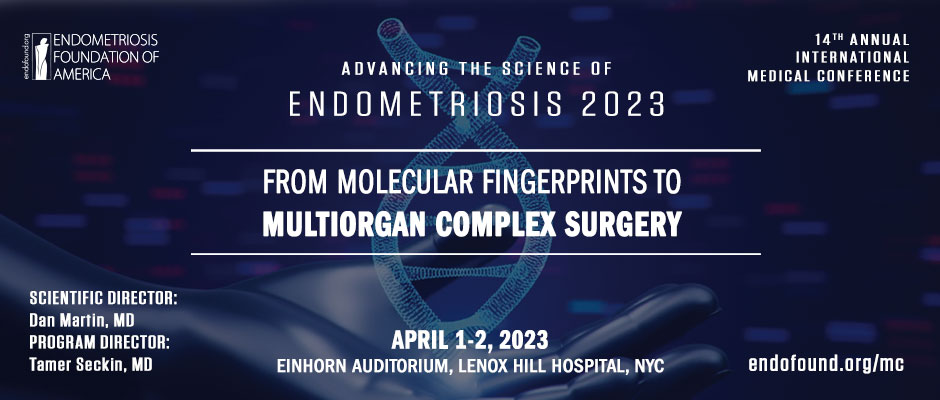 Stephen Palmer, Ph.D., who has dedicated more than 30 years to drug discovery and development, has been named one of EndoFound's Harry Reich Award recipients. Palmer is an associate professor at Baylor College of Medicine and the chief scientific officer at Celmatix, a preclinical-stage biotech company focused on ovarian health.
The award recognizes scientists and specialists making a difference in the lives of women with endometriosis. It will be presented to Palmer at EndoFound's 14th Annual International Medical Conference on Saturday and Sunday, April 1 and 2, at Lenox Hill Hospital in Manhattan. Palmer will also deliver Saturday's keynote speech, "Leveraging the Immune System to Treat Endometriosis."
"It's quite amazing," Palmer said of the award. "Oftentimes, as a person in drug discovery, your life is in the background, so it's nice to be recognized for a lifelong pursuit of novel therapies that treat chronic women's health diseases. I'm very honored to receive it."
Palmer first learned about endometriosis in 1982, when his wife was diagnosed with the disease. His primary research for nearly the last two decades has been developing and executing an immune modulator—a substance that can help the body fight diseases—in endometriosis therapeutics. As Palmer explained, the uterine cells that cause endometriosis find ways to survive attacks from the immune system. While changing hormone levels using a hormone modulator may help curb symptoms, it doesn't get to the root of the problem.
"As soon as everyone knows it's a disease that can be treated by changing hormone levels, it is no longer regarded as an inflammatory disease. It's labeled 'a woman thing'—change the hormones and everything will be fine," Palmer said. "I would like people to understand that it's a lot more than a hormone-driven disease. There's a strong immune and inflammatory component, and that's where the next generation of therapies will come."
Palmer conducted much of his initial research at a biotech company based in Switzerland called Serono, later bought by the German pharmaceutical company Merck. At Serono in the early 2000s, Palmer and other scientists found several inflammatory factors involved in the disease process of endometriosis and developed proteins that worked well against it in animals. When the subsequent human clinical trials weren't as successful, Serono's chemists started over by making new compounds to try to inhibit inflammation caused by endometriosis. The results weren't good enough to move to human trials, but combined with what Palmer and his team learned the first time around, there was hope.
"The key point that came from that early work at Serono was that endometriosis lesions in animals went away," Palmer said. "What was incredible for us at that time—something we'd never seen before, and nobody was pursuing—was that the lesions went away without changing hormone levels. Everyone was saying that everything had to go through estrogen. We learned from this compound that wasn't the case."
Fast forward to 2021. Palmer received a grant from the National Institutes of Health to continue the work he started years earlier at Senoro, and the project is now being executed at the Center for Drug Discovery at Baylor College of Medicine. He said one of the big problems in women's health is that drug companies are slow to respond when new compounds are developed, which can cause patents to expire. For that reason, Palmer has served as both the discoverer and developer in the current effort, to create the supply and prepare the demand.
"We now have discovered a new compound that successfully causes regression of endometriotic lesions in our animal models," Palmer said. "We believe is patentable, and it is about 100-fold more potent than the previous compound, which means it should work even better."
Palmer anticipates investigational new drug (IND) studies on the compound—proof to the FDA that it will be safe for human clinical trials—will begin in about 18 months. Phase I clinical trials would start about two months after the FDA is satisfied. It will take several years to complete clinical trials, but the future is promising.
"I think the change that has happened with regard to endometriosis in the last five to 10 years is that people now recognize it's more than just an endocrine disease and more than just an estrogen disease," Palmer said. "The challenge we have in our work is that pharmaceutical companies like to follow an example. But for anyone working in this inflammation or immune modulator space in endometriosis, what we're doing is different, so we have to be smarter."
Palmer is scheduled to speak at the medical conference at 10:50 A.M. on Saturday. To register to attend, visit www.endofound.org/medicalconference.