Join us for an incredible afternoon of music and support as the Spring Nuts present a benefit concert for EndoFound. The event will be at 2 P.M. on Sunday, September 10, and feature talented artists Alexandra Jardvall, Chris Fritz, and Jake Thistle.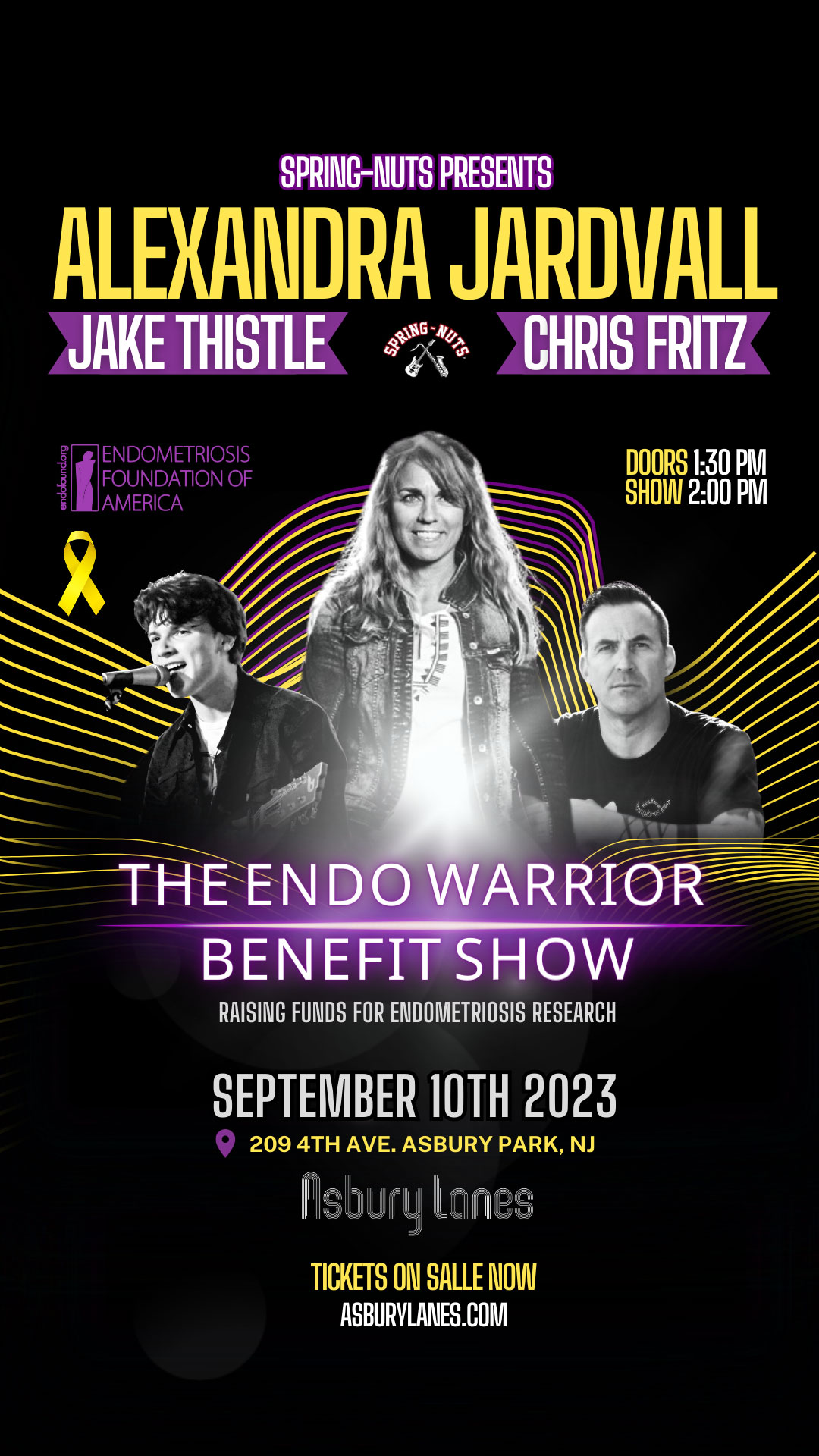 Alexandra Jarvall's remarkable talent shines through in every note she sings. With a captivating voice and gift for storytelling, she weaves intricate melodies that leave a lasting impression. Alexandra's music reflects her depth of emotion and ability to connect with listeners profoundly. From poignant ballads to empowering anthems, Alexandra's music has a lasting impact on worldwide audiences.
Chris Fritz is a highly talented musician who has captivated audiences with his soulful voice, exceptional guitar skills, and versatile repertoire. With a unique blend of folk, rock, and blues influences, Fritz creates spellbinding original music and a mesmerizing sound to deliver unforgettable renditions of classic rock covers.
Jake Thistle is an emerging talent known for his raw and authentic performances. With a unique sound that defies genre boundaries, Thistle captivates audiences with his soul-stirring music. His poetic lyrics delve into deep emotions and personal experiences to resonate with listeners, and his melodic compositions have a mesmerizing quality that transports fans into his world of storytelling.
The Spring-Nuts are a passionate and dedicated community of over 60,000 music enthusiasts who share an unwavering love for Bruce Springsteen and his iconic E Street Band. These fans are from all corners of the globe, connecting through their shared appreciation for the sound and legacy of "The Boss." With their infectious energy and devotion, the Spring-Nuts welcome new fans into their tight-knit fold. The Spring-Nuts celebrate Springsteen's music and actively engage in philanthropic events, demonstrating their commitment to positively impacting the world. If you want to connect with fellow Springsteen fanatics, celebrate the timeless music that has resonated for decades, and join in their philanthropic endeavors, the Spring-Nuts community is the place to be.
Mark your calendars for this incredible evening of music and purpose! Join us at Asbury Lanes at 2 P.M. on Sunday, September 10, to contribute to raising awareness and funds for endometriosis research and support programs. Together, let's make a meaningful difference in the lives of those affected by endometriosis, bringing hope and support through the power of music and compassion. Tickets are just $25. Grab them now! We can't wait to see you there!