Team EndoStrong raised nearly $170,000 for EndoFound last year by running in the TCS New York City Marathon. Clare Murphy, who is running for and organizing the team for this year's marathon on Nov. 5, expects to blow away that number.
"I'm confident that we're going to hit our goal of $204,000," said Murphy, a medical assistant and researcher for the Seckin Endometriosis Center. "And I think we'll probably exceed $300,000."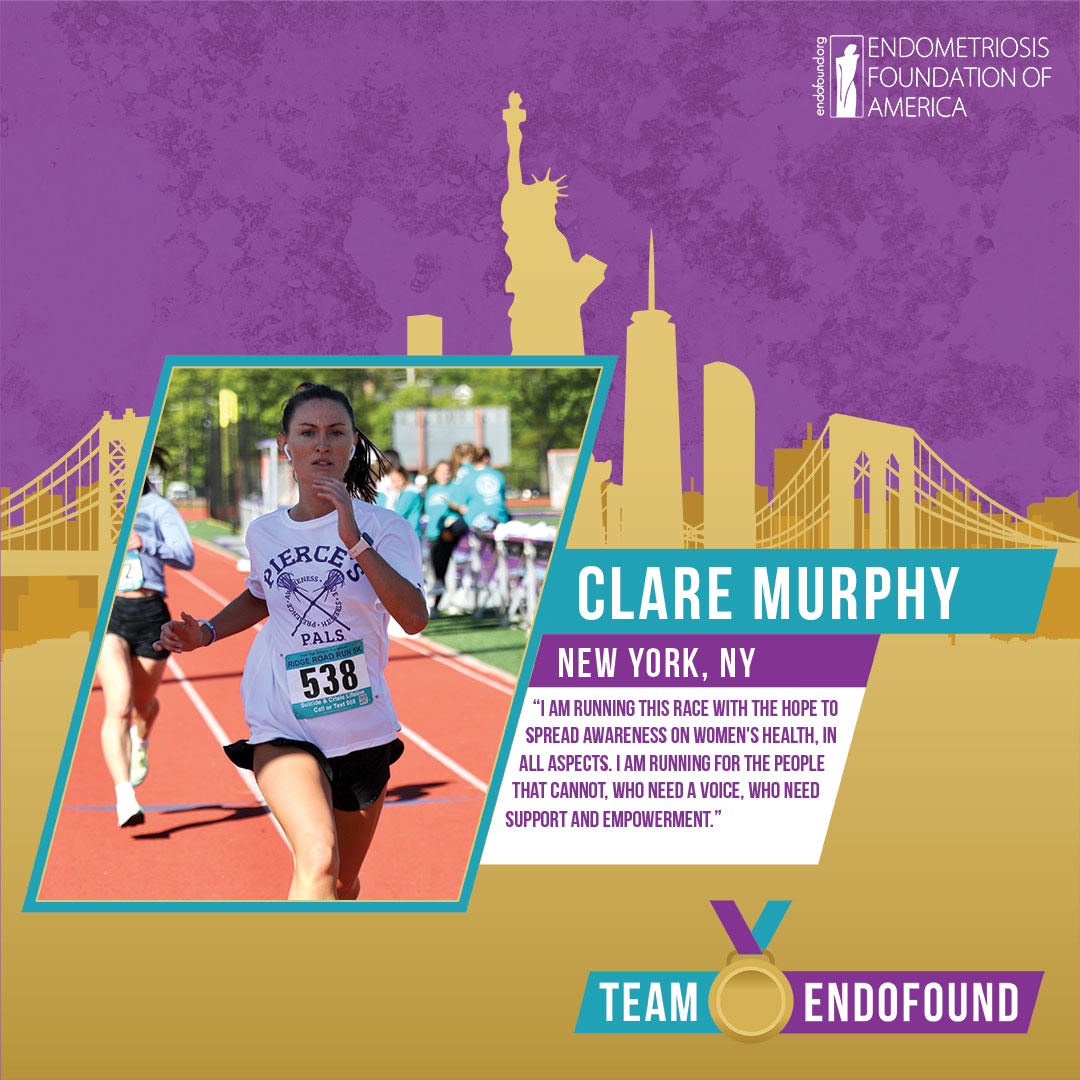 Click Here To Support Team EndoFound Runners
Every year, the marathon partners with several charities for the race. Each charity is given a certain number of slots, and runners who fill those slots and hit their fundraising goal are guaranteed entry into the marathon. Some other popular charity partners this year include the Christopher & Dana Reeve Foundation, Autism Speaks, and the John Ritter Foundation for Aortic Health.
This is EndoFound's ninth year as a charity partner. Team EndoStrong has been granted 51 spots, breaking its record of 50 last year, though Murphy said she's trying to get "quite a few more" in the coming weeks.
The TCS New York City Marathon attracts 50,000 runners annually, but it's not open to everyone. Runners can compete in the race with qualifying times from the previous year, through a lottery system held each March, or as a member of a charity partner such as Team EndoStrong. Anyone guaranteed a spot in the race by qualifying or through the lottery is also welcome to fundraise for Team EndoStrong.
Each of the 51 Team EndoStrong runners is expected to raise a minimum of $4,000. Some have already exceeded that goal or are more than halfway there. They come from several states across the U.S. and Europe. Included are endometriosis patients, people with ties to those with endometriosis, and others who simply want to support a worthy cause. Stories on some of those runners will be featured here on the EndoFound blog in the coming weeks and months.
Murphy has been working this spring and summer to unite Team EndoStrong despite the many miles that may separate the participants.
"I try to cultivate a team environment by encouraging everyone to get to know the other runners," Murphy said. "I have a group chat with all of my runners where everyone introduces themselves and sends updates on their training process."
Murphy has raised $1,814 thus far toward her $4,000 goal. She does not have endometriosis, but she works closely with new patients every day in her job at the Seckin Endometriosis Center. She's also never run a marathon, but as a former two-sport college division one athlete (lacrosse and track and field), she knows how to train and is excited about the opportunity.
"I'm just going out and enjoying what I'm doing," Murphy said. "Knowing that I'm running for a good cause makes all the difference."
To learn more about Team EndoFound's runners, follow their progress, and donate to their cause, visit https://give.endofound.org/event/2023-tcs-nyc-marathon/e477280.