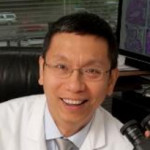 Ie-Ming Shih, MD, PhD is the Richard TeLinde Distinguished Professor of Gynecologic Pathology at the Johns Hopkins University School of Medicine. He co-directs the Breast and Ovarian Cancer Program in the Sidney Kimmel Comprehensive Cancer Center at JHU. He is a gynecologic pathologist and did a clinical fellowship in gynecologic pathology followed by a cancer molecular genetics fellowship, all at Hopkins. Dr. Shih's research has impacted the medical science and gynecologic disease field in several ways. In a recently published article appearing in the New England Journal of Medicine, Dr. Shih's team reports that deep-infiltrating endometriosis (DIE) harbors somatic cancer-associated mutations, including recurrent mutations in KRAS and ARID1A.
Disclaimer: The opinions shared by each of our panelists and speakers belong to each of them respectively and may not accurately reflect the beliefs of the EndoFound organization as a whole.
Please register (free registration) to receive the password to access the presentations.