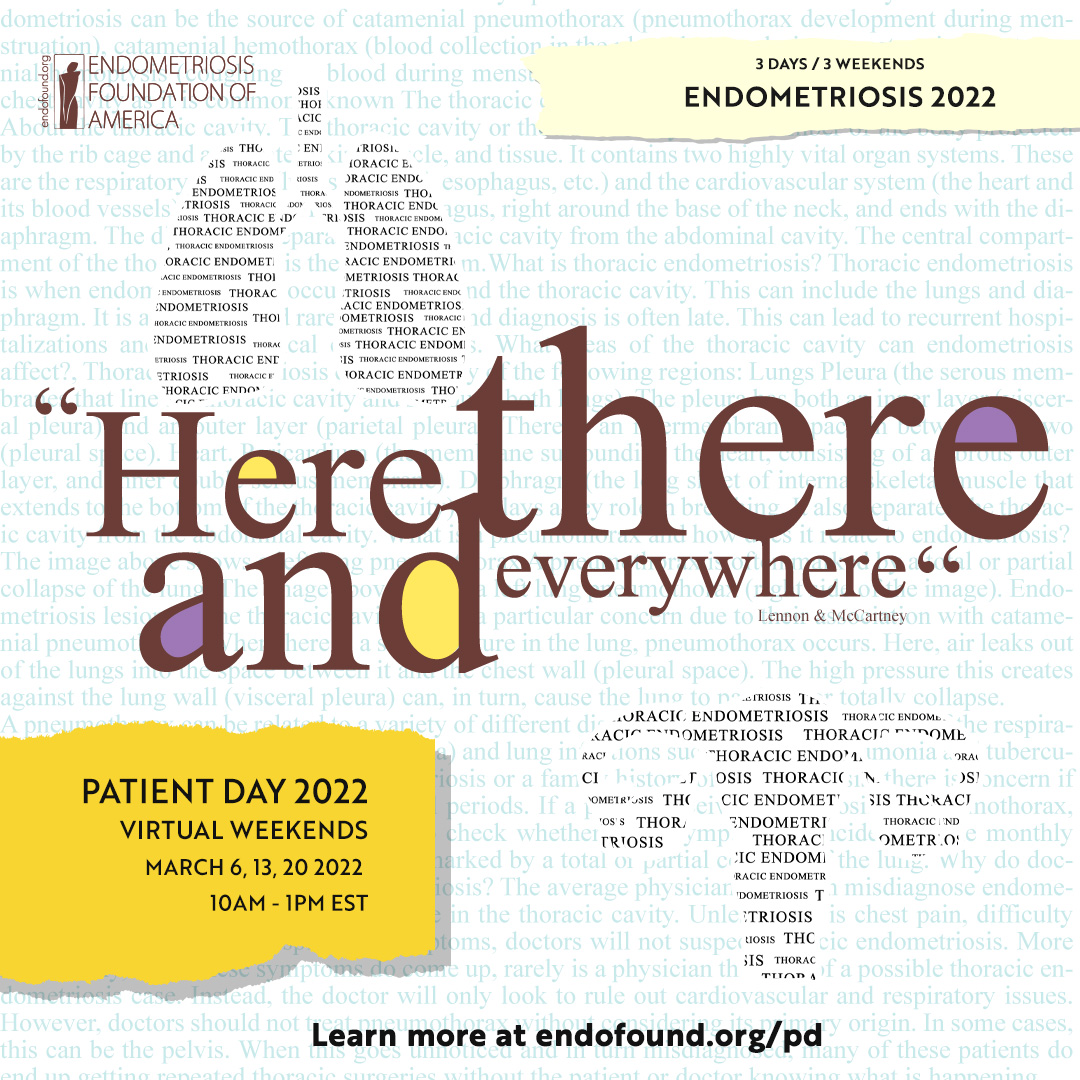 Every year, the Endometriosis Foundation of America hosts a patient conference designed to equip patients with all the tools and information they need to live their best lives with endometriosis.
The virtual conference will include panels by experts in fields ranging from extrapelvic endometriosis and fertility to mental health and nutrition. We believe that living with endometriosis requires a collaborative and interdisciplinary effort that prioritizes the patient's voice. We are excited to continue spotlighting patients who will take the virtual stage to tell their stories and share their toolkits for advocacy, management, and support. This year, we're delighted to host not one, but three days of this empowering and educational event for the endometriosis community. Plus, our state-of-the art conference portal will allow for video coffee breaks around a digital table to network with fellow endometriosis warriors. Join The Endo Circle by registering for the endometriosis conference of the season today.
Patient Day was created for and inspired by endometriosis patients and we invite you to share this day with your loved ones and support network.Together we can seek the information and support that the endo community deserves.
PATIENT DAY 2022
● WEEKEND I: March 6, 2022 (10am-1pm EST) Fertility & Endometriosis
● WEEKEND II: March 13, 2022 (10am-1pm EST) Peritoneal Endometriosis & Pain
● WEEKEND III: March 20, 2022 (10 am-1 pm EST) Deeper Debilitating Disease & Its Definitive Treatment
Patient Day Speakers
PROGRAM
WEEKEND I:
Fertility & Endometriosis
Sunday, March 6, 2022 (9:30 AM - 2:00 PM EST)
| | | |
| --- | --- | --- |
| Time | Topic | Speaker |
| 9:30 am - 10:00am | Networking pre-event Event Lobby | |
| 10:00 am - 10:02am | Welcome to EndoFound PD Series | Diana Falzone, EndoFound Ambassador |
| 10:02am - 10:10am | Welcome & My Journey | Karli Provost Goldstein MD |
| 10:10am - 10:13am | Patient Journey | |
| 10:13am - 10:33am | Diminished Ovarian Reserve/Early Ovarian Compromise: Strategies | Kutluk Oktay, MD |
| 10:33am - 10:53am | Creative Options for Fertility: Egg Freezing/Gestational Carrier/Embryo Adoption/Donor Egg | Tomer Singer, MD |
| 10:53am -10:56am | Patient Journey | |
| 10:56am - 11:16am | Endometriosis-Specific Protocols: Bringing Back Patient-Centric Treatment | Brian Levine, MD |
| 11:16am - 11:36am | Unexplained Infertility? Silent Endometriosis & Immunologic Dysfunction | Drew Tortoriello, MD |
| 11:36am - 11:56am | Q&A with the Egg Whisperer | Aimee Eyvazzadeh, MD |
| 11:56am - 12:06pm | The Stress Behind Infertility & Endometriosis | Halley Terrell, LCSW |
| 12:06pm - 12:09pm | Adoption by Choice | Jessica Murnane |
| 12:09pm - 12:19pm | Acupuncture with Infertility, Complimentary- with Breathing, Meditation | |
| 12:19pm - 12:39pm | Novel Measures Using PRP and Ozone to Improve Egg Quality in Endometriosis | |
| 12:39pm - 1:00 pm | Q & A (live) | |
| 1:00pm - 1:05pm | Closing | Karli Provost Goldstein MD |
| 1:05pm - 2:00pm | Networking Event Lobby | |
WEEKEND II:
Peritoneal Endometriosis & Pain
Sunday, March 13, 2022 (9:30 AM - 3:00 PM EST)
Time
Topic
Speaker
9:30 am - 10:00 am
Networking pre-event Event Lobby
10:00 am - 10:07 am
Welcome & Introduction
Dan Martin, MD, Tamer Seckin, MD
10:07 am - 10:27 am
What should you tell your daughters
Dan Martin, MD
10:27 am - 10:50 am
Patient stories - Adolescent Twins
Twins: Neve Rechan and Lane Victoria Rechan
10:50 am - 11:15 am
Peritoneal Endometriosis
Tamer Seckin, MD
11:15 am - 11:35 am
Q & A with Dr. Martin & Dr. Seckin
11:35 am - 11:45 am
Break
11:45 am - 12:05 pm
Immunology & Menstrual Fluid
Katherine Burns, Ph.D
12:05 pm - 12: 35 pm
Endometriosis & Blood Sugar Dysregulation
Katie Edmonds, NTP
12:35 pm - 01:55 pm
How to talk with your doctor about pain.
Tracey Haas, DO
01:55 pm - 02:15 pm
Coping with Pain
Laura Payne, PhD
02:15 pm - 02:30 pm
Q & A (live)
Dan Martin, MD, Tamer Seckin, MD
02:30pm - 03:00 pm
Networking Event Lobby
WEEKEND III:
Deeper Debilitating Disease & Its Definitive Treatment
Sunday, March 20, 2022 (10:00 AM - 1:00 PM EST)
Time
Topic
Speaker
10:00 - 10:05
Welcome & Introduction
Tracey Haas, DO. and Harry Reich, MD
10:05 - 10:20
"The Times They Are a-Changin' "
Role of Robotic Surgery
Harry Reich, MD
10:20 - 10:30
Applied Principles of Microsurgery for Endometriosis: from "Here to Eternity"
Victor Gomel, MD
10:30 - 10:40
Excision Surgery for Dummies
Ray Garry, MD
10:40 - 10:45
Patient Journey 1
10:45 - 10:55
Case Presentation 1 -- Hydronephrosis/Hysterectomy
Tamer Seckin, MD
10:55 - 11:00
Comments/Discussion
Harry Reich, MD, Victor Gomel, MD., Ray Garry, MD., & Jay Redan, MD
11:00 - 11:05
Patient Journey 2
11:05 - 11:15
Case Presentation 2 -- Hydroureter & Bladder & Bowel Resection & Hysterectomy
Amanda Chu, MD
11:15 - 11:20
Patient Journey 3
11:25 - 11:30
Case Presentation 3
Karli Goldstien, DO, and Tamer Seckin, MD
11:30 - 11:35
Comments/Discussion Case 2 and 3
Harry Reich, MD., Victor Gomel, MD., Ray Garry, MD., & Jay Redan, MD
11:35 -11:45
Requisite for Hysterectomy Classifications of Endometriosis Surgery: Why is Hysterectomy alone not the final answer?
Karli Goldstien, DO, and Tamer Seckin, MD
11:45 - 11:55
Food for Everyone from Diet Guru and Chef
Judy Joo
11:55 - 12:25
Deep Bowel Endo-Surgery for Securing Best Outcome
Jay Redan, MD
12:25 - 12:35
Cultural disparities in access to care
Latia Lee, RN
12:35 - 12:40
Patient Journey 4
12:40 - 1:00
Case Presentation 4 -- Thoracic Endometriosis
Tamer Seckin, MD
1:00 -1:10
Centralization of Pain
Amanda Chu, MD
1:10-1:20
Strategies for Managing Deep Disease - Patient Perspective
Melissa Boudreau
1:20-1:30
Comments, Discussion, Q&A
Harry Reich, MD., Victor Gomel, MD., Ray Garry, MD., & Jay Redan, MD