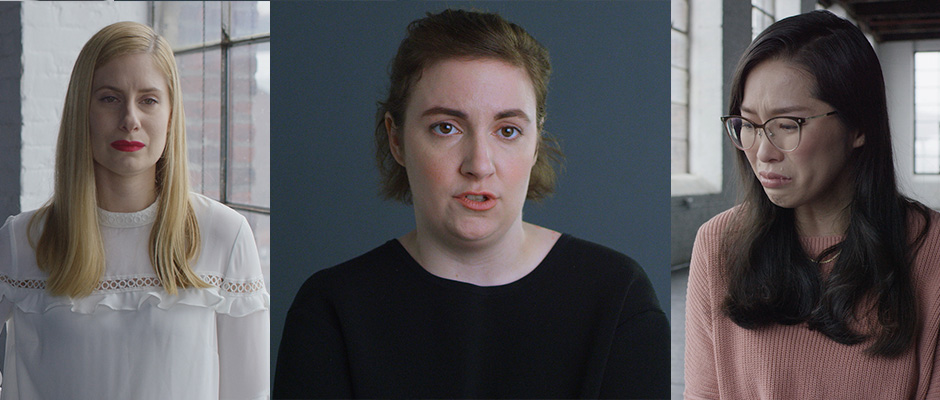 Girls creator and actor, Lena Dunham, 31; Winnie Chan, 30; and Jennifer Boyd, 37; provided intimate testimonals about the many difficulties of living with endometriosis, and years of going undiagnosed, in a series first shown at the Blossom Ball, called "In Our Own Words."
"When I tell people that I had a hysterectomy for endometriosis," Dunham says after undergoing the procedure late last year, "I say to them it's a painful choice, but if I wanted to be a mother which I do, there was no way I was going to be able to be a parent with the level of pain that endometriosis was causing and that hysterectomy in many ways freed me. We all understood that there was no way I was going to achieve the things I wanted to achieve or was meant to achieve if that hysterectomy didn't happen. And I hope that for so many women, with an early enough diagnosis they never even have to ask themselves that question."
Boyd recalling her traumatic first period at the age of nine says,"I was on vacation with my family. We were at the beach, and I remember I came out of the ocean and my mom had just started running really fast and she picked me up and brought me back to the hotel room. I literally was like, 'Oh my god. I'm like bleeding. I'm dying,' was my first thought. The pain had not subsided and the rest of that day and that night it got way worse. My entire abdomen was seizing up. I was in just extreme, intense pain." Adds Boyd, "There is nobody else who knows you better than yourself. You're the expert of your body. Not your doctor. You are."
Chan recalls missing birthdays and planning her entire year around her debilitating periods, at times blocking off four or five days each month. "Those specific dates would most likely land on Thanksgiving or Christmas. [I'd tell myself] 'If it lands on your birthday, no birthday parties. Just don't think about it for a couple of days and you'll feel better.' I was hiding it because I don't want to show my family and friends that I'm in pain, I'd rather hide myself at home and bear the pain."
Videos courtesy of Silent Dog Pictures