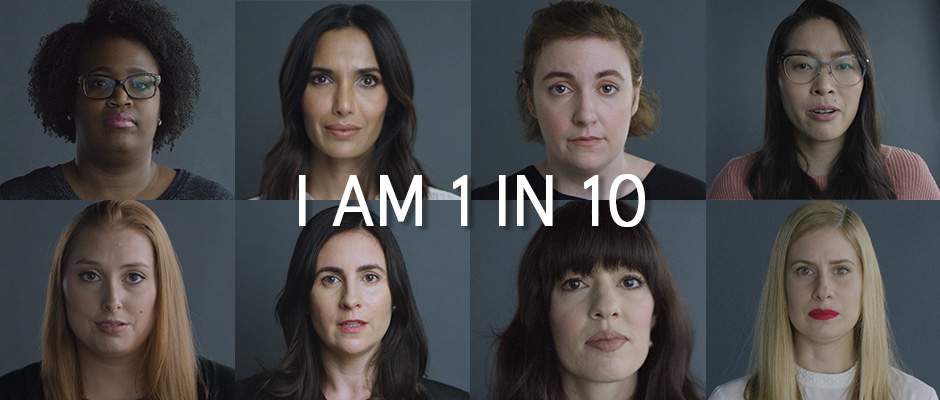 Padma Lakshmi and Lena Dunham joined other women with endometriosis in filming a powerful call to action that debuted at the Ninth Annual Blossom ball this week. The video portrays the many faces of endometriosis, reminding us all that this reproductive disease does not discriminate.
"I am one in 10," began Jennifer Boyd, 37, in the short film. "One in ten who wakes up every day with pain I bear in silence. Pain that is taboo. Pain that can't be medicated away. No one believed I could be in so much pain from my period," said a series of women with endometriosis as they stood against a stark background and looked directly into the camera.
"No one told me there was something wrong," added Lakshmi, 47. The women then revealed how many endometriosis-related surgeries they have endured, with Julie Jacques sharing that she had 12 surgeries. Last year, Dunham revealed she had underwent a hysterectomy at the age of 31 in an effort to finally get a handle on crippling endo-related pain.

The video highlighted just how many women have this disease -- an estimated 200 million women worldwide.
"Some [women] are never diagnosed," added Lakshmi. A correct diagnosis eludes many, and, on average, can take up to a decade for a doctor to zero in on endometriosis.
As the Blossom has reported, the search for a non-invasive diagnostic test to accurately diagnose endometriosis, and save women from years of suffering continues. Currently, the only way to be diagnosed with endometriosis is a laparoscopic excision surgery with biopsied tissue that pathology confirms is endometriosis. This is an expensive procedure often not covered by insurance.
"It's time for women to come together, to step out from the shadows, raise our voices for early diagnosis, for greater awareness, for more research funding, for treatment that works. Now is the time."
Dunham, Boyd, and Winnie Chan, who also appeared in this video, detailed their pain from endometriosis in further moving testimonials.
Editor's note: You can join the fight by donating to EndoFound's #screwuendo campaign by texting Endo25 to 20222. Proceeds go towards increasing disease recognition, providing advocacy, facilitating expert surgical training, and funding landmark endometriosis research