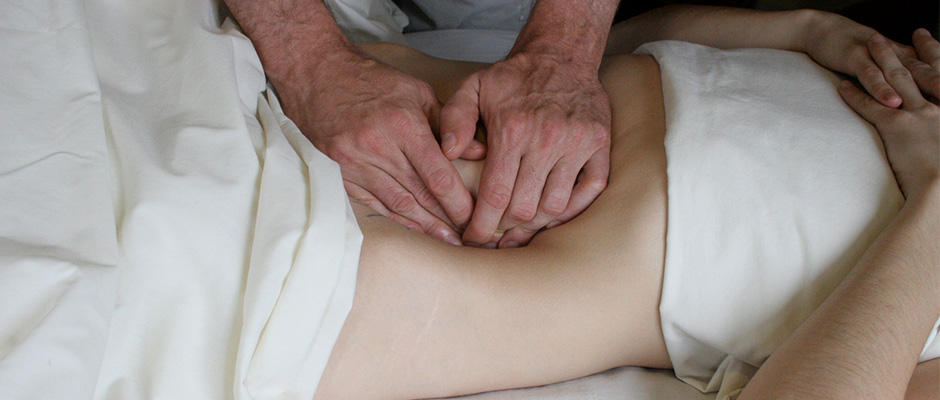 Above, Licensed Massage Practioner Marty Ryan puts his hands to work. Here, "I'm working with the small bowel," he shares. "This is a common place for adhesion to occur and can create general abdominal bloating and pain after meals."
You may have heard of pelvic floor physical therapy, but what about manual therapy? The latter, is, in fact, an umbrella term for physical methods used for pain management and mobilization. In the case of Licensed Massage Practioner Marty Ryan's practice, it means visceral massage—but not the kind where you lie down with cucumbers on your eyes.
"Manual therapists are going to put their hands on the pelvis and abdomen," explains Ryan, 55, who has been practicing since 1994 in Pittsburgh, Louisville, and Seattle. "Around '97, '98, '99 people were starting to ask, 'You know, my shoulder feels great. My neck is starting to feel so much better. What can you do for pelvic pain, menstruation pain, upper abdomen, reflux, IBS, bloating?" Twenty years later, he is guided by that growing demand. "It seemed like, wow, there's a market here. There's a lot of folks that are suffering here and they're not getting treated by me, but pretty much my whole industry isn't touching them."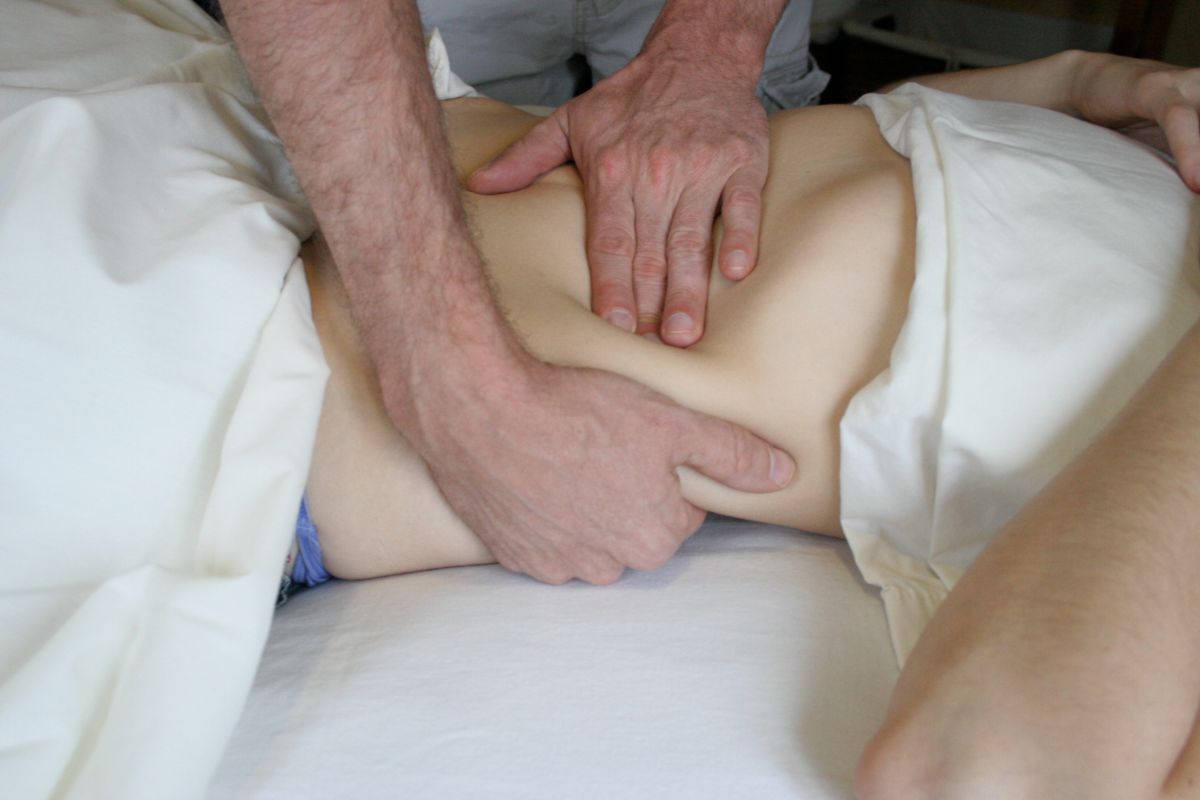 Above, Ryan demonstrates a massage technique "on the large bowel," a location he focuses on with his endometriosis patients.
Ryan conducts his sessions strategically. He asks about history, such as whether dysmenorrhea or pelvic pain derives from a named condition (such as endometriosis, ovarian cysts, or fibroids) and describes what the massage might entail. "I'm looking for places in the abdomen and pelvis where there is smooth muscle as well as skeletal muscle holding places that feel like adhesions stuck together."
Many women with later stages of endometriosis have organs stuck together or develop scar tissue after surgery and can benefit from better blood flow, lymph flow, and nerve stimulation, he says. "My intention is to mobilize and create more nervous system ease and less smooth muscle holding patterns, but I'm not ripping adhesions apart." He recommends three sessions a month, one session between period and ovulation, and two between ovulation and the next menstrual cycle, for three months.
With Pelvic Pain Awareness Month well underway, Ryan believes that manual therapy can be hugely beneficial for endo patients, but emphasizes the importance of working with other alternative therapies as needed—such as acupuncture and pelvic floor physical therapy—and managing expectations.
RELATED: Pelvic Pain Getting On Your (Literal) Nerves? This Doc Can Relate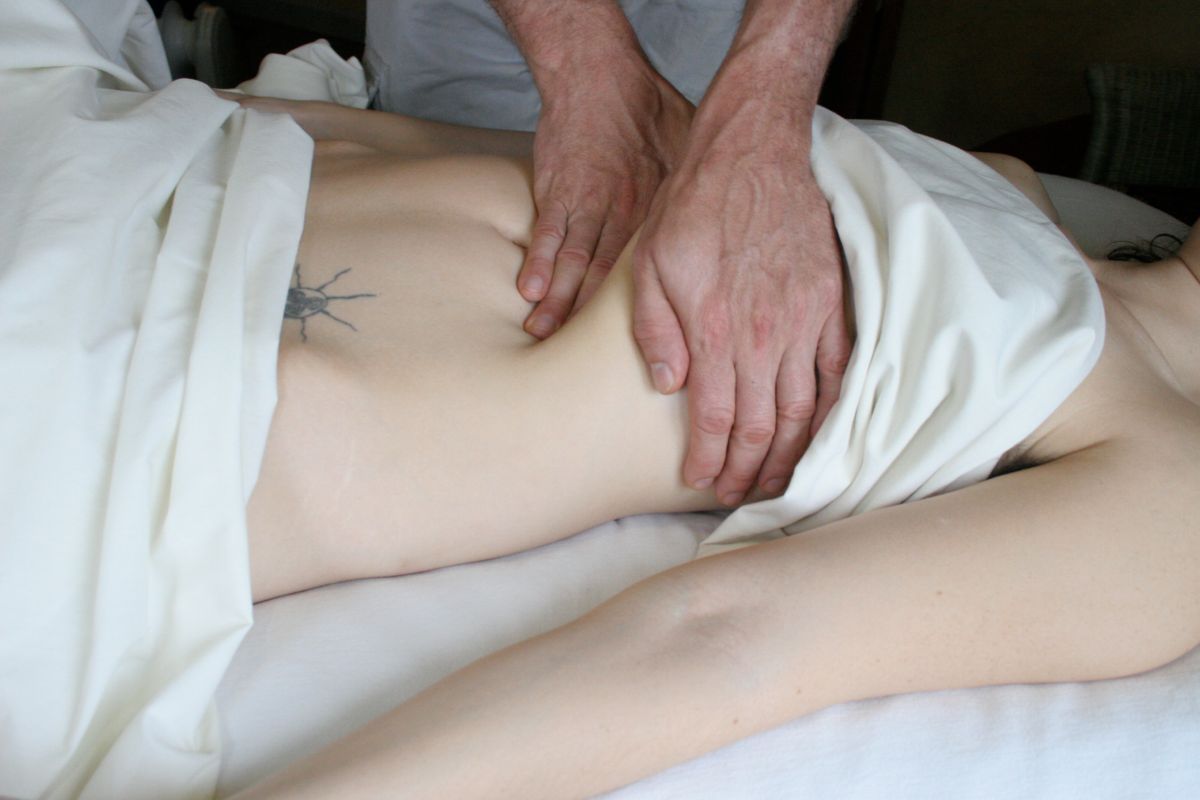 Above, Ryan demonstrates a massage technique on the large intestine and lower ribs.
"One of my goals is to improve body awareness so that micro steps along the way are noticed, discerned, appreciated, and acknowledged that progress is happening." While no practitioner can cure a chronic illness with a wave of their wand, functional improvements that allow women to go to work or participate in activities while on their period mean a great deal. "I've seen 8, 9 out of 10 [pain levels] turn to 3, 4 out of 10 so many times. I'm surprised when it doesn't happen, to tell you the truth. And I've also met lots of people who have had three or four lysis of adhesions surgeries that are considering getting bowel resections or maybe their uterus and ovaries removed, and we've delayed that for, sometimes, years. Which is a huge win."
Editor's note: EndoFound does not certify or endorse any individual healthcare provider, nor provide credentials for their clinical skills. All individuals should utilize their own judgment to determine the medical qualifications of their caregiver