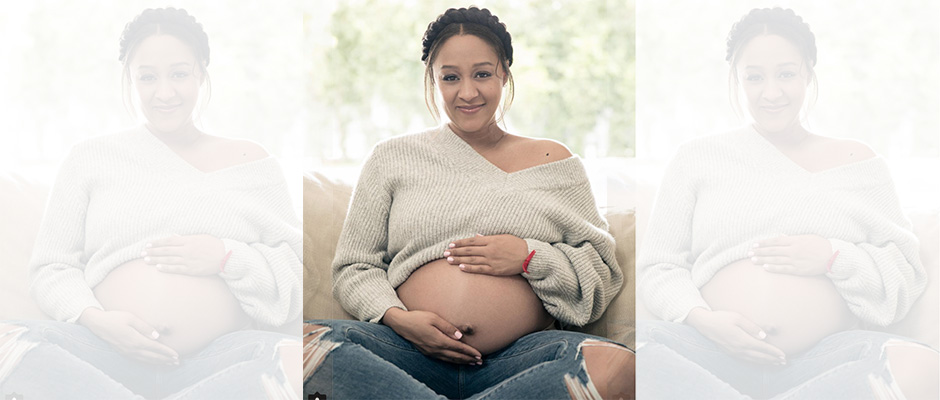 Update: After this story was published on May 3, Tia Mowry and her husband Cory Hardrict welcomed a baby girl on May 5. "Feeling grateful and blessed as we welcome our little baby girl into the world," she Instagrammed. 'We are in heaven."
Former Sister, Sister star Tia Mowry is due any minute now, and she can hardly wait to meet her "miracle" daughter.
"I was literally just saying, I had a contraction," Mowry, 39, exclusively tells The Blossom. "I was like, 'Oh my god.'"
The Braxton Hicks are bittersweet.
For years, Mowry, struggled with endometriosis and heartbreaking infertility while desperately trying to conceive.
"I never felt like giving up," says the actress, who is already mom to 6-year-old son, Cree. "But, that doesn't mean that I wasn't overwhelmed with negative thoughts. My anxiety level just went though the roof. I was just feeling inadequate. I even went through a little bit of depression. There were times when I would be taking a pregnancy test, and I wouldn't be pregnant, and I would just cry. I'm talking about those cries where you slide down the wall, and you're sitting Indian-style—next to the toilet."
As painful as those moments are to relive, one day, Mowry says she's going to fill her daughter in on endometriosis, which affects an estimated 200 million women worldwide, and, scientists suspect, can have a genetic link.
"I will be the mom who's not afraid to discuss all things. I want us to be able to be open and honest with each other, even if that entails me opening up about my struggles with endo. I want to be open with her about everything. Everything. And that's my goal."
She'll have lots of harrowing tales to tell. Mowry recalls moments where the pain would wash over her while driving with her twin sister and The Real co-host Tamera Mowry, who would have to take the wheel while Tia slunk into the backseat. Another time, as the twins sat in a meeting for a proposed series, Mowry remembers almost blacking out. She was finally diagnosed with endometriosis in 2006 at age 30, via laparoscopy, after a decade of suffering. Her delay in diagnosis is shared by millions of women with endometriosis as the wait continues for a definitive non-invasive diagnostic test.
RELATED: Moms With Endo: Early Detection For Daughters Is Key, Says Expert
During that surgery, she says endometriosis lesions were removed from her uterus. Her symptoms were relieved temporarily, but she needed a second laparoscopic surgery about a year later to re-treat the disease.
Hopefully, the worst is over for Mowry. Soon after the back-to-back procedures, she wed actor Cory Hardrict in 2008, and the two welcomed Cree three years later.
"Cree, I consider a miracle, and my baby girl, I consider a miracle. So for me, every day has been a celebration, even through the nausea, even through the edema, the swelling. I'm just celebrating all of the milestones throughout this pregnancy, and I'm taking every day with gratitude, really."
But the blissful pregnancy has been a bit, well, bumpy.
"With my baby girl, the first and the second trimester was heaven. I was like, 'Oh my god, this is amazing.' I was like, 'Yes, let's do this again, Cory. Right after this baby, we're going to go ahead and try for a third one. But the third trimester has been kicking my behind."
Now that the Whole New You cookbook author and Quick Fix YouTube series creator has put the finishing touches on her nursey—a patina of calming earth tones—all Mowry can do is eagerly await her daughter's arrival.
"This is an incredible blessing for me and my husband," she adds. "I am so incredibly excited to meet my baby girl."