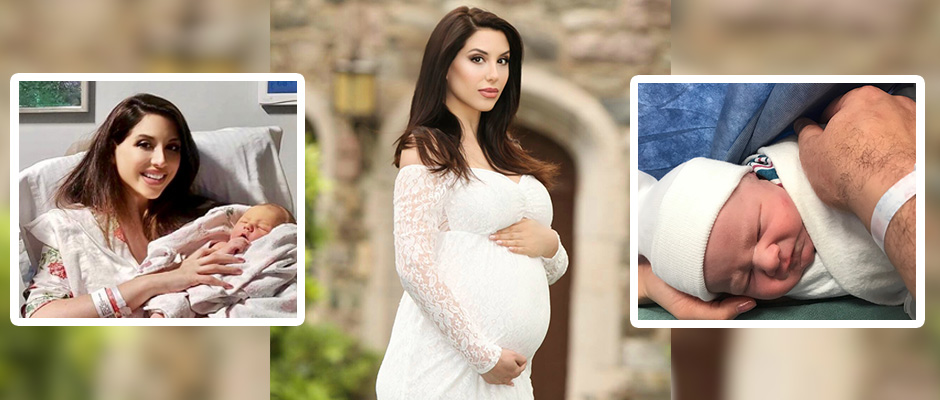 Oh, boy!
Former Fox News reporter Diana Falzone is in the midst of sweet maternal bliss after welcoming baby boy Alexander Robert Painter on August 5.
"It's surreal to hold Alexander," Falzone, 35, tells The Blossom. "To have him in my arms feels like a beautiful dream."
Mom and baby Alexander, who tipped the scales at 8 pounds, 11 ounces, are now home (sort of) resting.
"The first week of motherhood has been wonderfully exhausting," says Falzone, who recently settled her endometriosis-based discrimination lawsuit against the cable news network. "My boyfriend and I are learning our baby, he's learning us, but we're doing pretty well."
But everything wasn't going so well mere days ago. After doctors performed a c-section, Falzone suffered from uterine atony, a condition in which the uterus doesn't contract enough to prevent postpartum hemorrhage.
"I ended up losing a lot of blood and needed two blood transfusions," says Falzone. "If you ever feel 'off' after childbirth," she tips, "be sure to speak up, complications do happen in this day and age."
As The Blossom has reported, it's been a long journey to motherhood for the TV reporter, who was once told she was infertile.
RELATED: Diana Falzone: Every Night I Prayed for my Baby
In March 2016, after years of heavy periods, she underwent her first endometriosis excision surgery. But by June 2017 her symptoms returned, and doctors discovered the disease had advanced even more aggressively. Not only did endometriosis fuse her uterus to her abdomen, but it also blanketed her ovaries, bladder, intestines, and appendix.
When she awoke, doctors warned Falzone she had mere months to retrieve eggs and to try to get pregnant because her ovarian reserve was that of a menopausal woman's. Acting on that advice, she pursued IVF, beginning hormone therapy in September, and an embryo transfer in November, before conceiving little Alexander.
For endo women out there who hope to one day to share in the joys of motherhood despite the roadblocks of endo, Falzone hopes her story will offer plenty of hope.
"I've gotten a lot of messages from women with endometriosis struggling with infertility, and who are unsure of what to do. Keep researching reproductive immunologists. Try to find an IVF doctor that understands this complicated illness and understands what specific medical protocol you may need as someone with an immunological disease. IVF is covered by some insurances. but if your plan doesn't cover it, some doctors will work within your budget or do a payment plan."
If that fails, Falzone urges aspiring moms to never, ever give up.
"If you cannot get pregnant biologically, there is always adoption. If you want to be a mother, you will be."