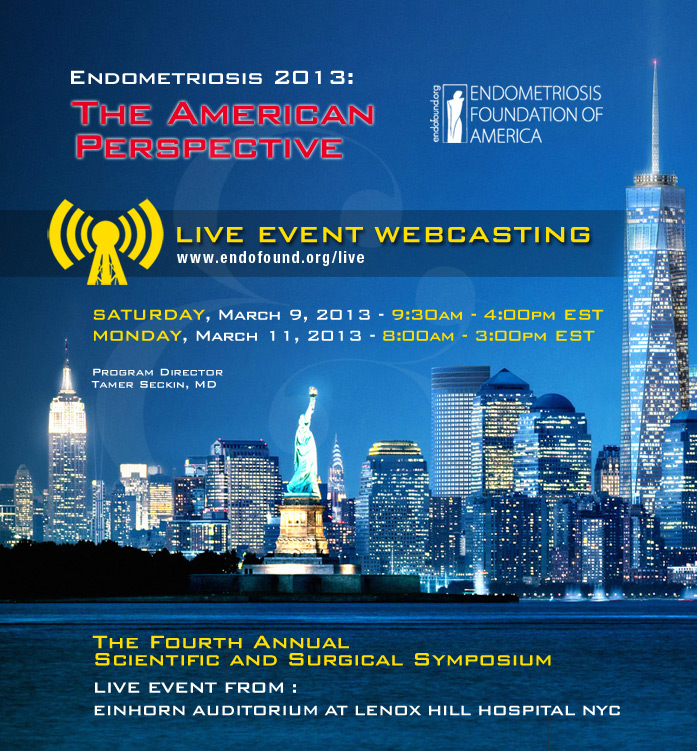 Streamed live from Lenox Hill Hospital's Einhorn Auditorium in New York City. World renowned experts, master surgeons and scientists, and top researchers from around the world speaking about the latest in Endometriosis care.

PATIENTS - Join us Saturday (9 am EST) for the Patient Program focusing on fertility considerations for women with endometriosis. Featuring Dr. Avner Hershlag, Chief of the Center for Human Reproduction at North Shore LIJ, discussing Egg Banking: Buying Reproductive Insurance, and Lone Hummelshoj, an international advocate for women with endometriosis speaking about Endometriosis & Painful Sex. Additional topics; Fertility Future for Women Diagnosed with Endometriosis, Drug Use or Abuse? The Need for Responsible Pain Management, When IBS is Really Endometriosis on the Bowel, Early Pregnancy Outcomes for Women with Endometriosis, and Endometriosis & Mind: Psychology of Pain.

MEDICAL COMMUNITY: Join us Monday (9 am EST) for keynote speakers Dr. Dan Martin, Divisional Director of Minimally Invasive Surgery at UT Medical Group, "Recognition of Endometriosis - Historical and Current Concepts", and Dr. Serdar Bulun, Professor of Obstetrics and Gynecology and Department Chair of Obstetrics and Gynecology at Northwestern University Feinberg School of Medicine, "Endometriosis Research: from Sampson to the 21st Century". Thought-provoking panels will raise important questions such as; how can we implement curriculum changes from high school to medical school? How can we prevent the delay of diagnosis? How can we offer the best treatment? How do we get American's to recognize endometriosis as a disease rather than a condition? How can we prevent "miss & hit" surgeries?