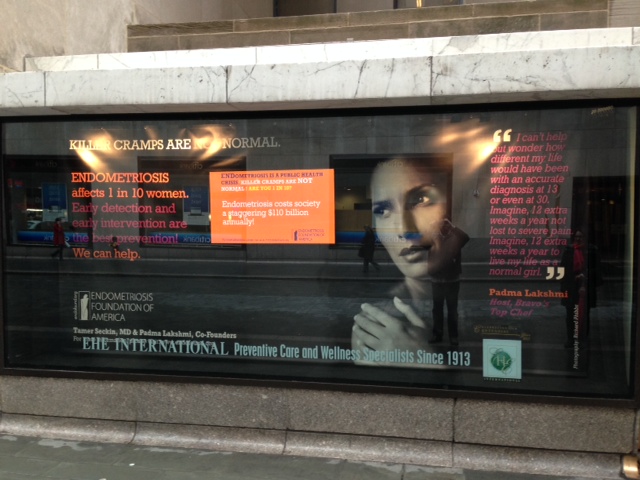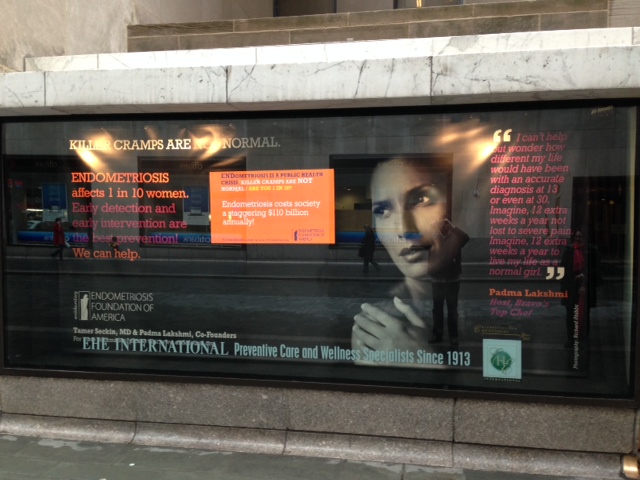 The Endometriosis Foundation of America (Endofound.org) brings its powerful message about endometriosis, a debilitating disease that affects one in ten women in the United States and 176 million women worldwide to Rockefeller Center this January. In a window display donated by EHE International, a recognized leader in preventative medicine, the Endofound.org will showcase its "Killer Cramps are NOT Normal" campaign.

If you have killer cramps, painful periods, debilitating leg or back pain, painful sexual activity or infertility then you may have endometriosis. Prevention and awareness are important, especially if you are missing school, work, sports, and time with family and friends every month.

EHE International and the Endofound.org have partnered to educate women about the symptoms and treatment of endometriosis, a disease that costs a staggering $110 billion annually. It is believed that there is a significant genetic component to endometriosis, as well as association with both ovarian and breast cancer. Thus, endometriosis presents a common and costly public health problem associated with substantial personal suffering.

"We can no longer allow for women to suffer in silence with this debilitating disease," said Mady Schuman, Executive Director of the Endofound.org. "Our clarion call is to make sure that young girls and women worldwide know about this disease, its symptoms and treatment. Early diagnosis and early intervention are the best prevention."

"EHE International is proud to support the Endometriosis Foundation of America with the launch of the 2014 window program to raise awareness," says Deborah McKeever, President of EHE International.

"While endometriosis is one of the most treatable diseases," said Dr. Tamer Seckin, Co-founder of the Endofound.org with Padma Lakshmi, "it remains one of the most misdiagnosed and least treated. Misdiagnosis of endometriosis has led to unnecessary surgeries and hysterectomies, and the long-term use of powerful pain killers, hormones and other medications."

"If I had been diagnosed at 13, 16, 25 or even at 30, that would have been 12 weeks a year, every year that my life would have been completely different," said Lakshmi, who was diagnosed with the disease when she was 36.

The "Killer Cramps are NOT Normal" campaign includes posters and educational materials that are being distributed nationally to high schools, colleges, doctor's offices, health clubs, and the likes.

"Everyone needs to know about endometriosis. Thanks to EHE International we are on our way to doing just that!" added Schuman.

To receive "The Killer Cramps are NOT Normal" poster and educational materials, please contact the Endofound.org at https://www.endofound.org or call 212-430-0371.

About the Endometriosis Foundation of America (Endofound.org)
The Endometriosis Foundation of America (Endofound.org) strives to increase disease recognition, provide advocacy, facilitate expert surgical training, and fund landmark endometriosis research. Engaged in a robust campaign to inform both the medical community and the public, the Endofound.org places particular emphasis on the critical importance of early diagnosis and effective intervention while simultaneously providing education to the next generation of medical professionals and their patients. Support for the Endofound.org comes from individuals, corporations, foundations and associations. For more information on endometriosis and the Endofound.org, visit www.endofound.org or call 212-430-0371.

About EHE International
Established in 1913, EHE International is celebrating 100 years as the recognized leader in preventive medicine with the release of a new book, 100 Years of Preventive Health: The History of EHE International. EHE's clinical protocols are specifically designed for early detection of preventable disease and associated risk factors, supported by robust personal coaching and health management tools and resources. EHE International is the oldest and largest preventive medicine specialist, and its clinically based educational and social engagement platforms are the preferred choice among America's leading employers. For more information, contact EHE International, 10 Rockefeller Plaza, 4th Floor, New York, New York 10020; 212.332.3700; visit https://www.eheintl.com.