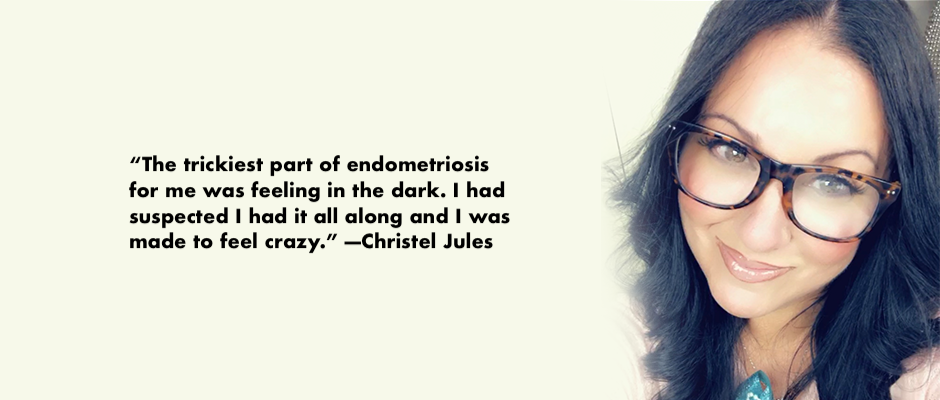 I used to dance. I used to sing, play the piano, and was also an aspiring actress who dabbled in pageant competitions, print work, and landed a few commercials and small roles on the big screen. Born in Manhattan, New York and raised on Long Island, I went to public school and wasn't a stranger to long days. After school let out, my afternoons consisted of homework and intense rehearsals. I was accustomed to suffering from some kind of physical pain that I thought came with the territory of a performer.
I learned at an early age that if there wasn't any pain there wasn't any gain, so I usually ignored any feelings of discomfort. As a teenager I had an eating disorder and I'm sure it didn't help my circumstances. Most days my condition and how I coped was invisible to anyone who would only see me smile on the outside. Even my own family was unaware of how I hid abdominal cramps, discomfort, and all kinds of skin issues until I began admitting my pain to my parents before my sixteenth birthday. As a teenager I was reading articles in magazines on menstrual pain that I could relate to and was concerned about it for a long time.
While most young girls are happy to be celebrating their sweet sixteen with their family and friends, I was already feeling horrible cramps and nausea most days of the week and trying to smile through it all. I didn't want to reveal my secret for fear of missing an opportunity to audition for a movie role, stage performance, or commercial. Performance and rehearsals were my escape, only to then seek medical attention accompanied by my parents for various doctor appointments when my body began evidentially kicking me from the inside out.
I cannot begin to count how many doctors appointments I had. But I do remember each specialist and doctor stating that missed periods could be from the bout of anorexia I dealt with and the strenuous schedule I led with school and after-school activities. They said everything I felt seemed like "normal growing pains" and everything looked fine. More than a handful of times, I was told to slow down, possibly give up dancing, and to consider the pill to regulate menstruation. While my parents were old school and didn't believe in giving a young girl the pill, they did begin to pull back on escorting me to auditions and decreasing my activities significantly.
Years passed and as luck may have it, something I had been working really hard for came my way. But, I had to regretfully turn it down because of my intensifying medical circumstances. I was often able to turn the switch on and off and continue ignoring my pain. I just couldn't go on ignoring it anymore. A quest for answers began taking over my entire life. It slowed me down more and more as the years progressed; it had me screaming next to a toilet on the bathroom floor. Days and nights passed with migraines and what felt like the tearing of my uterus and skin from the inside out.
Since several doctors thought it might have been all in my head at this point, I was left to find answers on my own. I convinced myself I could overcome the excruciating and debilitating pain on my own, and in spite of the lack of medical guidance, I sporadically tried to seek out anyone who would really listen. I continued spending hours pleading with medical insurance companies to allow me to schedule different specialist appointments. Months and years passed with no relief.
My increased determination led me to discover several autoimmune conditions that still didn't add up to my abdominal pain and excessive cramping. The most aggressive of them besides endometriosis were adenomyosis, lichen sclerosus, fibromyalgia, CREST syndrome, and PCOS—in addition to the challenges I faced with pelvic floor dysfunction, multi-glandular thyroid and bronchial-induced asthma, I somehow remain active, and manage mental strength.
In my quest to feel better I met a specialist who finally scheduled me for a laparoscopic surgery on October 5th, 2019. Previous doctors didn't bother to consider this surgery in spite of my suspicions and led me to believe my symptoms were within the "normal" range of someone facing autoimmune challenges.
While my several autoimmune conditions play a critical role in my overall pain, the trickiest part of endometriosis for me was feeling in the dark. I had suspected I had it all along and I was made to feel crazy. It was very isolating to be told that the pain was all in my head and that my activity level might have been too strenuous.
I will admit that before having the laparoscopy I did what anyone coping with pain would do when they don't want to succumb to feeling sick all the time: I ignored the pain and just managed my day to day accordingly.
My many years of muting daily pain had come to an end a few months before my 48th birthday. The time finally came to "peel another layer of the onion," so to speak. I had struggled with this inner turmoil for longer than anyone was probably privy to and longer than I myself have cared to admit. Not only was endometriosis confirmed, the surgeon also discovered adenomyosis and a fibroid that he left alone after removing the invasion on my uterus that was causing a lot of damage.
Although I can feel my endometriosis has come back with a vengeance only one year since surgery, and I cannot afford the cost of another surgery at this time (who can? especially with the world going through the coronavirus pandemic), at least I know that everything I have suffered each day wasn't a figment of my imagination. No one is that good of an actress to live a life full of self-inflicted pain. So I carry on, one moment at a time.
While we all have our life challenges, my wish for everyone is to not wait or ignore your pain for as long as I have had to.
Do not allow anyone (not even the "professionals") to sweep symptoms under a rug indefinitely. Seek help until you are heard. No one but you knows your emotional and physical threshold. While it's sadly common to learn of people suffering in silence, it's never too late to share on the road to healing.
We do better when we know better and all we can do is cherish the moments. The good, the bad, the truth, the whole truth, more of the truth and everything in-between.
Christel Jules is based in Port Saint Lucie and founded Christel's Silky Stems Design Studio. Specializing in exotic silk floral installations and arrangements, Christel's versatility in design, decor, and all facets of staging and styling luxury lifestyle spaces has propelled her to customize an array of tutorials and demonstrations. Christel is a passionate endo advocate, and is also dedicated to a nationwide initiative to advocate for Lichen Sclerosus Awareness and Vulvar Cancer Prevention. Her innate ability is exemplary of her perseverance facing her own series of autoimmune conditions and her exceptional dedication has strengthened and quickly become the voice for men, women, and children suffering in silence.
For more on Christel's career and life lessons visit this her website and her social feeds:
IG: ChristelJules
FB: ChristelJules
Twitter: JuleszeyJules
Editor's note: Would you like to contribute to EndoStories? Click here to learn how to submit your work.
*Patient stories submitted to EndoFound.org are the views of the patient and not necessarily those of the foundation. All testimonials are from real patients, and may not reflect the typical patient's experience, and are not intended to represent or guarantee that anyone will achieve the same or similar results.