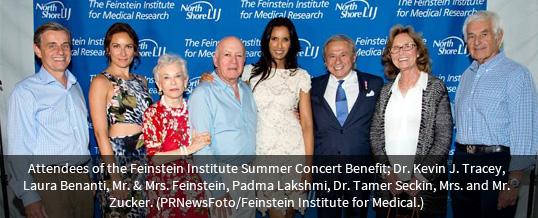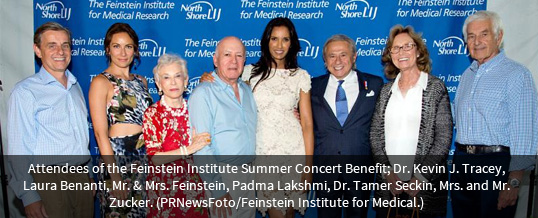 Tony-award winning actress Laura Benanti emcees event; Endometriosis Foundation of America, co-founded by Tamer Seckin, MD, and Top Chef host Padma Lakshmi present fellowship award
MANHASSET, N.Y., July 18, 2014 /PRNewswire-USNewswire/ -- The multi-platinum, Grammy award-winning band Train took center stage Wednesday evening in Oyster Bay, NY for a private benefit concert supporting The Feinstein Institute for Medical Research. The event also featured Endometriosis Foundation of America's (EFA) co-founders Tamer Seckin, MD, and Top Chef host Padma Lakshmi.
The $1.5 million raised at the event will be used by the Feinstein Institute to fund research in such therapeutic areas as cancer, inflammation, autoimmune disorders, Parkinson's disease and Alzheimer's disease. The Feinstein Institute is the research enterprise of the North Shore-LIJ Health System.
Speaking on behalf of the band Train, lead singer Pat Monahan shared the band members' feelings about performing at the Feinstein Institute summer concert. "We recognize how profoundly lucky we are to have our health and the health of our families. When we were asked to play, we immediately said 'yes' because we understand the importance of the Feinstein Institute research as it relates to curing diseases. We are incredibly proud to have been a part of this wonderful event and inspired by the work being done."
Kevin J. Tracey, MD, president of the Feinstein Institute, said during the concert program, thanking the attendees and supporters, that "the history of science, like all history is a series of stories, and the connection of those stories lead to the present and point to the future…Today, we are now positioned uniquely to intersect with the advances in technology and computing that open the door to bioelectronic medicine. This is an exciting story. The idea of placing computer chips on nerves in people to use the patient's own nervous system to cure the disease. This is not 20 years away - this is already happening...It is as if the spirit of history has moved through and put us all in this position at this time to accomplish what we can, and you are a part of it. You are here supporting our work and without you, we can't get there." Dr. Tracey's research was recently featured in the cover story of The New York Times Magazine. To learn more, click here http://www.feinsteininstitute.org/programs-researchers/featured-programs/bioelectronic-medicine.
The evening also included the presentation of the 2014 Fellowship Award named in honor of The Endometriosis Foundation of America (EFA) to Feinstein Institute investigator, Maya Tevlin, Ph.D. Dr. Tevlin is an investigator for an endometriosis study that is being supported by the EFA, called Research OutSmarts Endometriosis (ROSE). The award was presented by EFA co-founders Tamer Seckin, MD, and Top Chef host Padma Lakshmi.
"The Endometriosis Foundation of America is pleased to present Dr. Maya Tevlin with the 2014 Fellowship Award for her dedication to the cause of endometriosis, which affects 176 million women and girls worldwide," said Dr. Seckin. "The EFA is committed to supporting research that will help unravel the mysteries behind this most devious and debilitating disease and, ultimately, enable us to find a cure. The EFA's sponsorship of ROSE at the Feinstein Institute is one of our crowning achievements, and just the beginning of a long-term partnership in endometriosis research."
"We are honored to acknowledge Dr. Tevlin as the first EFA Fellow and salute the Feinstein Institute for its commitment to this serious health issue and the ROSE Project," said Padma Lakshmi, EFA Co-Founder."
Emceeing the evening was Laura Benanti, who earned Tony, Drama Desk and Outer Critics Circle awards for her portrayal of Gypsy Rose Lee in Gypsy. She was also nominated for her performance of Cinderella in Stephen Sondheim's Into the Woods and in Swing!Ms. Benanti has also been cast in several television shows including The Good Wife, Nurse Jackie and Law and Order SVU, among others.
About The Feinstein Institute for Medical Research
Headquartered in Manhasset, NY, The Feinstein Institute for Medical Research is home to international scientific leaders in many areas including Parkinson's disease, Alzheimer's disease, psychiatric disorders, rheumatoid arthritis, lupus, sepsis, human genetics, pulmonary hypertension, leukemia, neuroimmunology, and medicinal chemistry. The Feinstein Institute, part of the North Shore-LIJ Health System, ranks in the top 5th percentile of all National Institutes of Health grants awarded to research centers. For more information, visit www.FeinsteinInstitute.org.
Photo - http://photos.prnewswire.com/prnh/20140717/128456
SOURCE The Feinstein Institute for Medical Research