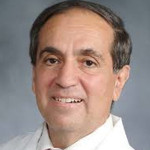 Frank Chervenak, MD, is internationally renowned for his expertise in obstetrics and gynecology. At Northwell Health, he serves as chair of OB-GYN at Lenox Hill Hospital and the Donald and Barbara Zucker School of Medicine at Hofstra/Northwell, where he is also associate dean for international medicine.
Disclaimer: The opinions shared by each of our panelists and speakers belong to each of them respectively and may not accurately reflect the beliefs of the EndoFound organization as a whole.
Please register (free registration) to receive the password to access the presentations.