As an Endofound volunteer, Katie Muggli raised endometriosis awareness among college students during a health fair and presented ENPOWR's EduKit to students at her high school alma mater. Learn more about her experience as an Endofound volunteer!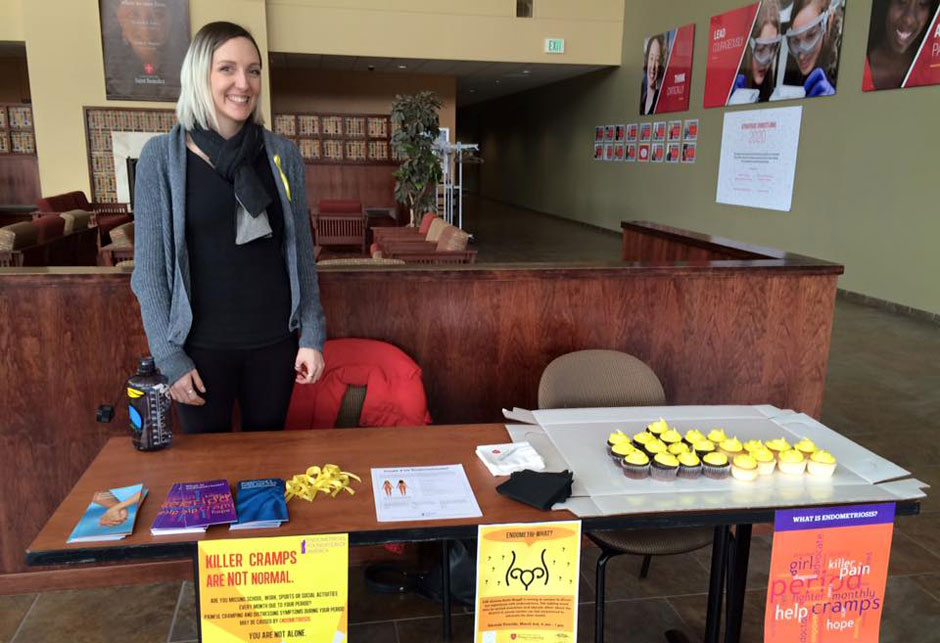 Endofound: How long have you been a volunteer, and what first inspired you to get involved with the endometriosis community?
Katie: I started volunteering in February of 2016. It had been over a year since I was diagnosed with endometriosis, and I felt it was time to start doing whatever I can to ensure that other young women won't have to wait as long as I did for a diagnosis.
Endofound: What made you want to support the Endometriosis Foundation of America?
Katie: I knew that I wanted to help educate young women and men about endometriosis, but wasn't sure how to go about it. For a while I let myself sit with the "…but I'm only one person" narrative. When I found Endofound, I was inspired by the ENPOWR program, and knew I wanted to be part of finding a way to bring it to Minnesota. Endofound is paving the way in advocacy and promoting disease recognition. The work that they are doing will be pivotal in bringing light to the current shadows that endometriosis resides in.
Endofound: What kinds of activities have you been involved with when supporting Endofound?
Katie: The first was an event during Women's Month at my alma mater, College of Saint Benedict in St. Joseph, Minnesota. The Pre-Med Club and the Institute for Women's Leadership co-sponsored a table event where we shared information about endometriosis. We were met with great response—It probably didn't hurt that we had a table full of cupcakes as well!
I also had the amazing opportunity to help pilot the ENPOWR EduKit where I attended High School, Saint John's Preparatory School in Collegeville, Minnesota. It was admittedly quite intimidating, as the health class consisted of 17 male students in grades 9 and 10. I was blown away by the attentiveness these young men offered. They had intuitive and intelligent questions, and fully embraced the opportunity to be able to advocate for the women in their lives. I cannot wait to help implement the ENPOWR EduKit all over Minnesota schools!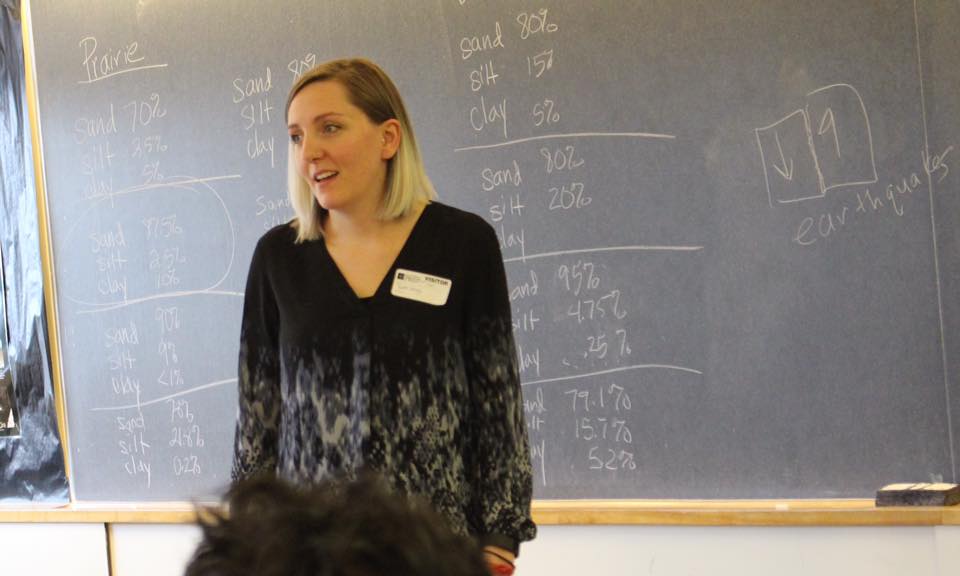 Endofound: Why is it important for others to support Endofound?
Katie: Supporting Endofound is important because it is an organization that is instigating real change in the lives of young women by providing the tools and information necessary for them to be able to able to advocate for their health. Endofound also supports research and creates conversations with doctors who are leading advances in the field. Support is needed to help these efforts move powerfully into the future.
Endofound: Why are Endofound awareness initiatives like The ENPOWR Project and Awareness Day important?
Katie: The ENPOWR Project and Awareness Day are vital in that they give young women the information needed to be able to advocate for their health, and the health of their friends and family. It also gives young men the power to be able to offer informed support and understanding to the women in their lives.
Endofound: Can you share a little bit about your personal story with endometriosis?
Katie: My symptoms began in middle school, and plagued me for over 15 years. Every time I went to the doctor I would relay my symptoms, and was told to take ibuprofen and use a heating pad. For years I missed school and work. The pain got progressively worse, and began eroding more and more time away from my life. Finally in 2014 I discovered endometriosis (I had never heard of it before), and made an appointment with a specialist. A few months later I had a successful laparoscopy. Fifteen years later, I finally have relief from the pain and am still astonished at the lack of awareness the disease has. My mission now is to turn that astonishment into constructive conversations and turn the lack of awareness into empowerment and health advocacy.
Endofound: How do you think things would have been different for you had you seen an ENPOWR presentation at your school?
Katie: Wow, I'm not sure how to even imagine that. My life would have been entirely different if I'd had a name for this pain 15 years prior. If I had seen an ENPOWR presentation I would have had the vocabulary to be able to advocate for my health.
Endofound: Describe the impact you have seen in the community through the work you have been involved with.
Katie: It's really enlightening having conversations with students who went from, "what's endometriosis?" to seeing the recognition in their eyes as they realized that there is a friend who has a lot of symptoms that could potentially benefit from what they'd just learned. Knowledge truly is power, and seeing others realize the power they hold with this new information they've been given is inspiring. It gives me hope that we can change the dismal statistics that currently accompany the level of awareness around this disease.
Endofound: What advice would you offer for anyone who might be interested in volunteering for Endofound?
Katie: By all means, get in touch! Endofound has an incredibly passionate staff that wants nothing more than to help set you up to succeed in your efforts as a volunteer. They are wonderfully responsive, and great to work with. Yes, you are only one person. But you are one person who holds the capacity to create important conversations and instigate great change for the young women in your community!