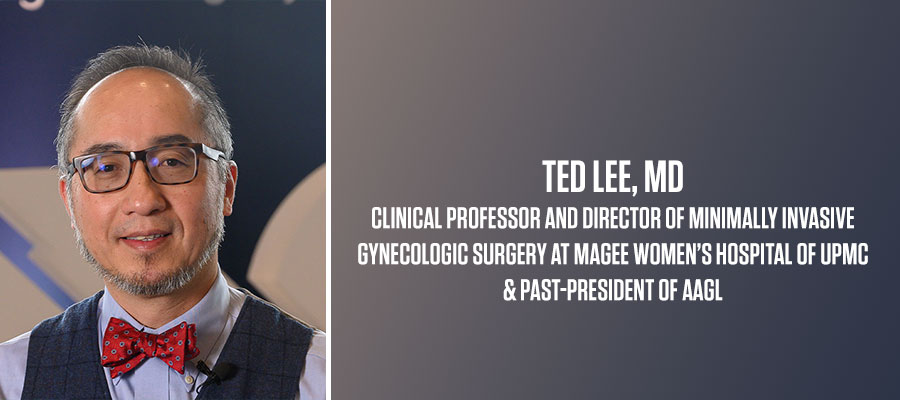 Dr. Ted Lee, a longtime friend of EndoFound, approached the Centers for Disease Control in 2019 with a proposal to create more diagnosis codes for endometriosis. He expected it would be a long process involving extensive work, but it had to be done—and the CDC agreed.
"From the outset, I could tell they were very shocked to hear what I had to say," said Dr. Lee, an award-winning endometriosis surgeon at the University of Pittsburgh Medical Center. "I was initially shocked myself because I didn't know how bad it was."
As a result of his work over the past couple of years with his former fellow, Dr. Cara King of the Cleveland Clinic, the number of International Classification of Diseases (ICD) codes for endometriosis expanded on Oct. 1, 2022, from nine to more than 100.
These new codes will give patients a more accurate diagnosis, help healthcare providers and patients implement proper treatment plans, and provide more data on endometriosis. That data—details on endometriosis never before tracked—could one day be used to help secure more funding for research and other advancements in a disease that affects one in every ten women in the U.S. but has received little attention for centuries.
The original nine codes had been in place since the 1970s. If a woman was diagnosed with endometriosis, the code attached to her doctor's finding didn't reveal much more than the fact that she had the disease.
"For example, with the old codes, there was no distinction of whether the endometriosis a woman had was superficial or deep, or specifically where it was located," Dr. Lee said. "One person could have endometriosis of the bladder and another of the diaphragm, but they would have the same code."
ICD-9 (ninth revision) was updated with ICD-10 by the World Health Organization in 1999. Dr. Lee noted in his presentation to the CDC that while ICD codes increased nearly ten-fold for other diseases between ICD-9 and ICD-10, the codes for endometriosis remained unchanged.
"(It is) as if someone cut and paste the same diagnosis codes that have been in existence from the 1970s to the current ICD-10," he stated to the CDC. "Current ICD-10 codes for endometriosis does not provide the details in terms of laterality, location, depth of invasion, volume of disease and specific organ involved. Revision of ICD-10 codes for endometriosis is long overdue."
Dr. Lee said why endometriosis diagnosis codes were ignored for so long is unclear.
"I don't know what happened. I guess nobody was paying attention to it," he said. "I saw it as low-hanging fruit because it was so bad, and the CDC was very supportive along the way. They assigned people to ensure our new revised codes followed the ICD format."
Dr. Tamer Seckin, the founder of EndoFound and with a private endometriosis practice in Manhattan, said Dr. Lee's work on the new codes is vital for patients to receive appropriate care, and it's a starting point for surgeons to be properly recognized for their work.
"Dr. Lee recognizes the impact of endometriosis on women and that it is a public health issue, and it is important for these women that the new codes will define the organs involved," Dr. Seckin said. "Defining the organs is also a step toward insurance companies recognizing, appreciating, and honoring surgeons for the difficulty and risk involved with a procedure."
To take that further, Dr. Lee hopes to update the other category of medical codes—Current Procedural Terminology (CPT)—a much more formidable task.
A procedural code identifies the work a surgeon performs on a patient. The CPT code a surgeon assigns affects billing, which affects insurance and Medicaid, which affects how a surgeon is paid. The problem with the procedural codes is similar to what Dr. Lee faced with the old diagnosis codes.
"There is one code for surgery," he said. "Ablation and excision are the same code. It could be mild endometriosis or something that takes hours of surgery—still one code. Good surgeons are being punished for being good surgeons. You need to have something besides time to document the work being performed. There are no codes to justify the work you do."
The biggest challenge, he said, is changing the mindsets of the Centers for Medicare & Medicaid Services (CMS) and surgical societies.
"We need to generate data to show that there's a need for more codes and to change the way the CMS thinks, which is that it's a zero-sum game," said Dr. Lee. "We also need to get rid of the reluctance from the surgical societies that if we create new codes, that will devalue other codes. They're afraid they will get paid less if we create new codes."
Considering the many individuals and organizations that would be impacted, Dr. Lee expects changes to the CPT codes will take years to implement.
"The procedural codes will come much later," he said. "But I'm happy that the diagnosis codes are done. It's accomplished."
Dr. Ted Lee is the Director of Minimally Invasive Gynecologic Surgery at the University of Pittsburgh Medical Center at Magee-Womens Hospital. He is the only six-time Golden Laparoscope Award winner for best surgical video at AAGL. Dr. Lee repeatedly has been nominated by his peers as one of the "Best Doctors in America" since 2004.