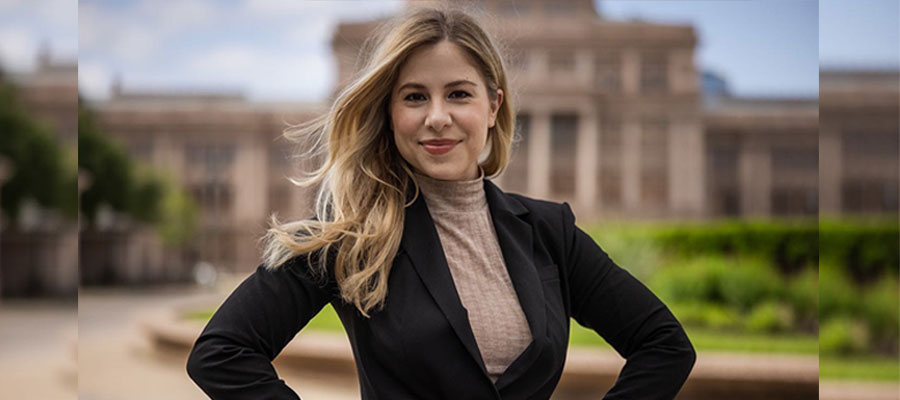 One of Olivia Lee's life mottos is, "The more you know, the more you owe."
Lee, a special education attorney with Disability Rights Texas, put that adage into action by drafting House Bill 1298 with Texas Rep. Harold Dutton Jr. The bill would allow public school districts to educate students on endometriosis.
"I feel that because I have these relationships through my work and have gained all this knowledge on endometriosis the past couple of years, I have a responsibility to do something about it," Lee said. "I was a high school English teacher before I became an attorney, so anything that has to do with students and empowering them through education is very important to me."
The bill would require the Texas Board of Education to "adopt a list of age-appropriate informational materials regarding menstrual disorders and symptoms of menstrual disorders," which would include "the timing, signs, and symptoms of endometriosis." Each of the state's more than 1,000 school districts would then have the option to present those materials to students "at grade levels and in courses considered appropriate by the district."
Lee, 29, said she hadn't heard the word endometriosis until four years ago but had been suffering to that point for a decade. Despite numerous symptoms, she was often misdiagnosed and prescribed ineffective treatments. She said she also heard the phrase, "Everything is normal," from several doctors.
Lee knew it wasn't.
"That's when I took things into my own hands and did a lot of research, including attending EndoFound's virtual medical conference last March," Lee said. "I was convinced that I had endometriosis and brought 11 pages of notes to an excision surgeon in Houston. I was right—it was on my colon, bladder, rectum, pelvic floor—and I had adenomyosis as well. I finally had surgery in September and feel a lot better today."
Lee contacted EndoFound again a month after the medical conference to begin research for the bill. She knew EndoFound had played a prominent role in a similar bill becoming law in New York in 2019. The organization was thrilled to assist Lee, whose efforts hit home for Dr. Tracey Hass. Dr. Haas, a family physician and the executive director of EndoFound, is also an endometriosis patient who was born, raised, and trained in Texas.
"I know how access to women's health care and health education plays an important role in attaining academic and professional success, not just for those who seek care but their entire families," Dr. Haas said. "Legislation that improves access to early education about menstrual health will have a huge social and economic impact on the state of Texas."
When Lee presented her idea for the bill to Rep. Dutton, whom she worked for during her last semester of law school in 2021, he and his chief of staff, Tamoria Jones, embraced it.
"There needs to be more awareness and education about these diseases that so many suffer from. Everyone knows someone with endometriosis. My committee clerk last session, Olivia Lee, is one of those people, and I thank her for bringing this to our attention," Rep. Dutton said. "Further, women's health in general is often overlooked, and that of women of color is even more so. There needs to be more equity in healthcare, and that can start with the education of the patient."
HB 1298 is the second bill Lee has spearheaded. She also collaborated with stakeholders on one in 2021 to better identify children with dyslexia. The bill passed in the House and Senate but died in a conference committee, where the two sides try to work out any differences. It wasn't for naught, however, as Lee said the state board of education implemented her bill into policy anyway.
As for HB 1298, Lee is cautiously optimistic that it will become law in a state where women's health issues have been hotly debated in recent years.
"I will say that the governor is supportive of abolishing the tampon tax, so that's a positive thing," Lee said. "I think HB 1298 is also a good nonpartisan way to support women's health."
To learn more about Lee and HB 1298, visit www.txhb1298.com.
Catch Olivia's interview with Diana Falzone on EndoTV!
Subscribe and Follow to hear more Stories like Olivia's