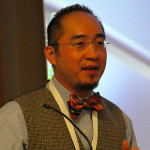 Dr. Ted Lee is the Director of Minimally Invasive Gynecologic Surgery of University of Pittsburgh Medical Center at Magee Womens Hospital. He earned his medical degree from Tufts University School of Medicine in 1992 and completed his residency in Ob/Gyn at Temple University Hospital in Philadelphia. He also matriculated to the Physician Leadership and Management Program at University of Pittsburgh, School of Business. He strongly believes in the use of surgical videos as an educational tool for advancing the art and science of minimally invasive gynecologic surgery. He was awarded multiple times for the best surgical video presentation by ACOG. He is the only four-time Golden Laparoscope Award winner for best surgical video at AAGL. Dr. Lee is a sought after lecturer and surgeon who has taught and performed live surgeries around the world. He was featured as one the three Master Surgeons in the Steel Surgeon Event at the 2014 AAGL World Congress. He is repeatedly nominated by his peers as the one of the "Best Doctors" in America since 2004.
Disclaimer: The opinions shared by each of our panelists and speakers belong to each of them respectively and may not accurately reflect the beliefs of the EndoFound organization as a whole.
Please register (free registration) to receive the password to access the presentations.