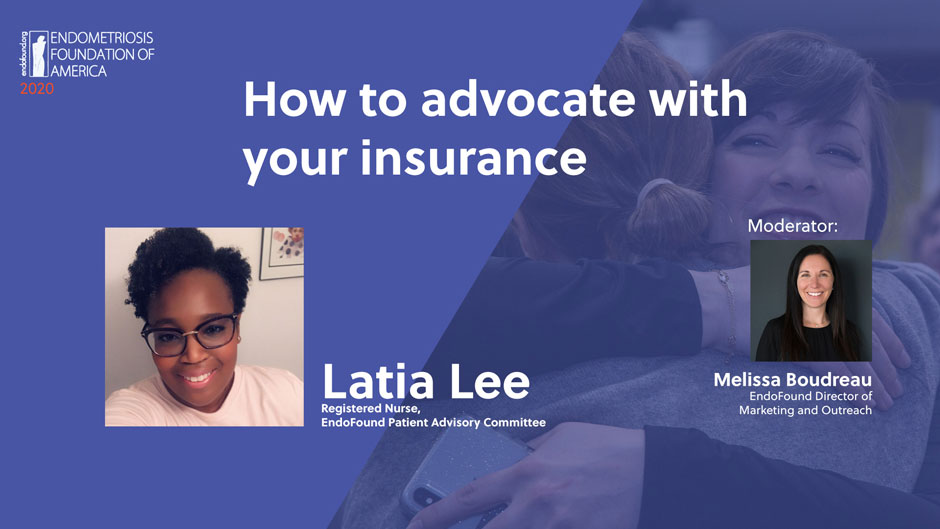 Endometriosis Foundation of America
Virtual Patient Conference, October 16-18, 2020
Melissa Boudreau:
Hello everybody, and welcome to this advocacy session with Latia Lee. Thank you, Latia, so much for being here today. Latia is going to talk to us about advocating for yourself and advocating for yourself with your insurance company when you're trying to get excision surgery. Tia, thanks so much for being here today.
Latia Lee:
Thank you for having me.
Melissa Boudreau:
She has been a huge contributor to the foundation. She is on our patient advisory panel, and she also was a very large contributor to a new resource hub that we have, it's a resource portal for people of color. So Tia, thank you again for all of that. And tell us a little bit about why you advocate for endo.

Latia Lee:
So I'm fairly new to the endo community. I was just diagnosed in 2017, and it was after 23 years of pain and suffering. I actually self-diagnosed myself. I started to have long collapses during my cycle, and I just knew that wasn't normal. I always had painful periods, I told my OB/GYN and was always dismissed. So I just kind of thought it was normal, until I realized, long collapses during your cycle are not normal. So when I had that first surgery, excision surgery, with a specialist, and having five surgeons in there, a seven hour surgery, in a hospital for a week with a chest tube, having another surgery 11 weeks later, in a total three excision surgeries in 22 months, that was pretty much my reason.

I feel like no woman, no matter what color they are, should have to wait 23 years for a diagnosis, that is just unacceptable. So we all know endo early diagnosis and treatment is really the key to living a pain-free life or as pain-free life as we can all be. So that was definitely the main factor in me wanting to advocate for myself and also educate other women to advocate for themselves.

Melissa Boudreau:
Yeah. And did you really just start advocating by telling your story? Because obviously a lot happened to you in such a short period of time, but with the lung collapse, it's hard to correlate that with endo, especially if you don't know that you have endo. So I'm assuming that's how you started to advocate?

Latia Lee:
Yes. Actually I saw a pulmonologist initially, and he was the first person to mention this word endometriosis to me. I'd never even heard of it. Then I just started researching it and I saw the symptoms and I was like, "Oh my God, this is me. This is crazy." And he was actually the first person to say, "You need to find a specialist, someone that I can communicate with." And I just started Googling, and I really Googled a top excision specialist in New York city, and had that initial consult with him. And he said, "I believe you, and I can help you." And then when he validated that I did indeed have endo after 23 years, I was like, "This is unacceptable. We deserve better care. We deserve better treatment. We deserve to be listened."

I started sharing my story. And so many women started messaging me on Instagram and on Facebook about, "What were your symptoms of diaphragmatic endometriosis?" And I have sent quite a few to my specialist. He's doing more and more cases of diaphragmatic endo. And I'm just happy that women are now receiving the care that they desperately deserve and they need.

Melissa Boudreau:
Yeah, absolutely. I mean, it's incredible. It's difficult to go out and share your story. So I think that's really great, and that you've helped so many people because of just being open and honest and willing to talk about it. So that brings me just to insurance. So we're here to talk about insurance, and this is such an unknown thing in just the space, just medical space. And for everybody who's watching, Latia is also a nurse. So she works in the medical field. So she really had to go to bat to get her insurance to cover her excision surgery, because oftentimes it may not be covered, or something along those lines. I am not as educated as she is. So I'm going to let her chat about how she really advocated with her insurance company, and maybe some steps that you can take if you're trying to get your excision surgery covered.

Latia Lee:
Thank you. So I think what helped me actually was, in my previous position I was a case manager, and I knew that there was a case management department. So when I initially had my consult with my excision specialist, I called my insurance company. And at that time, I didn't have out of network benefits. So a lot of these specialists require out of network benefits. But the specialist said that, if we cannot find a surgeon who is specializing in treating this specific disease that you have, if you need additional specialists, we will try our best. But if we cannot find a surgeon best for you, then we will pay, we will pay that out of network doctor as an in network doctor. So that was the first time I had really heard of that. I didn't even know that you could apply for that. A lot of women don't know, they just say, "It's an excision specialist. I don't have benefits. They don't take insurance. I can't afford it." But I've had three surgeries covered by my insurance company. So what you do is, you do have to have out of network benefits. So I just switched over to the following year, to the out of network coverage. And you speak to the surgical coordinator. And you have your initial consult, you plan for surgery, and you actually call your insurance company, and you say you would like to have surgery, "I want to file for an out of network doctor to be classified as in network", to cover your surgery. What they will do is, they'll give you this reference number. Now, this reference number is the number that you need to give the surgical coordinator for whatever facility you're going to have your surgery at. And from there, they develop a case. My doctor submitted a letter of medical necessity. But as you know, you are your own advocate. So you can write a letter of medical necessity for you. You could print out journals supporting excision surgery, or your progress operative reports from previous surgeries, everything that will support why the surgery is medically necessary for you. Right? And then what they're actually going to do is, they're going to assign you a case manager. So give it a couple of days, call your insurance company, tell them you would like to know who your case manager is. Once I had the name of my case manager, I will call, I actually called. I was able to speak to her and I shared my story with her. And I just said, "I think I have endometriosis." Because at this point I didn't have a true diagnosis. And I shared with her about how, because of this endo, my lungs were collapsing. And she was like, "I had no idea that endometriosis could affect your diaphragm and your lungs." Everyone always assumes that it's in the pelvis, but no one ever talks really about extra-pelvic endometriosis, which is so common. I just had a dialogue with her and just shared my story. And we shared the importance of me having this surgery and how much pain I was in. And then I would just check up.

The best time to call is in the morning. They're usually 9:00 to 5:00 or 8:30 to 5:00. Call at 8:30. If you call in the afternoon, if you call later, it's going to be very hard to get in touch with your case manager. So I would always call in the morning. I would check up on, and be like, "Do you have everything that you need?" Because prior to my last surgery, she says, "I'm missing some clinical information. I'm missing progress notes." No problems. I would call my surgical office and say, "Hey, my case manager is missing this." And then I would follow up again. Just keep being consistent, calling every week. And then my first surgery was approved in four days, which was insane.

Melissa Boudreau:
Wow!
Latia Lee:
Yes. I remember, because it was a Martin Luther King, so we had that Monday off, so I was actually on holiday. And then by that Friday, I got the phone call that the surgery had been approved.

Melissa Boudreau:
Approved. Wow.

Latia Lee:
I think the fact that when I was talking to her, I said, "I am actually just experiencing another lung collapse because of this." They sent over that information to support that. So I think, the more concrete information you have to support why this surgery is medically necessary, don't be afraid to ask who your case manager is, give them data to support why excision surgery is the gold standard as opposed to just ablation. And be patient, sometimes it takes a little longer, but just be consistent, keep trying. And those were the tips that really helped me be able to get my surgeries covered.

Melissa Boudreau:
Thank you so much. That's such valuable information that you shared with us. And I agree, I think why it really worked for you too, is you stayed really, like you said, consistent, persistent, staying on top of it. You didn't let them forget that you were there. This is probably one of those times where you have to be a little more-

Latia Lee:
Aggressive. It is.

Melissa Boudreau:
I mean, it's insurance companies, right? It's a lot to deal with. And I think, giving the tip to call early in the morning is also a really good tip to have. Because you're right, probably by the end of the day, they're so backlogged that they're not able to get on a call with you.

Latia Lee:
Yes. And I think because of my story to her, it was a little bit more memorable. Because I remember, I'd be like, "Hi, Karen, how are you?" And at first she would say, "Hello." Like grumpy. And then I'd be like, "Hi, Karen. This is Latia." And she'd be like, "Oh hi, sweetheart." I was like, "Wow." I guess when they know more who you are, more of your story-

Melissa Boudreau:
It makes it personal. It made it personal. Instead of just some number on a sheet of paper.

Latia Lee:
Exactly.

Melissa Boudreau:
Awesome.

Latia Lee:
That's what I would just say, just keep being persistent. Remember, you are your own advocate. You have to advocate for yourself. You have to educate yourself. We deserve this treatment. It's unfortunately that, it's not covered automatically for the 176 million women that it affects. But we deserve it. So we have to remember that we've just got to keep trying and advocating for ourselves, and calling our insurance companies, and developing the rapport with our case managers.

Melissa Boudreau:
Yeah, absolutely. Thank you so much for sharing those helpful tips and tactics on insurance, and everything that you do for the foundation. We appreciate you so much. And thanks for chatting with us today.

Latia Lee:
Thank you so much.