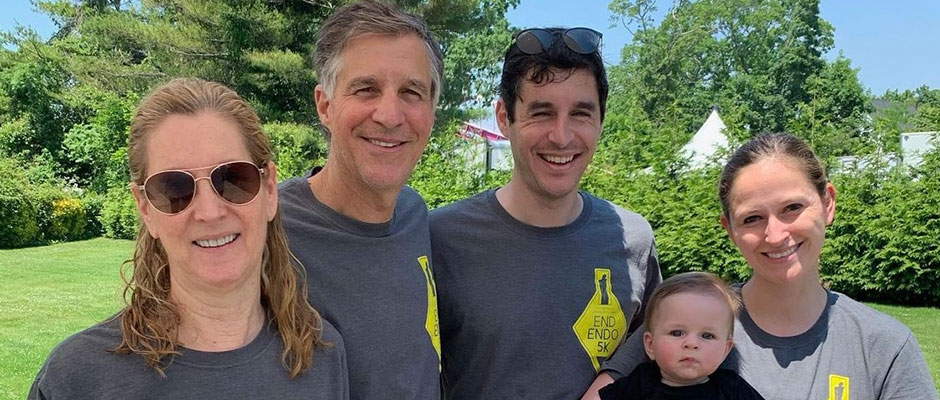 The Grobmans knew nothing about endometriosis until five years ago. Now, they are immersed in EndoFound by bringing awareness to the disease and raising money for a cure.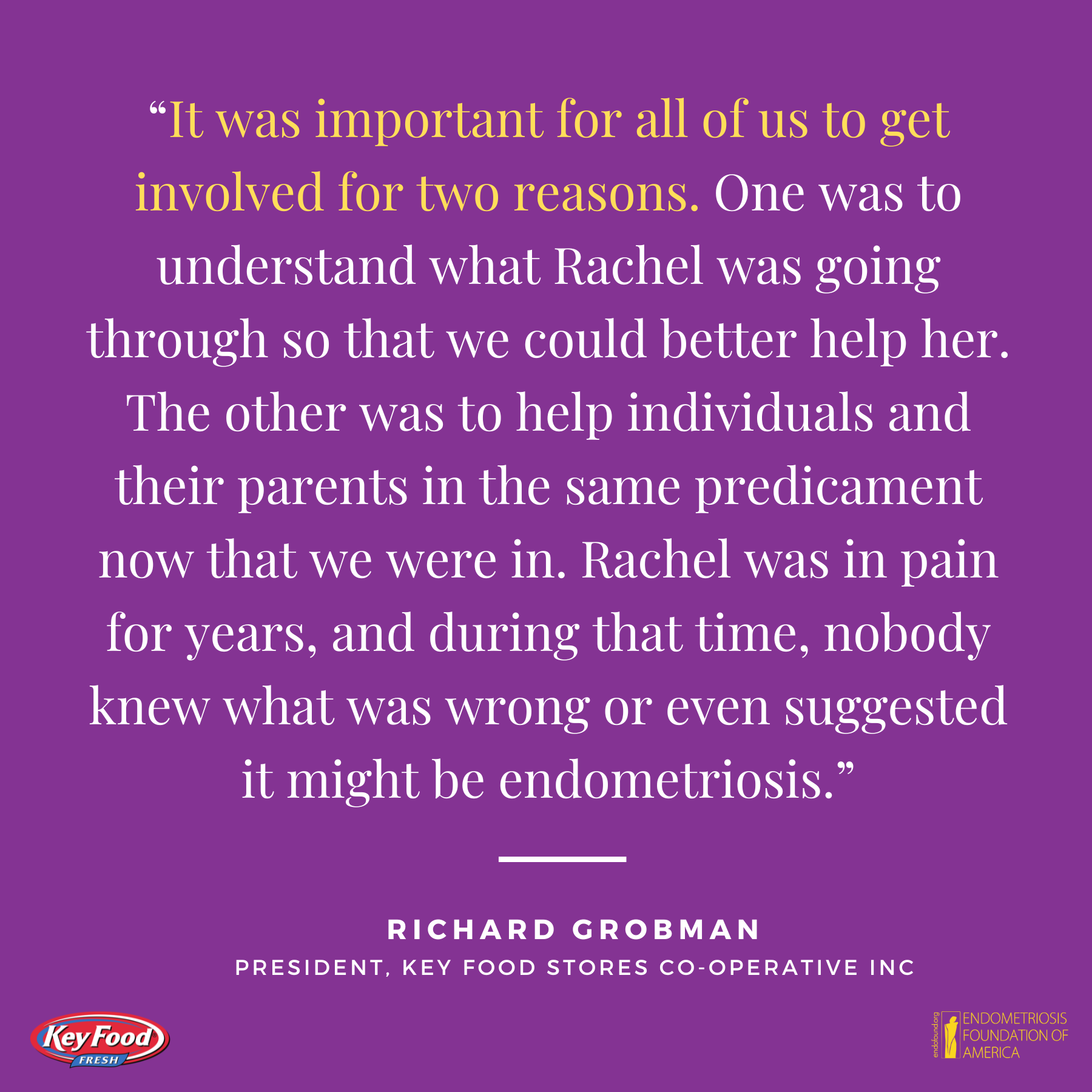 Rachel Grobman, a patient of Dr. Tamer Seckin, has worked in EndoFound's social media department for nearly four years. Her mother, Jody, serves on the board. Her father, Ricky, is the president of Key Food Stores Co-Operative, which has donated tens of thousands of dollars and pallets of feminine hygiene products toward EndoFound's mission. And Rachel's two brothers and other relatives attended the Blossom Ball in 2019 to learn more about her battle.
"It was important for all of us to get involved for two reasons," Ricky said. "One was to understand what Rachel was going through so that we could better help her. The other was to help women, girls, and their parents in the same predicament now that we were in. Rachel was in pain for years, and during that time, nobody knew what was wrong or even suggested it might be endometriosis."
Rachel's story began on Halloween 14 years ago when she was crouched in the corner of her high school hallway from debilitating pain. The school nurse, chalking it up to typical menstrual cramps, gave Rachel an Advil and sent her back to class.
As Rachel's symptoms worsened over the next nine years, she would continue to be treated in much the same way. She was prescribed numerous medications, from six Advil at a time to a heavy dose of Percocet. Doctors repeatedly misdiagnosed her with everything from urinary tract infections to kidney stones. She fell into depression and struggled in school, at work, and with relationships.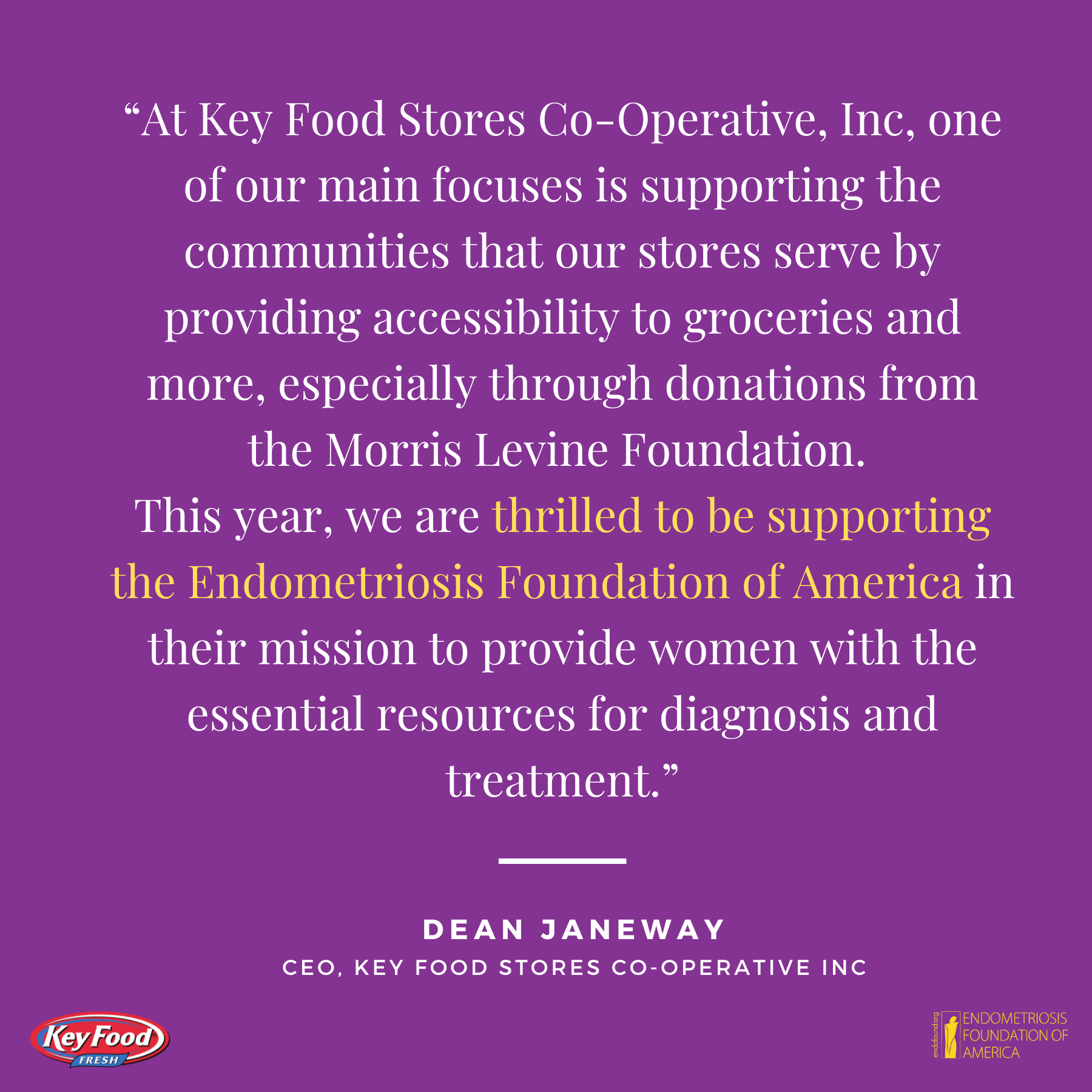 "We had gone to so many doctors who didn't know what it was," Jody said. "Rachel was the one who did the research and eventually found endometriosis. I looked it up when she told me, and her symptoms were quite similar."
Rachel presented this information to her gynecologist, who referred Rachel to Dr. Seckin. He performed deep-excision surgery in 2018 and removed 38 endometriosis lesions. For the first time in a decade, Rachel had her life back.
Recognizing how invested Rachel's parents were in their daughter's health through each step, Dr. Seckin asked Jody to be on the board when a seat opened in 2020. She became the first parent of a patient to serve in the organization's 13-year history.
"The conversations at board meetings are always lively and interesting, and I'm proud to be part of it," Jody said. "I personally hope to get more involved in congressional caucuses or coalitions. But as a board, I feel like we're making a lot of progress and doing important work in advocacy, education, and raising money."
Soon after her appointment, Jody and Ricky secured a $10,000 donation and two pallets of feminine hygiene products from Key Food Stores' charity arm, the Morris Levine Key Food Stores Foundation. The donation went to EndoFound's PeriodNow.org program, which distributed the products to women in poverty.
This year, Morris Levine went even further by asking Ricky if there was a charity he would like them to support with their annual golf outing. He chose EndoFound, and the event generated a $50,000 donation.
"At Key Food Stores Co-Operative, Inc, one of our main focuses is supporting the communities that our stores serve by providing accessibility to groceries and more, especially through donations from the Morris Levine Foundation," said Key Food Chief Executive Officer Dean Janeway. "This year, we are thrilled to be supporting the Endometriosis Foundation of America in their mission to provide women with the essential resources for diagnosis and treatment."
After a few years of being relatively pain-free, Rachel underwent her second surgery in March. Twenty more lesions were removed.
"It's a chronic disease, and things got really bad again leading up to the surgery, but I've been feeling better now," she said. "I'm trying to see what other things I can do this time to manage it."
Rachel said her family's support has been invaluable.
"My parents, brothers, sister-in-law, aunts, uncles—I know how lucky I am," she said. "And as horrible as endometriosis is in every way, I am thankful for how much closer it has brought us all, especially with my dad and me. There are things I can say to him now about what I'm going through without any hesitation, and he understands."
As for her work with EndoFound, Rachel is transitioning from social media to the foundation's development side. Her goal is the same as her parents'—bring more awareness to the disease and raise money for education and a cure.
"Endometriosis is still absent from most social justice and public health agendas. We want it to be a household name, and there is so much more work to be done to make that happen," Rachel said. "But since I started working here in early 2019, I feel like more people are aware of the disease. I definitely see the light at the end of the tunnel."