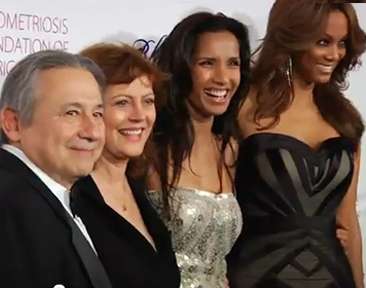 Endometriosis Foundation of America
Blossom Ball – 2011
Fourth Annual Blossom Ball
Opening

Dr. Seckin

This is Dr. Seckin on behalf of the Endometriosis Foundation of America, as being the founder and Padma being the other founder; we would like to thank every one of you for being here celebrating our Fourth Annual Ball. There are approximately 400 people here tonight and they are all here to celebrate the importance of this disease for women and trying to find solutions and the best treatment available.

We did a meeting today, 200 people came from all over the world. The Einhorn Auditorium at Lenox Hill Hospital was packed and we exchanged ideas all for you. Thanks for the support we will see you next year and we will hear from you. Thank you.

Padma Lakshmi

Hi, it's Padma and I want to thank everybody. We are just walking into our Fourth Annual Blossom Ball and I am so thankful to everyone in the organization for working so hard and pulling it together. I will not name you all here in this video but it is really exciting and I am on the red carpet. I have not gone to see everyone from the cocktail but Debby Harry is already here. Dr. Seckin is next to me. It is a beautiful night. I cannot wait to see the flowers and Cucu Diamantes is playing and just I cannot wait to say thank you to everyone who has supported us in the room and some of us who are not in the room. I also really want to talk about what we have been able to do which is the nurses' conference for 60 nurses, the research center at MIT with Linda Griffith, the poster for endometriosis that we would like to see in every high school and college gym, locker room and women's bathroom, and all the doctors at the medical conference today. There is so much to be thankful for and celebrate tonight on March 15th, Thursday, at the New York Public Library but also to have fun, and to plan what we are going to do in this next year for women with endometriosis. Have fun all night long.

Tyra Banks

Sharing your vulnerability is really, really beautiful. What I love about Padma is that no only does she talk about endometriosis and bring light to something that afflicts so many women; she has been open and said that she actually suffers from that disease. And that is what is so beautiful, true vulnerability. So I encourage you to be vulnerable in your own lives, to share the things that you are struggling with the people that you love and possibly on a beautiful big platform like Padma because it only empowers other people and also makes you feel amazing about yourself in the end.