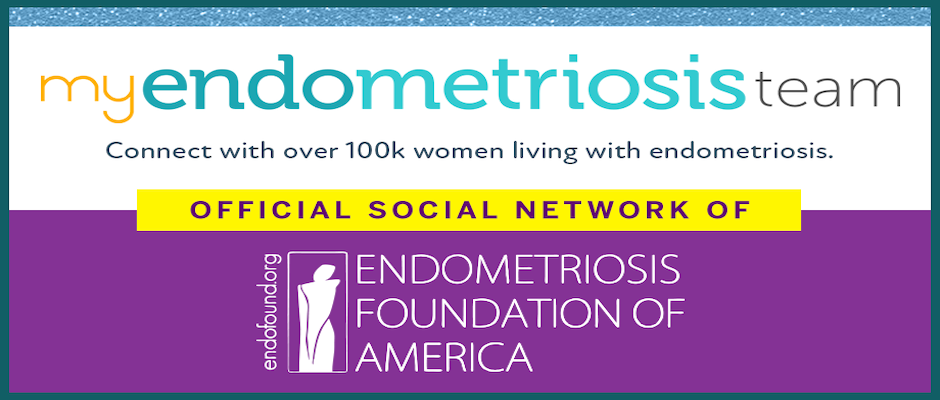 We're excited to announce MyEndometriosisTeam as our official online community for endometriosis patients. Launched in 2015, MyEndometriosisTeam is a free, password-protected and monitored social network with more than 115,000 registered members. In addition to finding relevant medical information in the Resources section of the social network, members ask questions, get answers, and share conversation with other people just like them who understand the challenges of living with endometriosis.
MyEndometriosisTeam is a branch of MyHealthTeams, creator of the largest and fastest-growing social networks for people facing chronic health conditions. MyHealthTeams believes that if you are diagnosed with a chronic condition, it should be easy to find and connect with others like you, and the organization creates social networks that provide support and information for people living with a chronic health condition. This type of network is critical to endometriosis patients, who spend an average of 7-10 years being misdiagnosed and looking for answers.
More than 115,000 individuals living with endometriosis have already joined MyEndometriosisTeam to find the people, support and information they need to better manage their condition. EndoFound reaches millions of women facing endometriosis, providing patient education, advocacy and resources that advance understanding. Together, EndoFound and MyEndometriosisTeam are committed to addressing the needs of the 1 in 10 women facing endometriosis.
"The journey to diagnosis and finding a treatment plan that works for them is often long and painful for many individuals living with endometriosis," said Margaret Caspler Cianci, Executive Director of EndoFound. "Being able to easily connect in a safe, private social network with others facing similar challenges and quickly access trusted information from medical experts provides valuable validation and education. MyEndometriosisTeam is an inspiring example of women showing up for each other - sharing firsthand experiences, practical tips and emotional support."
EndoFound and MyEndometriosisTeam have collaborated together on many successful initiatives over the past several years, and based on positive feedback from our respective communities, we are now entering this long term partnership. Together, we will engage and educate women facing endometriosis through joint content development, physician interviews and live Q&A, and community events.
"EndoFound is a bright light in the lives of millions of women, and is doing such valuable work advancing awareness and treatment of endometriosis," said Mary Ray, cofounder and COO of MyHealthTeams. "Together with EndoFound, MyEndometriosisTeam will positively impact even more women with this disease through trusted information and social support that helps them thrive."
This new partnership expands on MyHealthTeams' work with many leading patient organizations, including the National Psoriasis Foundation, Global Vitiligo Foundation and the PCOS Awareness Association.