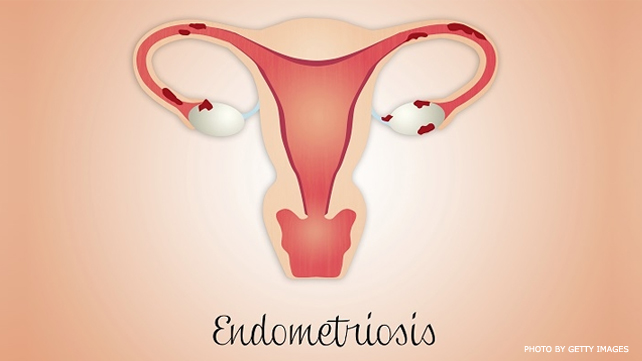 SEPTEMBER 22, 2015 | By SARAH KLEIN
When Michelle Johnson was diagnosed with endometriosis, she thought she had the flu.

"Winters here in Chicago are brutal," she says. "So when I found myself very fatigued and lethargic with a bad fever, I thought it was just the weather."

She ended up in the ER after the fever hit 104°. After 9 hours of tests for life-threatening concerns like a ruptured appendix, she found out she actually had stage 4 endometriosis. Endometrial growths had gotten so large they were pressing on her kidneys, restricting the flow of urine, which had led to a kidney infection that caused the sky-high fever. She'd been having increasingly heavy and frequent periods, but she thought it was "part of being a woman," she says. It wasn't: "The doctors guessed I had had endometriosis for at least 10 years, unchecked, undiagnosed." She was 33.
A little endometriosis 101 for the unfamiliar: Cells that typically grow in the lining of the uterus, called the endometrium, can end up in other places, where they really don't belong, says Marc R. Laufer, MD, a Harvard professor, chief of gynecology at Boston Children's Hospital, and the director of the Boston Center for Endometriosis. "Those cells implant in those other locations and cause pain if left untreated or undiagnosed."
That's because they grow—and bleed—as if they were still at home in the uterus. "Every time a woman has a period, there are these micro-periods happening," says Tamer Seckin, MD, a specialist in endometriosis in private practice in New York and the co-founder and medical director of the Endometriosis Foundation of America. The immune system is altered in some way in women with endometriosis so that no matter how much swelling and inflammation the body sends to the pelvic cavity to try to clean away the blood that doesn't belong, the implanted cells are still able to thrive, acting almost like cancer in many ways. Growths on the ovaries, called endometriomas or chocolate cysts, can permanently damage a woman's fertility. Cysts may grow on the bowels, bladder, or, more rarely, even infiltrate the lungs.