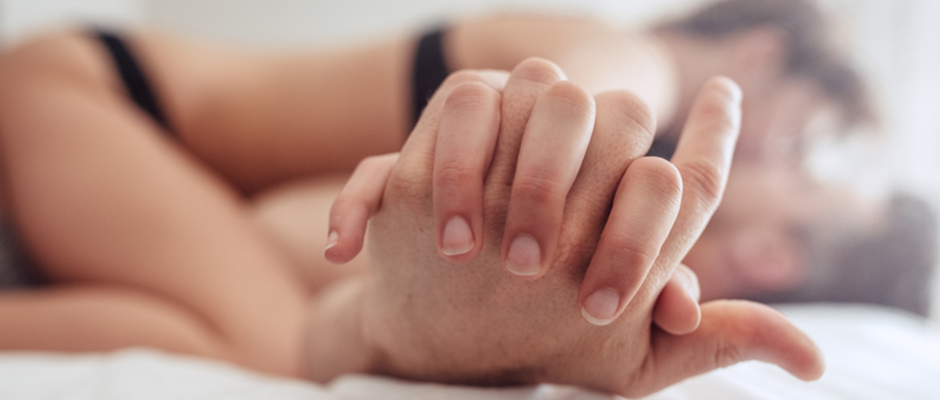 No matter your sexual orientation, living with endometriosis can mean a pain-filled sex life.
A 16-yearlong study published in 2017 in Reproductive Sciences reported that two-thirds of women experienced sexual dysfunction, including dyspareunia, or painful sex, as a direct result of endometriosis.
There's a scientific explanation behind why pleasure is so hard to find for the endo woman experiencing penetrative sex.
"The most common place for endometriosis is in the posterior cul-de-sac," Brooklyn, NY-based endometriosis specialist Dr. Amir Marashi tells The Blossom. The cul-de-sac "is basically the deepest part of your abdomen and pelvic cavity, so any fluid or any endometrial tissue that's going to be floating around is going right back there, and often lesions start right in that area." Marashi, 39, says he often encounters patients who complain of painful sex, and a simple exam helps clue him in on the exact location of the pain.
"I do a vaginal exam, and when you do a good, deep exam, you feel that they have uterosacral tenderness with the uterosacral ligaments on both sides of the cul de sac." (Uterosacral ligaments are strong, supportive structures that attach the cervix to the sacrum, or the bottom of the spine.)
"So when I feel that, the endometriosis lesions are probably sitting very close to the uterosacral nerve. The closer the endometriosis is to the nerve and uterosacral ligaments, the more pain you're going to feel with intercourse."
That's exactly why Bethany Hadesty has learned to just say no to rough sex. "Looking back on my 20s is like watching a horny, horror movie on repeat," the 34-year-old tells The Blossom, with a laugh. "Endo ruined so many potential relationships and even friends-with-benefits situations because as soon as things got really passionate, I would be in tears from the pain.
"The pressure was unbearable. I used to describe the feeling to my doctor as 'feeling rusty inside' and, having sex felt like someone was trying to 'peel the paint off.' I was embarrassed and often mortified, and I felt resigned to either being a spinster or sucking it up and enduring the painful sex."
RELATED: Sex Tips For The Endo Girl
Eventually, Hadesty says she found her Mr. Right, who was willing to work within her boundaries, which included no deep thrusting, because of how it can push and pull against the endometriosis growths. "Making love to my husband can still sometimes be a struggle, but we've found our rhythm, and I'm way more relaxed, which also seems to help with the pain management."
Since being diagnosed with endo in her late twenties, Bianca Gordon has learned to take matters into her own hands. "Even masturbation hurts when I'm ovulating," she reveals. "When the contractions start to build for my orgasm, no matter if it's me alone or with my wife, the pain is always there."
The Colorado resident, 38, says she has since turned to cannabis to help maximize her sexual pleasure. "I was skeptical at first, but after trying it a few times, it really did help me relax more and stop anticipating the pain. That anticipation in and of itself, definitely contributes to my inability to fully enjoy sex," says Gordon.
RELATED: Why Is Painful Sex So Hard To Talk About?
She also takes the pressure off of herself to enjoy penetrative sex by enjoying more oral sex. "I find, for me, that oral stimulation has a gentler, slow-build effect. Because I'm not having to deal with the deep vaginal penetration, it is easier for me to relax. I still feel shards of glass inside of me when I climax, but the enjoyment I receive prior to that helps balance it out."
Marashi says endo women like Hadesty and Gordon should never have to grin and bear it when it comes to penetrative sex. "Anytime a woman is having pain with intercourse the best position to try is for her to be on top," he tips, "because the woman has more control. If it's going too deep, she can move herself, or she can manipulate her legs to control the depth of penetration. Missionary, that's also a pretty good position." And what can be the worst position for endo women?
"Doggy style," he shares. "The woman doesn't have much control over it, and that's usually what causes a lot of pain."
Still, if pain persists no matter the position, Marashi says its time to get to the heart of the matter.
"The best thing really with endometriosis is to get rid of the source of it. Excision surgery is the best way to go."