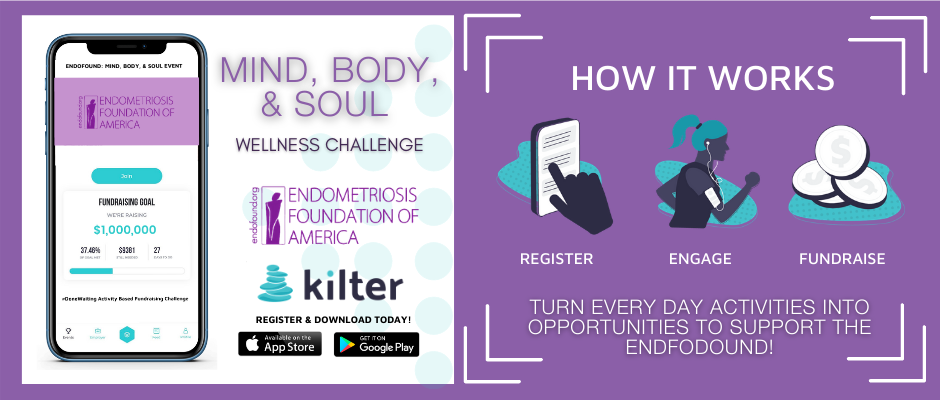 The mission of the Endometriosis Foundation of America is to increase endometriosis awareness, fund landmark research, provide advocacy and support for patients, and educate the public and medical community. We place a critical importance on early diagnosis and effective intervention. In this event, join us in support of this mission whether you walk, do yoga, meditate, volunteer, journal, or do any other healthy activity that makes you feel good every day.
This event is OPEN to the public. We encourage you to invite your friends, family, and colleagues to join you in your pursuit to make a positive impact on EndoFound as you keep each other motivated to be healthy.‍
DATES: March 1–14
REGISTER NOW!
How To Join:‍
1) Download the FREE Kilter app‍. (Desktop users click here.)
2) Create Your Account & Connect Your Devices
3) Go to the Events tab & join the EndoFound Challenge
5) Raise money, compete to earn the most points, and have fun!
‍
How to Participate:
1) During the event, complete daily wellness activities to earn points for your personal score on the live event leaderboard (see Rules tab for info on what activities count). Stay on top of the leaderboard for your shot to win prizes!
‍How to Track Activities:
1) Connected Apps & Devices - visit your Profile and go to Connected Devices. Use Apple Health, Fitbit, Garmin, Strava, or UnderArmour Record (MapMyRun) to seamlessly track your daily activities!
2) Manually Record Activities - click the (+) icon from your dashboard to open the Manual Entry form. Enter your activity of 30+ minutes within 48 hours of completing your activity to earn points. See here for more info.‍‍
How to Raise Money:
1) Go to the Charities tab of the event in the app and click "Donate." Choose any amount you want to contribute! You can also donate by clicking here!
2) Use the peer-to-peer function and ask your friends or family to support your own fitness goals by pledging to donate on your behalf! Click GET DONATIONS from the event in the app to get started!
---
Prizes:
The top three fundraisers will receive a Body and Face Bundle Gift Set from Turmerica, a woman and endo warrior-owned business. The bundle contains a brightening face mask, hand & body lotion, night balm, and more!
For those individuals who meet a goal of 1200 points or raise $200 or more, you will be gifted a dry brush (first 100 people only)! Dry brushing unclogs pores in the exfoliation process and also stimulates your nervous system, which can make you feel invigorated afterward.
Learn more about dry brushing from holistic nutritionist Daphne Javitch starting at 14:49. Create a free login to watch.
Thank you to our sponsor!
---
Questions? Email us at events@endofound.org
THANK YOU FOR JOINING THIS EVENT. GOOD LUCK!
#donateyourhustle #endomindbodysoul #endofound