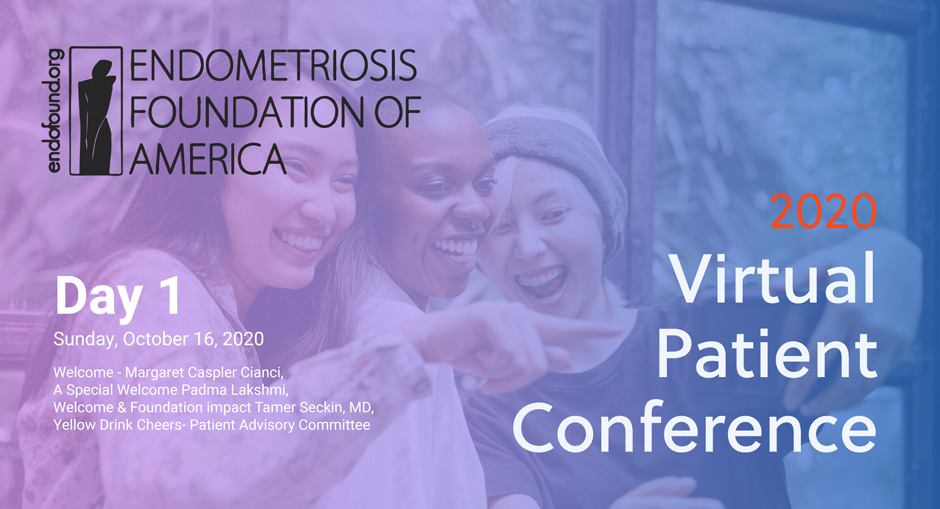 Endometriosis Foundation of America
Virtual Patient Conference, October 16-18, 2020
Diana Falzone:
Hi, welcome to EndoFound's virtual patient conference 2020. I'm Diana Falzone. We are so happy to have you here. We have been working tirelessly around the clock to make sure that we could have this patient conference for you no matter what is thrown at us with this pandemic. So we're happy you're joining us all this evening. I am the director of media relations and advocacy for the EndoFound, but more importantly, I am a 1 in 10 woman. I have endometriosis. Since I was 11 years old, I've suffered from "bad periods and ovarian cysts that burst."

Yet no one mentioned for all those years that it could have been endometriosis. I never even heard the word endometriosis. I thought pain was normal. I thought pain, menstrual pain was part of being a woman. It's just what happened. It wasn't normal. And it was not until I was 33 years old that I was in excruciating debilitating pain that sent me into the operating room that led to my diagnostic of endometriosis.

It has been quite a journey for me with endometriosis. It has impacted me on all levels of my life. From dealing with issues in the workplace to simultaneously being diagnosed with infertility that my doctors think was connected to my endometriosis, leading me to have in vitro fertilization that led me to my miracle son, which I am grateful for every day to have my little boy.

And I continue to battle endometriosis, just like many of you that are watching right now. And that is why I am so impassioned and emboldened to continue to fight alongside with you, the 1 in 10 woman. To make sure that we are given the best opportunities of enjoying our lives happily, healthily, and that we're given better treatment options and hopefully eventually in our lifetimes of cure.

So I am your moderator for tonight and I'm honored to be here. If you're here with us right now, chances are you probably have been diagnosed with endo, think you might have endo or care about someone who has the disease. We have a lot to cover this evening, but first I want to make sure that you know that this is a fully interactive experience. So be sure to submit a question, as you can see on the screen right now, you click the Q&A at the bottom of your screen, and we are committed to answering as many questions as we possibly can within this weekend.

However, if there's a question that we're unable to get to due to time limitation, please submit it to questions@endofound.org and we will be sure to address those in the near future. For tonight, we have a lot to cover. A very informative lineup for you ranging from discussing the basics of endo, how to speak to your doctor about endo, which can be a little intimidating. It's a lot of TMI going on and messages from our co-founder Padma Lakshmi, Dr. Tamer Seckin and our keynote speaker, actress Lexie Stevenson. And now joining me in welcoming the executive director of Margaret Cianci. Welcome Margaret.

Margaret Cianci:
Hi Diana. I am honored to be here and I too want to welcome everyone to our first virtual patient conference. It's a wonderful opportunity for us to all get together and learn from one another and help shape the dialogue. While we can't be together in person because of the Coronavirus, which we know continues to grow, I heard today that the number in the United States of those who've been diagnosed has grown to 8 million people.

So we think it was really important though, that we continue to get together even virtually. So thank you for joining us. And we have lots of people from many different parts of the United States and many countries. So to get a sense of where everyone is from, we'd like to throw a poll up. If you could answer on your screen and just let us know where you're coming from so we can share the results. What area are you joining us from? We're just waiting for the results so we can see so we can share it with everyone.

Thank you to all those who voted. Okay. And we have a large percentage of people from the Eastern time zone, but we also have people joining us as far away as South America, Australia, New Zealand and Europe. So thank you very much as well as from all across the United States. It is really our honor to welcome you.

Before we hear from our founders, we thought that it would be a great opportunity for us to remind you of what the missions of the foundation is. Our mission is based on four pillars. Awareness, education, research, and advocacy. When Padma Lakshmi and Dr. Tamer Seckin founded the organization over a decade ago, it was to build awareness of endometriosis and to remove the stigmatism and the taboos of the disease. One of the programs to build awareness is through conferences such as this, our annual patient day conference which is dedicated to you and your continued advocacy.

We also build awareness through our fundraisers, where we recognize those who are advocating and fighting for a better future for women's healthcare. This spring, we also launched our Period Now program to help tackle period poverty in partnership with period.org and other organizations. Another important pillar of our mission is education. And our goal is to help empower our community and to educate the medical community through programs such as our ENPOWR and EduKits, we have been educating students, both male and female about the disease and how to advocate for themselves.

And we've been doing this in states in the United States, as well as six countries and we continue to build this network. We also will continue to develop resources for many different members of our community, including some of the new resource hubs that we launched this summer. And we will continue to educate the medical community through our yearly international medical conferences.

We support research and to date, we have given over $1 million in grants to research institutions in the United States and around the world for developing better diagnostics and treatments. One such collaboration is with Northwell Health here in New York state through a program called The Rose Study. And the goal of the study is to increase the genetic understanding of endometriosis and the role of stromal cells. EndoFound will continue its efforts to fight for change through its advocacy efforts.

These include helping to pass the menstrual disorder and endometriosis education bill in New York state. New York state is now the only state to include menstrual disorders and endometriosis in their health curriculum for students in grades 7 through 12.

And we will continue to lobby for additional research on the national level, including working with our new endometriosis congressional caucus led by Congresswoman Abby Finkenauer. All of this would not have been possible without your input, without your advocacy and your support. Thank you for being a part of our community. Diana?

Diana Falzone:
Thank you, Margaret for everything that you're doing to leading the charge to raising awareness and to make a real change for all the women and people with endometriosis. Now, Margaret, I'm curious about you and what led you to being passionate about this cause.

Margaret Cianci:
Thank you, Diana. And by the way, we are so thrilled that you have joined the EndoFound staff. We just truly appreciate everything you've always done as a very active patient advocate. And we are really delighted to have you both as member of our staff, as well as our moderator for this weekend. So thank you so much in advance.

But my story is really one of always wanting to advocate for women. I have been involved in nonprofit for over 20 years and serve on a number of boards, including one called Women Creating Change because that's what we need to teach women to do, to be able to advocate for themselves. And it's very, very important to me.

As part of my background is also very much working with disease foundations, including working with a cancer organization where we help to develop immunotherapy treatments, which are now the fourth treatment in the armament against cancer.

So for me, it's always been about fighting diseases that have not necessarily been understood. The other part of my job that I've really loved over the course of this past first year, and thank you for asking Diana, is really listening to the patient's stories. I can't tell you how many stories like yourself, women who've been misdiagnosed, women who have been mistreated by the medical profession, showing up in emergency rooms where they're given Advil and told to go home.

I can't tell you their stories are so important and to the community, I hope you'll continue to share your stories through our endo story portals and share them with each other and share them on social media because understanding and getting that kind of support is really one of the tenants of our foundation.

Diana Falzone:
Yes, yes. Thank you. Thank you so much. We are very fortunate to have Margaret as our executive director and we are very, very grateful to have Padma Lakshmi who has a very special message for all of us tonight. She's the co-founder of the Endometriosis Foundation Of America. She also is the ACLU women's rights ambassador and UN Goodwill ambassador. She is a fierce lady who is fighting fiercely for women's causes, including endometriosis.

Padma Lakshmi:
Hi everyone. I'm Padma Lakshmi, one of the co-founders of the Endometriosis Foundation Of America. And I want to welcome you to our virtual patients conference. The first of its kind. I hope you enjoy this program. I hope you get a lot of information and more than anything, I hope you get to share your stories with us and with each other.

We co-founded this organization over 10 years ago to be advocates for you, the patients with this terrible disease. We've made great strides in the last decades. And with you in mind, we'll continue to make those strides. Thank you so much for being here. We really appreciate your participation. Have a great conference. Thank you.

Diana Falzone:
Thank you so much Padma for that message. We are now joined by co-founder of EndoFound and endometriosis excision specialist surgeon, Dr. Tamer Seckin. Dr. Seckin, hi, welcome.

Tamer Seckin, MD:
Okay. Hi everyone. Well first let me say hello. This is New York City. I want to say hello to everyone around the world who are tuning in. Thank you. It's a big deal, Friday night. Work is over. Maybe your standard to COVID at home. It's a great privilege that you are joining us. We are humbled. And I think this is one of the most exciting events I'm doing over internet. We are connected to hopefully more than 1600 people around the world.

Diana Falzone:
Yes, we have a big group joining us today and like you said, it's great that they're willing to give up their Friday night to join us. And you have devoted 30 years, over 30 years of your life's work into endometriosis. Why were you so drawn to this specific illness, Dr. Seckin?

Tamer Seckin, MD:
Diane, you're giving away my age and everything, but this is the fact. I am more than 30 years. More than that, but I will answer your question, but my memories really go back. I can't help to share my hard disk here more than 10 years ago. Really we started the endometriosis foundation 2006 with some passionate patients.

We could never come out. It was only for Padma that we kind of, she made us public. She said, "You guys cannot sit on it. We got to move forward." And I also supported that. Overall, she's the first lady of endometriosis. She said, "Look, it's not about the way I look. It's about how I feel. This is the way I feel." She has, this is public knowledge, multiple surgeries, unfortunately, and then fortunately she was really diagnosed and she took the flag over. This carries me to really when you think of shame and femaleness as a man, it's different.

You may not believe it. But when it comes to endometriosis, we are unisex. There is no man and woman. We are one. Our phenotypical outside appearance, our sexes doesn't matter much because man also shares woman's life. And man is all always and very intimately involved with the life of women with endo. And they suffer also because they cannot help.

Diana Falzone:
Yeah. When you love someone and you see them suffering, you very much want to help. I have many friends that have endo and I spoken to their husbands, their boyfriends, their partners, and even mothers of daughters that have it and family members. It definitely impacts.

Tamer Seckin, MD:
So, that brings me years ago, that is really true for endometriosis. When president Ford's wife, Betty Ford came out with her breast cancer, everybody in 1980s, everybody said, "Whoa, what's going on? Breast cancer. She's talking about her private parts' cancer." So what? You know what they did this woman? At that time five year survival rate for breast cancer was not more than 40%.

60% of the women died, maybe more when they diagnosed within five years. Guess what? Today, more than 90% of the women who are diagnosed with breast cancer lives and they're cured. Why? Why? Early diagnosis. Early detection. It is true for endometriosis too. Early diagnosis, early detection recognition, timely intervention, tissue based diagnosis does it with gold standard, good quality surgery. I have to say that. So for that thing, I give her a lot of credit.

She's the first lady of endometriosis. After that many celebrities came because Padma came out. So let's move on. COVID times, it's uncertain times. Very interesting things are happening. I hope our listeners are either COVID positive, they are safe. COVID negatives, good luck. I am negative too. Hopefully the virus has lowered its virulence. If we get, we could make it. So please though, please though. I want to share something with you.

This is about very important. This is the big news in the United States. Ladies and gentlemen, from New Zealand to South America, maybe you don't know about. This is Chris Christie, very presidential nominee and very cute guy. He's very sweet guy actually, except his politics, whatever. We're not going to get into that. But he is president's main advisor. This slide is about politics versus science.

Why science is overwhelmingly important than politics. Because Chris Christie got the COVID with Trump. He was in ICU almost dying maybe. We don't know the details. I don't want to exaggerate, but you know, after he came out from ICU, this is what he said. "I was wrong. I was wrong not to wear a mask. I was wrong not to wear a mask at my multiple debate prep session with the president and the rest of them. I hope that my experience shows my fellow citizens that you should follow CDC guidelines in public, no matter where you are wear a mask and protect yourself, self and others."

This is important because the world is not flat. The world is round. Sun does not rotate around the earth. Global warming is not a hoax. So we got to advocate science. We got to promote the best treatment, protect patients, educating and supporting them.

I put this because there's a lot of issue about endometriosis that people have their own opinions. There's a lot of confusion. What is the best treatment? What is the best management? We got to differentiate between management versus treatment. There are problematics about treatments of stages and definition of endo specialists. Throughout this meeting, we're going to go through that.

I want to say that endo is not what you see. It's more than what you see. This is a peritoneal endometriosis on a patient. There is no test. There is no other biomedical markers, MRI, sonogram that tells this patient that has this diffused disease. You see all these marks around and this patient can only be heard by her pain and discomfort and loss of quality of life. So in that sense, I'd like to share my ... I quit sharing my screen, but one thing I'm going to share.

The reason why endo doesn't get diagnosed because it is the disease of the peritoneum. This thin lining to our gut from diaphragm to all the way to rectum and vagina, it covers everything and endo can be placed anywhere in this whole trunk of our body. That's why endo gets diagnosed late. That's why endo is misdiagnosed. That's why endo is mistreated. That's why it takes 12 years for these women ever get diagnosed. Forget if they ever get the right treatment.

So thank you for your attention. I'm looking forward to a fantastic meeting and I'm sure the rest of the speakers are going to be excellent. Some of them I listened to already. In the end. We'll answer questions. Thank you, Margaret. Thank you, Diane. Thank you all of you. Thank you all the patients that taught this disease. It's the patient that taught us. There is no endometriosis specialist really. Specialists are still developing. We created this. In this case, we owe that to the patients who suffered with us and we tried our best to make them feel better. Thank you.

Diana Falzone:
Dr. Seckin, we still have a bit of time and I was hoping as someone who's has endometriosis, I'm still learning about the disease. I feel like I learn more about it every single day, especially now working with the Endo Foundation. Can you just get to the basic definition of what endo is because there's even debates on that?

Tamer Seckin, MD:
Great question. Ladies and gentlemen, we did not rehearse this. This is the most important. What is endometriosis? The definition is itself very complex. Everybody defines endo differently. Endometriosis is not just displaced menstrual tissue outside the endometrium, outside the uterus. It is the body's reaction, immune and inflammatory reaction of our bodies to a displaced tissue to get rid of it.

When you try to get rid of it, the war starts and that war ends up with inflammation. The result of inflammation is scarring, adhesions. Those scarring eventually affect the organ function. It affects primarily at the peritoneum level. We don't see it and that's where everybody is fooled. That peritoneal endometriosis can be the most painful pimple in the body that you don't see. Write that down. The most painful pimple part in the body, that little implant on the peritoneum.

So that inflammation is the key. It is the displaced endometrium, the body's [inaudible 00:23:48] but fibrosis and it causes inflammation. It affects from the mind, psyche all the way to your guts and sexual function, bladder function, everything else because there's a real inflammation. And these patients are truly effected.

They're anxious. They are stressed and they're depressed due to not getting help, developing distrust even to their parents, to their caregivers. Their relationships are disrupted. Their workforce, most productive time of their lives are disrupted. So in that case, when you say, what is endometriosis, endometriosis is really in medical sense, it's the fibrosis that causes the organ dysfunction. Not the head of the pimple. It's the redness around it. Am I clear on this? [crosstalk 00:24:45]

Diana Falzone:
No, that makes a lot of sense too, because we hear constantly it's chronic. It's inflammatory endometriosis. There's also something that I experienced, unfortunately, every single month. And it's the endo bloat. You can Google pictures of it and it shows how one day you can feel perfectly normal. You can eat the healthy-

Tamer Seckin, MD:
Oh you're talking about endo belly.

Diana Falzone:
Yeah. Endo belly.

Tamer Seckin, MD:
Endo belly. Doctors did not create endo belly. Patients created it and it's a true thing [crosstalk 00:25:18]

Diana Falzone:
I mean, I used to tell my mom, I could literally try to drink water for two days straight. And the endo belly would be there no matter what I would do. Why is that? Is that because of inflammation?

Tamer Seckin, MD:
Yes. Well, I forgot to tell you the most key portion of the definition. Estrogen dependent inflammation. So every month as the hormones pushes, when the period happens, you have to think that there's many periods happening inside the abdomen, from the areas that I describe that does not bleed out. They bleed, but it stays inside. So that is endo belly.

All the chemicals that are secreted from that inflammation, all the temperature that locally is there, which you don't get a fever, but there is some degree of inflammatory action there that affects the belly the same way you feel fatigue. You're tired, you have headache, you have nausea, you're depressed, everything. And total from your psyche to endo belly, that's the effect of the estrogen. The disease is estrogen dependent. It becomes when the estrogens kick off really with menashe, it really ends with menopause, but we will discuss, there is endo after menopause.

Diana Falzone:
And this is why we have an entire weekend devoted to endometriosis and to the patients, because there's a lot to cover. It's compact, it's complex. There's no way that we could do this in 72 hours, but we're going to do our best to at least give as much information as possible. Dr. Seckin, you will be part of this weekend, jumping in for Q&A's for the rest of the evening to answer the questions that we might have for patients. So please continue to stay with us.

For those joining us, thank you so much. I'm Diana Falzone. I have endometriosis. I am also doing my best to fight for advocacy and awareness. And I am the media relations director here at the EndoFound. Now we're going to get a little light and a little fun, and we're going to kick off a little bit of a happy hour here for our patient conference, with our amazing patient advisory committee who helped plan this weekend and make it possible.

So I want to give the floor to the ladies. Hello, Winnie, Latiya, Ashley, Tova, McCall, and Andrea with our yellow mocktail or cocktail. And just for those who are joining us and don't have the recipe yet, it is in your virtual goody bags. So if you weren't able to make it now, you can make it later tonight. You can make it tomorrow or Sunday. So please ladies toast.

Ashley:
Hello. Welcome to EndoFound's virtual patient weekend. I'm Ashley and I'm here with the patient advisory committee. We are so excited you're joining us. Thank you. We hope you find the panels, speakers and Q&A's to be helpful. We know firsthand how difficult it can be to live with endo, which is why we put together this conference filled with information that can help you wherever you may be in your endometriosis journey.

Wendy:
Yeah, I wish there was more information like this. Hope you find this information very helpful.

Ashley:
Definitely. And how about we start out by sharing? What stage endo do we all have and how many years did it even take to get that diagnosis?

Andrea:
It's great that you asked that question, Ashley. It took me about 12 years before I was diagnosed and I was diagnosed with stage four.

Tova:
Wow. It took me 12 years too.

McCall:
Me too.

Ashley:
Same.

Speaker 11:
Wow, ladies. I'm the outlier. It took me 23 years and it was due to lung collapses that happened during my menstrual cycle, which caused me to be diagnosed. And this is why I'm so excited about this conference. I'm super excited about Sunday topic when we talk about asymptomatic endometriosis, why physicians misdiagnose endometriosis, and that's near and dear, because I want to know why it took 23 years for my diagnosis. What about you McCall? What are you excited about this weekend?

McCall:
Well, thanks for sharing. I'm most excited about follow your gut endometriosis and nutrition as somebody who's experienced GI problems as a result of my endometriosis, almost my whole life. Nutrition plays a huge role in my endo belly and my bowel resection hasn't helped. So I'm really looking forward to debloat. What about you, Ashley? What are you most excited about?

Ashley:
Yeah, I hear you on that. And I'm most excited about the first session tomorrow, where Corrine talks on soothing the pains mind, and body, and also excited for Sunday. Eva is going to speak on how chronic illness taught her to find happiness. These two interest me because while endometriosis causes pain, I like to focus on the joy it brings to my life such as gathering with the endo community for this incredible weekend. Tova, Tell us what you're looking forward to.

Tova:
Thanks for asking Ashley. As someone who's experienced chronic pain and endometriosis, I'm always looking for tools and ways to be an advocate for myself. So on day two, I can't wait for the panel endometriosis advocates supporting yourself and others with endo. I've got to say that I can't wait to hear from the fearless leaders of endo black and endo queer. We're all in this together. And I can't wait to figure out how to be an advocate for myself and also support everybody else who suffers from this awful, awful disease. Andrea, what about you?

Andrea:
Excuse me. I'm sorry, Tova. That sounds amazing. So since endo has impacted every facet of my life from me having to bowel resections and [inaudible 00:31:46] to having remaining ovary, I'm really interested in preserving my fertility and I enter into my mid thirties, I'm looking forward to the session on endo hormones and menopause. What about you, Wendy? What are you looking forward to?

Wendy:
Thanks for sharing Andrea. I'm super excited to learn how pain affects the brain. So I got diagnosed pretty early when I was 17 years old because my mom had endo and I had my first surgery at 17 and was put on birth control pills for over a decade. But the disease manifested outside my pelvic organs. So with many surgery, there comes a lot of deep scar tissues and that comes with a lot of pain. So I'm really excited to learn how pain affects the brain. So stay tuned this weekend.

Speaker 11:
Wow, ladies, it was so amazing hearing from each and everyone. As you see, our diagnoses are so different, but always remember like Dr. Seckin said early detection and treatment by a endo specialist is really key to living a good quality of life with endo. So always remember you're not alone. We're all in this together. So let's cheers to living our best life in 2020, with our little yellow cocktails. Cheers.

Cheers.