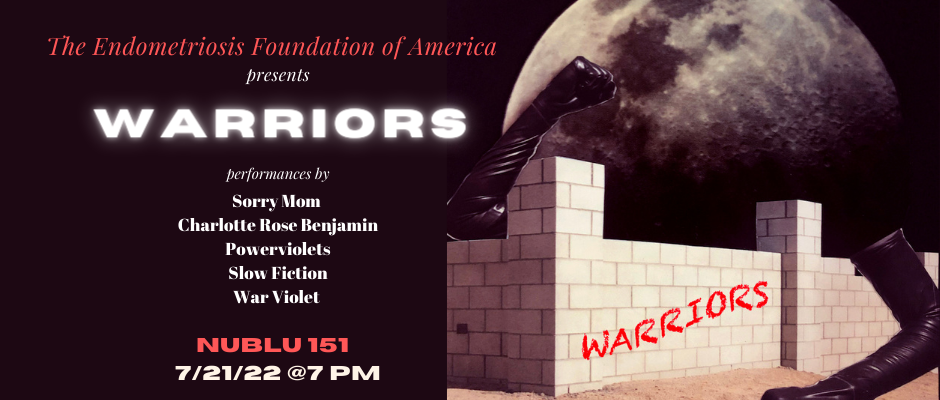 We're thrilled to announce a special concert to fundraise for endometriosis at Nublu 151 in New York City on Thursday, July 21 at 7 pm. The concert celebrates the release of Warriors, a genre-spanning album featuring new music from 15 talented and rising femme or femme-led artists and groups that channels the experience of fighting endometriosis. The event features performances by album contributors Sorry Mom, Charlotte Rose Benjamin, and Powerviolets, and next year's album contributors Slow Fiction and War Violet. The event is hosted by Holy Fang Studios and Mary Knapp.
"Music is a universal language that has the power to make us healthier," cofounder of EndoFound, Dr. Tamer Seckin, said. "Those with endometriosis need the energy and harmony, the dissonance and love of music to keep building the endo community and create awareness across all continents, languages, and ages!" Dr. Seckin thanks all of the artists and organizers for "their passion, dedication, and kindness."
Holy Fang Studios was founded by Oliver Ignatius and Bernadette Higgins and formed out of the bones of the legendary Brooklyn DIY institution Mama Coco's Funky Kitchen. Ignatius and Higgins were inspired to create Warriors together to reflect on Higgins's journey with endometriosis, and they wanted to bring musicians into the conversation, as music has always been one of the most organic ways to build community.
"Bringing awareness to endometriosis has been a tremendous help to the community of warriors suffering with the condition. Unlike in my youth, today not only do I hear it spoken about more publicly, but I see the recognition finally on the faces of strangers who I assume would have never heard of it," said Higgins. "What unites the contributions to this album is intent and commitment to the EndoFound cause. Everybody gave to the project openly and freely!"
Additional artists featured on the album include Lola Kirke, Flower Face, SlothBox (Leah Wellbaum of Slothrust), Odetta Hartman, Camellia Hartman, Shilpa Ray, Hello Mary, Stella Rose, The Dead Language, Noods, Homade, Fawn Response, Rae Du Soleil, and Sandpaperqueen. Next year's album contributors also include Slow Fiction and War Violet.
As Warriors album cover artist Erin Axtell said, "Living with endometriosis has everything to do with why I became an artist. The pain needs to go somewhere. Suffering is energy, so I use it for creative purposes. When you're infertile, making art improves the feeling of loss. This project is important to me because endometriosis needs support. Suffering women need support and pain management. I've had four surgeries now, and my life has been a hard go, but I'm grateful for the people who understand the pain. We need to create endo groups like AA, because this isn't just pain, it's pain to our partners, it's pain to our careers, and it's pain to our joy."
"Endometriosis affects 1 in 10 people with uteruses and is one of the great unsolved health crises of our time and one that has affected us personally. Being Bernadette's partner, in life and in work, made me acutely aware of the struggles faced by those suffering from endometriosis, and being able to do this project is really one of the greatest honors and joys of my life," said Ignatius.
Ignatius and Higgins agreed that "to be an Endo Warrior and fight every day is an ultimate act of bravery. We hope this music reflects that!"
The concert will celebrate the album's release as well as the people fighting endometriosis every day. The album will be available for streaming on major streaming platforms later this month and on Bandcamp, but you can snag your ticket today to join us for the endometriosis event of the summer. Don't miss this one—it's sure to be a powerful, inspirational, and fun evening. All proceeds benefit EndoFound's programs to fund critical research, increase awareness, and advocate at the state level.