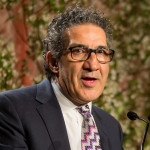 Farr Nezhat, MD, FACOG, FACS is an Adjunct Professor of Obstetrics, Gynecology, and Reproductive Medicine at the School of Medicine at Stony Brook University. He is the Director of the Division and Fellowship in Minimally Invasive Gynecologic Surgery and Robotics, Department of Obstetrics and Gynecology, at Winthrop University Hospital.
Recognizing the potential impact of minimally invasive surgery in the treatment of gynecologic cancer, Dr. Nezhat completed a fellowship in gynecologic oncology at Mount Sinai Medical Center. Subsequently, he was able to refine and develop laparoscopic operative techniques for efficient, safe and effective application in gynecological oncology. His work resulted in several groundbreaking publications on laparoscopic and robotic management of cervical, endometrial and ovarian cancer. He developed an interest in cancer arising from endometriosis, resulting in widely recognized, influential studies.
He contributes prolifically to the scientific and medical literature, having authored over 200 manuscripts, four textbooks and dozens of book chapters. He organizes numerous post-graduate courses and is a regularly invited faculty member at national and international professional societies and congresses.
He was a founding member of The Society of Laparoendoscopic Surgeons, established in 1992, and has continuously served the SLS in various board positions since 1994, including President, Vice President and Treasurer. Dr. Nezhat's surgical fellowship program is certified by SLS.
Disclaimer: The opinions shared by each of our panelists and speakers belong to each of them respectively and may not accurately reflect the beliefs of the EndoFound organization as a whole.
Please register (free registration) to receive the password to access the presentations.