Carolyn, Stephanie and Chris organized "The Endo Show," a musical show with the goal of raising endometriosis awareness. Learn more about this successful concert benefiting the Endofound!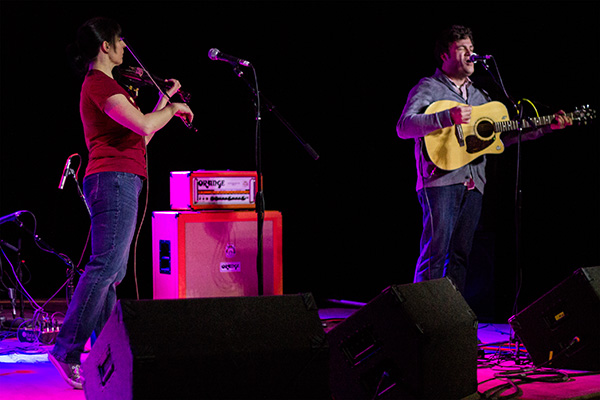 Endofound: Please describe the fundraiser that you hosted.
Carolyn, Stephanie and Chris: The three of us initiated the event with the idea of spreading awareness through the joy of music. We put together a concert comprised of local bands from the Metro Detroit area. At the concert, we held a raffle with various prizes including gift cards, spa packages, and gift baskets. Along with the admission tickets, we also sold yellow Mardi Gras beads and glow necklaces, with proceeds going to the Endofound.
Endofound: What inspired you to host the fundraiser?
Carolyn, Stephanie and Chris: We have been friends since high school and during our senior year, Stephanie and Carolyn became ill with very similar symptoms. They were diagnosed with endometriosis, along with several of our close friends, which drastically changed their lives. After receiving diagnosis, helping other women find treatment by raising awareness became a personal goal for Stephanie and Carolyn - women should not have to suffer for years. Chris had experience organizing charity events for other causes and has even started a side project called Beascause. This was our first "The Endo Show," but we intend to uphold the tradition each March.
Endofound: How long did it take for you to organize the fundraiser?
Carolyn, Stephanie and Chris: Planning for "The Endo Show" began after Christmas and involved three months of intensive communication and planning. Split amongst the three of us, we each took on tasks necessary to secure the venue, bands, obtain prizes and spread the word.
Endofound: Did you have any volunteers? If so, how did you go about enlisting them?
Carolyn, Stephanie and Chris: Our families, friends, and significant others continued to show their love and support by volunteering at the event. Many thanks need to be said for the additional volunteers that helped us set-up the venue, run the tables, take photos, create flyers for distribution, and host and perform at the show.
Endofound: Is there anything you would have done differently?
Carolyn, Stephanie and Chris: Looking back, we should have given our guests a more in-depth understanding of the disease, which we intend to address at our next "The Endo Show" this March. In addition, we would have liked a larger audience because greater public awareness is the overall goal.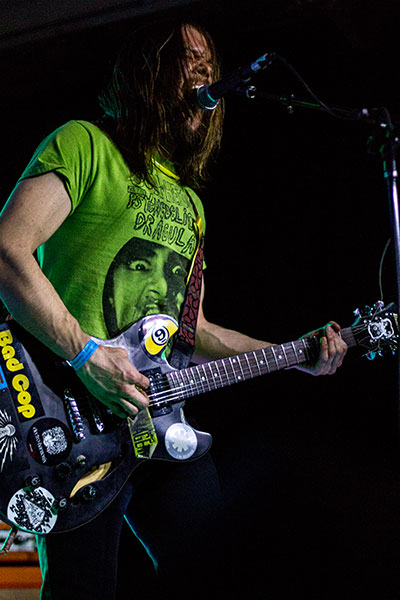 Endofound: What made you want to support the Endometriosis Foundation of America?
Carolyn, Stephanie and Chris: We chose the Endofound because we love their focus on awareness and their involvement in research. We believe that until there is true treatment or even a cure, the best way to help someone with endometriosis is to empathize with what they go through, and provide them with support.
Endofound: Why is it important for others to support the Endofound?
Supporting the Endofound encourages further awareness, knowledge, and better understanding, which are the first steps to finding true help.
Endofound: Why are Endofound awareness initiatives like The ENPOWR Project and Awareness Day important?
Carolyn, Stephanie and Chris: The ENPOWR Project is important because, if it had existed in Michigan when we were in high school, we would have been diagnosed much sooner. An earlier diagnosis would have enabled an earlier fight against the disease and it might have improved our quality of life.
Also, The Endofound's Patient Awareness Day is important because it spreads awareness while showing how endometriosis affects a person, their life, and their relationships.
Endofound: How old were you when you were diagnosed with endometriosis?
Carolyn, Stephanie and Chris: Carolyn was diagnosed at 19; however, she had an exploratory laparoscopy two years prior and was told that she did not have the disease. Stephanie was diagnosed at 20, and had been in pain since her teenage years.
Endofound: How do you think things would have been different for you had you seen an ENPOWR presentation at your school?
Carolyn, Stephanie and Chris: We would have spent less time thinking we were crazy or that the pain was a figment of our imagination. We could have had an "Aha!" moment and the information presented would have given us an idea of how to find the right doctors and treatment.
Endofound: What advice would you offer for anyone who might be interested in organizing a fundraiser for the Endofound?
Carolyn, Stephanie and Chris: Make it a celebration and think of the event as a step towards a better future. You will have fun doing it and then on the days you feel the constant nagging pain, are sick to your stomach, or feel alone; you can remember the impact that it made on your community. Remembering that you are not alone in this battle and reveling in the positive change you had on endometriosis awareness with the people you love, will make the entire experience worth the effort!
THANK YOU CAROLYN, STEPHANIE AND CHRIS!