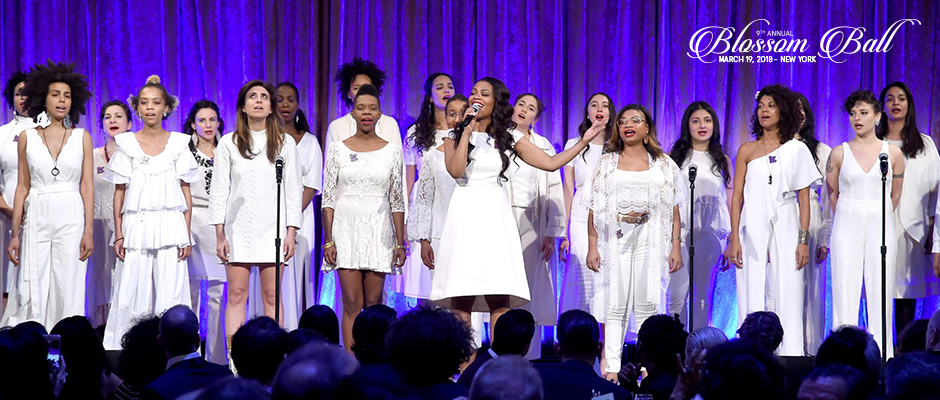 You may remember Resistance Revival Chorus from their rousing 2018 Grammy's performance with Kesha, which resonated like an exclamation point following the Women's March, but now we'll also remember the group for supporting women with endometriosis. The all-woman chorus wowed the audience during the 9th Annual Blossom Ball as they sang spirituals including "Woke Up This Morning (With My Mind Stayed On Freedom)."
For the 60-woman strong group, endometriosis hits a personal note.

Ginny (fifth from top left) poses with The Resistance Revival Chorus on the red carpet at the 2018 Blossom Ball.
"I think women are shamed by so many, not just diseases and medical issues, but so many things in culture and society and I think that is part of what we stand for as a chorus," Resistance Revival Chorus Co-Founder Ginny Suss tells The Blossom, adding that they want to make sure women "don't feel shame" when openly speaking about endometriosis. "We are going to be heard. We are women with a message, and we are not going to be ashamed to speak of and to speak out for issues that are important, that we care about, that we are willing to get behind."
Suss reveals that one of her chorus members has endometriosis, which is not surprising, considering the staggering statistic that one in 10 women have the disease. As she says, "This is an issue that directly affects women and we are a huge group of women, all ages, all races, all ethnicities, all religions who come together to sing in [a] community."
The all-woman chorus was formed six months after the first Women's March in 2017. Their first public performance was in Times Square last July, and they've been encouraged to keep up their soulful resistance by none other than singer-activist Harry Belafonte. As Belfonte told Suss early on, "When the movement is strong, the music is strong."
Chorus member Meah Pace adds, "These women felt it was time to really start putting music back into the movements of our time right now and so we uplift the protest music of the past as well as write new music to uplift the protests of today."
Zakiyah Ansari, a chorus member whose day job is Advocacy Director for the public education non-profit, Alliance for Quality Education, tells The Blossom that it's important to not leave anyone behind in the fight to help those with endometriosis. "[Endometriosis] brings to light the fact that there needs to be health insurance, needs to be something that everyone has access to, can afford, and especially those folks of color and who live in poverty, health insurance needs to happen. This disease doesn't just hit folks who have dollars, it's those that do not have money, and we need to make sure we are taking care of everybody in this moment we are in right now."