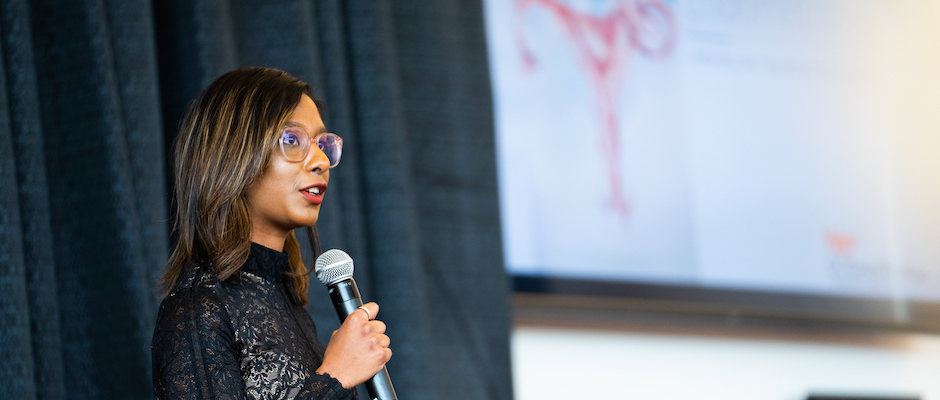 I was 20 years old when they wheeled me into the surgical theater. I remember it was freezing cold and I feared for my life. Both my surgeon and the attending nurse squeezed my hands and said "we'll take care of you." I couldn't stop thinking about my mother in the waiting room.
For nine years, I suffered from debilitating pain and heavy bleeding every time I was menstruating. The pain consumed me to the point where I thought it was going to end my life and every month my mother would try to sooth me with stories of how she lived with this exact pain for years.
For nine years, she followed me into every appointment and listened to every potential diagnosis. Finally, after six hours in the waiting room, my surgeon reassured her that for all these years of action and inaction, the pain was real.
Growing up in Mauritius, when all my girlfriends got their periods, it was celebrated with joy because we were finally blossoming into young women. I was a late bloomer, and when my time to become a young woman finally arrived, it was excruciating.
Since my first period at the age of 11, I was tormented by what I used to describe as a sharp carving knife being thrusted and twisted into my lower right abdomen. I visited a series of doctors before being prescribed birth control at a very young age. I started experiencing depression, anxiety, nausea, hair loss, and breast pain because of these treatments. The Canadian healthcare system seemed just as incapable of helping me when I needed it.
At age 16, my doctor referred me to a psychiatrist and upon my first visit I was asked, "do you think this pain could be related to your anxiety?" I wasn't even sure I had anxiety but they promised me the Zoloft and Ativan prescription would make the pain go away. It never really went away. In fact, the anxiety diagnosis clung to me each time I told my doctor about the pain.
I had to visit the emergency room far too often because I struggled to walk on my menstruating days. I saw four different gynecologists in two years, where I was probed and pressed. I knew what they saw when they looked at my file. The wasted consultations and the needless drugs. I couldn't help but feel like I was mentally ill and the pain was a manifestation of paranoia, or something more sinister. So if I was thinking it, why wouldn't they?
With every passing year, the pain got worse and I had to limp on those bad days. I started seeing my doctor two to three times a month and begged to have some form of painkillers injected. I was given a cocktail of Tramadol, Morphine, Naproxen and Codeine; even then, I would return to my doctor with even more side effects.
During every visit, my doctor recorded my tone and emotions: "patient is frustrated and crying" or "patient is calm but angry that the medications aren't working." Every report I read from specialists who performed a colonoscopy or an ultrasound noted how I presented myself at every appointment: "she is a pleasant and calm 18-year-old experiencing pelvic pain." I was being stripped to my core and my body was medicalized in every aspect.
Even on Christmas Eve, I sat in the waiting room for over 10 hours. Every time it was the same. I had to take off my clothes, be prodded to locate the pain, rate the pain, go to ultrasound, get bloodwork done, take two Tylenols, and go home. I had rehearsed every question and answer. The fatigue and frustration wore me down.
As a woman of color presenting pelvic pain in the emergency room, I felt devalued by the health system. I was always met with doubt when describing the intensity of my pain. Given the severity of my discomfort, I would rate my pain 10/10 and was told by an ER nurse: "oh 10/10 would be like me stabbing you." Sometimes my skin color and origins were questioned. I was told that "girls like me" are too sensitive and extreme when it comes to pain complaints by a consulting doctor in the ER who accused me of abusing the system.
I was also asked during routine medical questions where my home country was located followed by "where is that?". Often, my job title as a public servant was brought up which was once met by "how did you even get that job?" and a chuckle. The assumption of my culture by a doctor resulted in prescribing early marriage and pregnancy as a treatment for my endometriosis. Racial and gendered bias within our healthcare structure means on average further delays to endometriosis diagnosis for women of color.
Endometriosis is a condition riddled with power struggles in the relationship between women and their doctors. Since the belief in the theory of the "wandering womb," menstruation and its conditions have created a conspiracy of silence in healthcare. Women are probed and investigated rather than listened to. The medical gaze of how we diagnose endometriosis believes in visually identifying lesions inside the woman's body which can be surgically removed. The results are women suffering in silence and doubting themselves when ultrasounds come back normal.
Throughout my journey with endometriosis, I would question myself because of this, and tried to censor my emotions during appointments to not appear to be too emotional or extreme. It was a defence against a gendered stereotype. My experience with endometriosis has been a constant fight to be heard in the medical community. This condition has followed me all my life and is part of my legacy: both my mother and aunt were struck by the debilitating effects of endometriosis. Their experiences have shaped me to never give up hope.
In the winter of 2018, I stood on a Tedx stage and shared my story. Surgery had confirmed my true diagnosis, but only after losing my aunt. My story was just one amongst the 176 million unheard stories around the world. Friends, family members, and strangers reached out to me to tell me their experience and it made me realize how the journey to diagnosis is too often a very objectifying experience which excludes the women behind their symptoms.
I aim to shed light on the need to recognize the subjective experiences of these women who feel left out by the medical community; I am currently writing a thesis focused in health communications to discuss the importance of the sociology of health when diagnosing and treating endometriosis.
After being diagnosed with endometriosis 2018, treatment has continued to be challenging. With potential recurrences, I realize that this will follow me for the rest of my life. I am hopeful to continue this fight for my mother, for my aunt, and for all women doubting their pain. My dream is to tell the unheard stories of women with endometriosis and channel the pain into change within the hospital, so it no longer needs to be a change within us. The world doesn't need to beat us down further, but rather come to know us for the bearers of an uncomfortable truth: that what makes us women, makes us hurt.
---
Aditee Kissoon is a Canadian-Mauritian dual citizen, currently pursuing her Masters' of Literature in Health Communications, at The University of Strathclyde, Glasgow, U.K. She completed her bilingual degree at the University of Ottawa, where she also was a speaker at the University of Ottawa's 'TedX UOttawa Women' event. With a career in Canada's public service and third sector work, she has also been published by Ottawa Life Magazine. Her current academic focus on patient perspectives in healthcare is the foundation for her continued work in this field. After fighting an ongoing nine-year battle with endometriosis, Aditee is a vocal advocate for young women who endure the debilitating emotional and physical pain of this condition.
Editor's note: Would you like to contribute to EndoStories? Click here to learn how to submit your work.
*Patient stories submitted to EndoFound.org are the views of the patient and not necessarily those of the foundation. All testimonials are from real patients, and may not reflect the typical patient's experience, and are not intended to represent or guarantee that anyone will achieve the same or similar results.