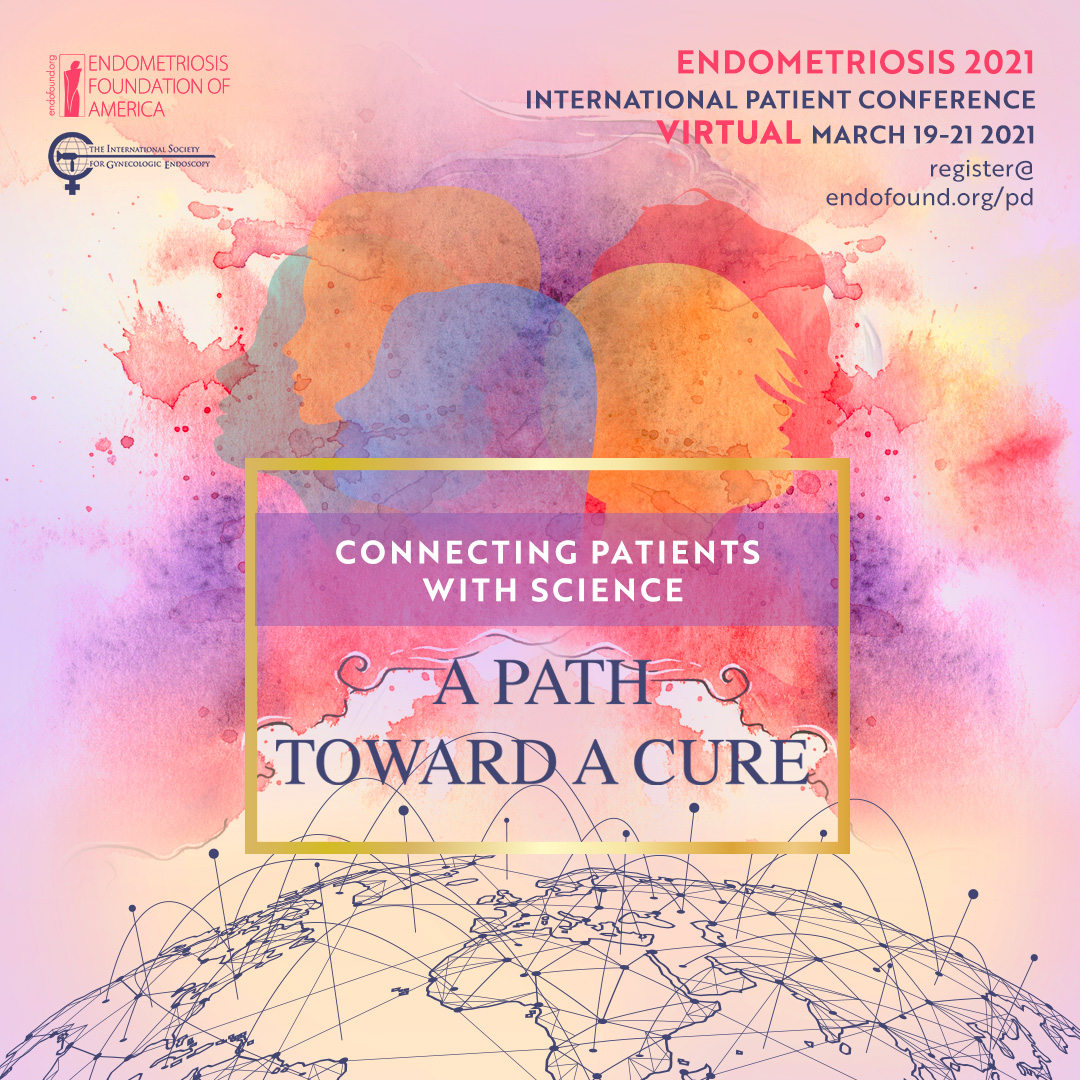 Every year, the Endometriosis Foundation of America hosts a patient conference designed to equip patients with all the tools and information they need to live their best lives with endometriosis. This year, we're delighted to partner with The International Society for Gynecologic Endoscopy (ISGE) on March 19-21 to bring you the 2021 Global Patient Conference: The Path Toward a Cure.
The virtual conference will be offered in several different time zones and will include panels by experts in fields ranging from extrapelvic endometriosis and fertility to mental health and nutrition. We believe that living with endometriosis requires a collaborative and interdisciplinary effort that prioritizes the patient's voice. We are excited to continue spotlighting patients who will take the virtual stage to tell their stories and share their toolkits for advocacy, management, and support.
Patient Day was created for and inspired by endometriosis patients and we invite you to share this day with your loved ones and support network. Together we can seek the information and support that the endo community deserves.
Speakers
---
PROGRAM
Friday, March 19/Saturday March 20
7 PM - 10 PM EST
PacificAsia/US

Sunday, March 21 -
11 AM - 3 PM EST

Americas- EuropeAfricaMiddleEast

London 3-7 pm
Capetown 5-9 pm
Rome 4-8 pm
Cairo 6-10pm
Istanbul 6-10pm
Tel-Aviv 6-10 pm

Moderating Chairs Honorary Chair
Dr. Martin & Dr. Seckin Harry Reich, MD, Victor Gomel, MD

7:00 - 7:01

7:01 - 7:03

7:03 - 7:05



Intro - Margaret Caspler Cianci, Executive Director
Welcome from Founders

Co-Founder Padma Lakshmi

Co-Founder, Dr. Tamer Seckin
Why science is important to patients with endometriosis

11:00 - 11:01

11:01 - 11:03

11:03 - 11:05
Dr. Seckin screen share

What is going on down there?

7:05-7:12 (no Q&A)

Live: What causes Endometriosis,
the science behind the symptoms?
DR. SECKIN, DR. MARTIN

Live: When Does Endometriosis Become a Disease?
DR SECKIN, DR. MARTIN

11:05 - 11:12

Dr. Seckin Screenshare

My Endo Story
Margo Davies

4 mins

Adolescents & Familial Endometriosis

7:12 - 7:32

LIVE
Trust These Teens:
Early Detection is the Prevention

Moderators:
Deborah Bush
Dan Martin, MD
Tamer Seckin, MD

Panelists:
Anil Sharma, MB
Patrick Yeung, MD
Mike Armour, PhD
Anna Hagood

LIVE
Trust These Teens:
Early Detection is the Prevention

Moderators:
Dan Martin, MD
Tamer Seckin, MD
Tracey Haas, MD

Panelists:
Simone Ferrero, MD
Shan Biscette, MD
Lane and Neve Rechan
Meredithe Rechan
Charlotte Woska
Anna Hagood

11:12 - 11:31

Dr. Martin screenshare 4 mins

11:31 - 11:32
Dr. Seckin or Margaret intro Madigan video

Pre-recorded Christine & Debbie Madigan (Canada)

11:32 - 11:37

7:32 - 7:35



Basics of Endo
Amira Quevedo

11:37 - 11:40
(LIVE Dr. Seckin provide highlights,Dr. Seckin to share screen and play portions of video)

Patients for Advocacy and Policy Change

11:40 - 11:41

Dr. Seckin or Margaret intro Kathleen King video

7:35 - 7:37



Kathleen King (Ireland)

11:41 - 11:45

11:45 - 11:47 Dr. Seckin intro Dr. Haas

7:37 - 7:44

Pre-recorded: How to Talk to Your Doctor About Endometriosis
Tracey Haas, MD

LIVE How to Talk to Your Doctor About Endometriosis
Tracey Haas, MD

11:47 - 11:57

7:44 - 7:45

11:57 - 11:58
Dr. Seckin intro Judy Joo

7:45 - 7:55

Pre-Recorded Judy Joo

Live "Judy's Journey" Judy Joo

11:58 - 12:08

12:08 - 12:10

Margaret intro Doris

7:55 - 8:00

My Endo Story
Doris Murimi

Pre-recorded:
Doris Murimi (Kenya)

12:10 - 12:20

LIVE What does endo belly have to do with painful sex: "Let's talk about sex, seriously!" *

Moderator:
Tamer Seckin, MD

Panelists:
Karen Robinovitz
Nikki & Erik

12:20 - 12:30 (5 mins discussion, 5 mins Q&A)

"Converting Pain to Power"
Psychology of Pelvic Pain & Quality of Life

12:30 - 12:31 Margaret intro Merve

LIVE
Merve Aypak

12:31 - 12:36

Dr. Seckin intro Dr. Wilson

LIVE Combating Anxiety and Depression
Arnold Wilson
5 mins summary of presentation, 5 mins Q&A

12:36 - 12:46 (including Q&A, moderated by Dr. Seckin)

Margaret introduce Endo story

8 - 8:08 (20 minutes)

Pre-Recorded
Self-Compassion: Essential When Quality of Life is Affected By Endometriosis
Hanne Vedsted-Hansen

+++HAVE PAPER AND PEN READY FOR THE EXERCISE IN THIS PRESENTATION

My Endo Story

2 mins

8:08 - 8:10

12:46 - 12:47
Margaret intro Hanne

8:10 - 8:20

LIVE Coping with Pain: Brief Skills Training
Laura Payne
5 mins summary of the presentation, 5 mins Q&A

Pre-Recorded Self-Compassion: Essential When Quality of Life is Affected By Endometriosis
Hanne Vedsted- Hansen

12:47 - 1:02 (20 mins)

LIVE Q&A with Hanne (5 min)

Complementary Management
Cannabinoids, Acupuncture & Diet

8:20 - 8:22



1:02 - 1:05 Dr. Seckin introduce Dr. Armour's video

8:22 - 8:40

LIVE Medicinal Cannabis and other non-pharmaceutical management strategies for endometriosis
Mike Armour, PhD

Pre-Recorded: Medicinal Cannabis and other non-pharmaceutical management strategies for endometriosis
Mike Armour, PhD

1:05 - 1:23

8:40-8:41

1:23 - 1:25
Dr. Seckin and Judy Joo intro Endo Friendly Foods

8:41 - 8:51



Live: Endo Friendly Foods
Jessica Murnane

Moderator: Diana Falzone

Live: Endo Friendly Foods
Winnie Chan
Lida Ahmady
Jessica Murnane

Moderator: Judy Joo

1:25 - 1:45
(including 5 mins Q&A)

Not So Rare: Endo of Remote Sites
Complex Multi Organ Surgery of Bowel, Bladder, & Beyond involving
Chest, Kidney, and Neuropathies

8:51 - 8:52

Dr. Seckin introduce Dr. Khazali

8:52 - 8:56

Pre-Recorded: Michael East, MD Ilioinguinal nerves

Pudendal & Sciatic Nerves
Shaheen Khazali, MD

1:45-1:50

Dr. Seckin introduce Dr. Goldstein and the panel

8:56 - 9:10

LIVE PANEL
Moderators:
Deborah Bush
Tamer Seckin, MD

Panelists:
Michael East, MD
Sarah Choi, MD
tanya raymond
zara altbach

LIVE PANEL
Moderators:
Karli Provost Goldstein, DO

Panelists:
Shaheen Khazali, MD
Smitha Vilasagar, MD
Lori Konecni
Tanya Raymond

1:50 - 2:10

9:10 - 9:11

2:10 - 2:11 Margaret intro Ditte's video

9:11 - 9:16

Dearne Richards

Ditte Nørgaard Sørensen (Denmark)

2:11 - 2:15

FERTILITY
A Conversation with Patients and Physicians

9:16-9:17

2:15 - 2:16 Dr. Goldstein intro Kym's video

9:17 - 9:25

LIVE
Miracles or Magic
Kym Jackson Story

Miracles or Magic
VIDEO Kym Jackson
LIVE Alison Chemla

Childless not by Choice
LIVE Kim Bendheim

2:16 - 2:21 Kym

2:21 - 2:22 Dr. Goldstein intro Alison

2:22 - 2:27 Alison

2:27 - 2:28 Dr. Goldstein intro Kim

2:28 - 2:33 Kim Bendheim

9:25 - 9:55

LIVE PANEL

Moderator: Karli Provost Goldstein, DO

Panelists:
Sarah Choi, MBChB
Victor Gomel, MD
Neil Johnson, MD
Brian Levine, MD
Zaher Merhi, MD

Why do endometriosis cause fertility problems?

When is infertility a sign for endometriosis?

Egg retrieval, Should we rush?

Customised IVF Protocols for Endo Patients

Fertility Preservation for Adenomyosis and Endometriosis

Ovarian and Uterine Sparing Reproductive Surgery

LIVE PANEL
Moderator: Karli Provost Goldstein, DO

Panelists:
Michael Dahan, MD
Victor Gomel, MD
Brian Levine, MD

2:33 - 2:55
(including 5 mins Q&A)

9:55 - 10:00

Conference Wrap-Up
Tamer Seckin, MD
Margaret Caspler Cianci

Conference Wrap-Up
Tamer Seckin, MD
Margaret Caspler Cianci

2:55 - 3:00